Meet Dan the piano man from Grand Manan
Dan Mullen has given away close to 80 pianos. His love for music, combined with a desire to be of service to others, began at an early age.
"My father was a song evangelist who had a choir. That's how he met my mother. After they married, they travelled all over Nova Scotia doing music for different congregations," Dan says, "just like George Beverly Shea (the Canadian-born gospel singer and hymn composer) did music for Billy Graham."
His parents also cut two albums for Tip Top Records entitled Paul Mullen and Family, and travelled throughout the Maritimes doing their ministry during the 1960s and 70s.
In April of 1975, Dan Mullen met Edie Walker at a church revival meeting in Perth-Andover, NB. "It was a quick romance," Edie says. "We married in June!" Shortly after they tied the knot, the young couple moved a few kilometres across the border to Fort Fairfield, Maine, where Dan, who hails originally from Havelock, NS, had grown up. Along with doing some music ministry, Dan thought it would be great if he could tune pianos—and get paid for it.
That's when he bought a tuning hammer. His first attempt to tune a piano took six hours, but once he got the hang of it, he placed signs on telephone poles around town; people started to call.
In 1984, as Dan's siblings and their families began migrating south to Texas, the piano tuner and his wife decided to move there also, settling close to Dallas. Dan joined a chapter of the Piano Technicians Guild (PTG) where he honed his skills and eventually took exams to qualify as a registered tuner-technician with the PTG. He also registered his business as "Pianoworks."
From Texas to Grand Manan
Ten years later they gave up life in the city and moved to Grand Manan where Edie's mother lived. "Living on an island has its drawbacks when you're a piano tuner," says Edie. "After all, there are only so many pianos to tune and repair in a little community with a population of about 2,500, but it gave him a wonderful handle that's easy for folks to remember: Dan the Piano Man from Grand Manan!"
Fast forward to 2013 when things got really interesting. Not only did Dan tune pianos, but, if you had a piano you no longer wanted, he'd cart it away for $100. If the piano had any saving grace, he fixed it up and gave it away to someone who wanted one.
"People loved the idea that their piano would live on," Dan says, "but the only way to get rid of them was to organize a multi-piano event."
Bingo! The first event took place in August of 2013, as part of the Grand Manan Rotary Festival, which featured a hymn-sing accompanied by 19 acoustic pianos, four keyboards, two organs, and an accordion. Collections from a free-will offering went towards a Rotary scholarship program.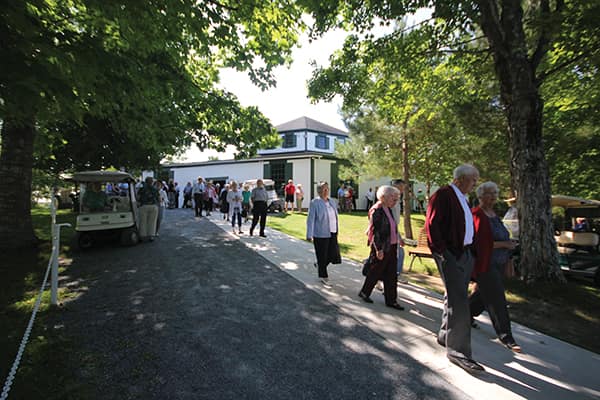 Edie says, "We have so many talented musicians on Grand Manan, we knew it wouldn't be any trouble getting several piano players. We also had a few visitors on the island at the time who wanted to participate. That was our first one. We just used hymn books from the church and sang the old hymns, so there weren't any copyright concerns. People loved it; they just loved it."
Dan adds, "Here were all these pianos, most of which were 100 years old. And all these people who had grown up playing the piano in their homes and churches. But that had given way to guitars and drums—and they weren't asked to play any more. So to hear people singing the old hymns big and strong, in harmony, was very inspiring." It wasn't hard to find homes for most of the pianos.
A year later, Dan and Edie did a Christmas concert in St. Andrews at the New Brunswick Community College in support of the St. Andrews Arts Council. This time they had 22 pianos—many of which has been painted by artist Geoff Slater and staff at Kingsbrae Gardens—all arranged around the inner perimeter of the auditorium. Imagine the "surround sound" that night! Again, the pianos went up for grabs after the concert.
Jumping to the Labour Day weekend of 2015, Dan brought 32 pianos to The Tabernacle at Beulah Camp (operated by the Wesleyan Church, Atlantic District), located on the Saint John River at Brown's Flat. The only thing to rival that program was last year's event, when 37 acoustic pianos were part of the program.
The rescued pianos that Dan has given away have included Canadian manufacturer names: Mason & Risch, Willis & Company, Sherlock Manning, Ennis, and Gerhard Heinzman.
"There were thousands of piano manufacturers back in the 1920s," Dan says. "But the best pianos were Canadian-made because we had access to Sitka spruce for the soundboards, and had better prepared woods than other companies."
New lives for rescued pianos
More than 70 of Dan's rescued pianos have found homes in various parts of New Brunswick including Grand Falls, Fredericton, St. Stephen, Hampton, and Sussex. Last year, of the 37 repaired pianos that were part of the Labour Day weekend ensemble at Beulah Camp, one found a home in Mapleton, Maine, with music-lover Patricia Condon.
Although Patricia already had an electronic keyboard, she yearned for the rich tones that an acoustic piano provides. Despite nudging 70, she was also taking piano lessons.
As luck would have it, her piano teacher, Ruth Ladner, was invited to play at Beulah Camp on Labour Day weekend as part of Dan and Edie's program. Would Patricia like to come along with her?
During the program, Patricia had her eye on an old upright beauty, but she soon discovered that she couldn't take a piano with real ivory keys across the border. That's when her piano teacher pointed out a lovely studio piano that was included in the 37 pianos. It was smaller than the uprights and had synthetic keys, but she fell in love with the sound. Although it wasn't free like the uprights were, the price was right and Dan agreed to deliver it.
Now, Patricia continues her lessons and plays everything from old classics to musical scores. She also buys her ten-year-old granddaughter easy piano books with the same music so they can play together when they visit each other.
"Dan's missionary vision of giving these pianos away is a loving gift to all humanity," she says. "The service he provides gives life not only to the piano and the person playing it, but to the continued process of seeing that future generations of younger pianists will be inspired by this unique expression of love between ears, fingers and hearts, and the thrill it can bring."
Alas, Dan's mission to find new homes for pianos may have played itself out. "I'm running out of pianos," he says. Their last musical program with multiple pianos is scheduled to take place this year on November 26 at the All Saints Anglican Church in St. Andrews.
But, who really knows? No doubt there are scores of old pianos pining away somewhere, just waiting to be given a second chance.
From Grand Manan to West Africa
In 2006, Edie Mullen went to Guinea, West Africa, to visit a family friend who was helping the community build a health clinic. She fell in love with the people and the culture. In the process, she started to take photos and document stories. Edie still goes back every year "to see what's happening."
She adds, "One of my personal interests coming from a fashion design background has been the fabulous clothing they wear in West Africa, and the incredible fabrics they dye." This September, Edie will curate a show titled "Faces, Fashions & Fabrics of West Africa" which she's arranged at the Grand Manan Art Gallery.