Brothers Travis and Jacob Pearson grow, sell—and eat—lots of apples
The Annapolis Valley of Nova Scotia is well named, as the majority of apple producers—many of whom also produce other tree fruits—grow their crops in the rich farmlands stretching from Windsor to Bridgetown and beyond. Maybe the trees are smaller now than a generation ago, as more growers turn to semi-dwarf and dwarf rootstocks to grow their apples—Gravenstein, Cortland, Gala, Honeycrisp and many more—but every spring the Valley is awash in vistas of blooming orchards. The roots of apple growing are deep here.
Those deep roots are well demonstrated at Kimberlee Farms in Woodville, not far from Berwick, the apple capital of NS. Here, Travis Pearson and his brother Jacob (Jake) manage the 65-acre orchard developed by their parents, Tim and Janette Pearson. Janette's father was the late Pieter van Oostrum, who immigrated to Nova Scotia in 1959 and began growing apples in the Annapolis Valley several years later. Having been bitten by the farming bug, Tim Pearson went to Agricultural College in Truro, NS, and he and Janette bought their Woodville farm in 1992.
Of the two brothers, who are both in their mid-twenties, Travis is the more outgoing, eager to talk about the farm while Jake only emerges from the orchard for photos. Asked if they always knew they'd end up farming, Travis says, "Once we got to be 14 years old and could drive tractors, working on the farm didn't seem so much like work. After a while, it grew on us and you can't imagine doing anything else." Jake stayed on the farm and worked with their father and with their uncle and grandfather, amassing practical knowledge, while Travis went to the Agricultural College and learned business skills. "That way, we had both the practical, hands-on knowledge and also the offsetting skills that are needed in today's agricultural operations."
Originally, the Pearson orchard consisted of conventional plantings: long rows of large, sprawling trees, which were difficult to prune and pick and didn't always give top yields. Gradually the family transitioned the plantings to higher-density orchards, with smaller trees planted on dwarf and semi-dwarf rootstocks. Today, they grow a mixture of cultivars (cultivated varieties), including older favourites like Gravenstein, Red and Golden Delicious, and Northern Spy, as well as newer, very popular cultivars like Honeycrisp, Gala, Ambrosia, Jonagold and the recently and locally-bred Evangeline (see sidebar).
Seasonally, the farm employs 15 pickers, but for the rest of the year, orchard management is tended by the two brothers. Pruning begins in early January, although they have just purchased a mechanical hedger which helps to get all the trees pruned before they start to grow in spring. Harvest begins with the summer apple Jersey Mac in mid-August, then the Gravensteins are harvested starting in early September, a time eagerly awaited by local enthusiasts. "They're a big apple for us, people can't get enough of them!" Travis says. A succession of other cultivars keeps them harvesting into mid-late October. Jake also grows some field crops, including soybeans and corn, which keeps him even busier during harvest season.
Commercial apple harvests get graded out according to a number of factors. The best looking apples go for fresh fruit and command the highest prices; commercial or processing grade apples go for pie-making at Apple Valley Foods Inc. in Kentville, one of the largest pie producers in Canada. "We grow Spies for them, always known to be a great pie apple, plus they use the commercial grade of Jonagold and Honeycrisp," Travis says.
The lowest grade is the "drops", those apples that fell to the ground during harvest, and which go to Great Valley Juices in Port Williams, NS. In recent years, the market for juice apples has also brought another set of customers: large-animal hunters wanting bait apples. Travis says, "People who enjoy hunting, they don't mind spending that little bit of money for a few bags or a bin of apples, and it's value-added for us, and we actually get nearly double the price for bait apples that we do for juice apples!" The juice/bait apples are still harvested with care—the brothers don't want any rot in any apples they pick up for juice or bait. That little bit of extra attention keeps regular customers coming back.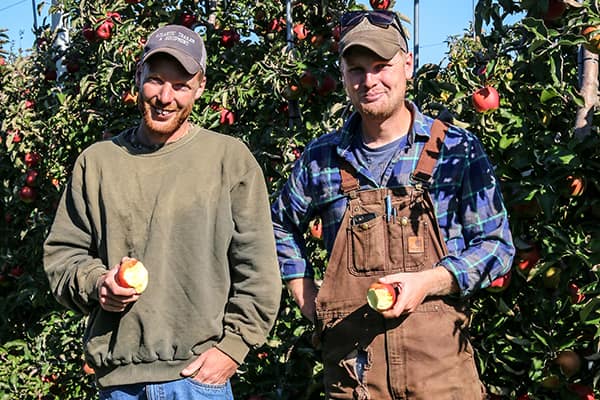 Market prices for fresh apples have tended to be stable and, to a producer's mindset, rather on the low side, with the exception of Honeycrisp, which command top prices. There is no way that the Pearson brothers will grow only one apple, because it would mean a very short harvest window. "We want to be able to keep our employees working as long as possible, and so we guarantee a certain number of hours," Travis says, "Plus, we want to be able to offer fresh, top quality fruit, different varieties, from the beginning of the fresh season right through the storage season."
An interesting thing about Honeycrisp apples is that they have very delicate skin and flesh, easily punctured by even the stem that holds the fruit to the tree. When harvesting this cultivar, the producer has to clip every apple so that the stem doesn't poke above the little hollow in which it sits. This is time-consuming and also contributes to the premium price paid for the large, crisp and juicy apple.
The Pearsons now have a harvest machine to help them deal with their ripening crop. Travis explains about the machine, developed in the Netherlands and delightfully named the Munckhof Pluk-O-Trak. "It can only be used on high density, closely grown trees," Travis says. "It holds six pickers on different levels, and they pick onto conveyor belts which lead to the bins. We can harvest any cultivar with it, even Macs and Honeycrisp…but you have to have your orchard set up for such harvesting."
Travis and Jake expand the orchard by a couple of acres each year, slowly but steadily. Apple varieties don't come true from seed, so you could plant seven seeds from a Honeycrisp apple and potentially get seven different looking and tasting apples—none of which may resemble the parent apple. In order to maintain consistency in varieties, all commercially grown apple trees are grafted—the desired cultivar is joined to a preferred apple rootstock, which provides support and nutrients for the new young sapling that has been grafted to it.
It can take a few years to go from a young sapling to a tree producing fruit. You can purchase young trees from a nursery, but it's less expensive—although more time consuming—to graft your own plants. Travis says, "We didn't want to borrow a whole lot of money, so we've been planting what we can cashflow year to year. We haven't been taking out many old trees, you've got to pay for the new trees for the first years while waiting for them to produce a crop, so you need those other apples to help see you through."
How is it consumers enjoy local apples in the middle of winter that taste like they were just picked? Apples are kept in a Controlled Atmosphere (CA) storage system, developed in the late 1920s and the gold standard of storage for many crops, including apples and pears. The CA system uses cool temperatures and regulated levels of atmospheric gas to inhibit apple respiration rates so that they keep their flavour, crispness and quality for many months longer than if stored in a cellar or refrigerator. The Pearsons have a small CA storage unit with capacity for 600 bins of apples. They also ship apples to Memramcook, NB operation Verger Belliveau Orchard, owned by Robert Bourgeois, a large producer who recently built a new and larger complex for storing apples. Scotian Gold in nearby Coldbrook also stores some apples for the brothers, and their Jonagold apples are stored by yet another producer. Travis says, "We work together—many of us second and third generation of producers—as much as possible. We like it that way."
Asked what he thinks is the biggest challenge as an apple producer today, Travis says, "It's the inability to control the environment. You can do everything right in managing the orchard all season, right up to September first, and have a beautiful crop of apples, and then there comes one of those hurricanes up from the south and you could be wiped out in an afternoon." The 2016 growing season was difficult, with drought conditions, but the 2017 season has been fantastic, with good weather and an excellent crop.
Both Jake and Travis love what they do and can't imagine doing anything else. They took over operation of the farm several years ago, when their father began working for a commercial operation in PEI and stepped back from operating the home farm. "Dad thought we could take on some of the management roles, and see if we really wanted to do it and were set on working the farm," Travis says.
"And we were," Jake says firmly.
Looking out over a block of trees soon to be harvested, munching on a Jonagold apple, Travis says, "There's lots of people who make a whole lot more money than we do—but hate what they do. I'd rather do what I love and not make as much money, than make a pile and be unhappy all the time!"
Meet Evangeline
The search for great apples has gone on for many years at the Agriculture and Agri-food Canada research station in Kentville, NS. Some potential cultivars were developed at the station over the years, many of which didn't perform well enough for consumer tastes. It takes many years to develop an apple to the point of giving it a registered name and making it commercially available. Evangeline is a cultivar developed at Kentville station that shows commercial promise. Its large apples have lightly yellow flesh, ripen well on the tree and are very tasty, reminiscent of a Golden Delicious or Gala.
Whereas anyone can purchase, plant and harvest many types of apples, including Honeycrisp, there's a new wave of plant licensing happening in the world of apple growing. Organizations and business entrepreneurs are buying the rights to certain new apple varieties—SweeTango being a good example—and only they can determine who grows these licenced cultivars, known as "club apples." In Nova Scotia, for example, Scotian Gold has a licence for SweeTango, so only growers in their co-operative can grow this cultivar, and you won't find trees for sale at nurseries or garden centres.
The New Brunswick Apple Growers Association recently bought the rights to Evangeline, but anyone wanting to grow it simply pays a royalty to the Association.
Travis and Jake harvested Evangeline apples for the first time this year. Travis says, "They're a different looking apple but a wonderful tasting apple, so we're excited about them. They're tasty and grow well." They're hopeful this truly 
local apple will gain popularity similar 
to Honeycrisp, Gala and other great 
cultivars.