Nobody knew the river any better than Brady
Ramona Himmelman sits at her kitchen table, watching the ferry cross the LaHave River. Ferries have shuttled people, cars, and cattle across this stretch of water just south of Bridgewater, Nova Scotia for decades. And for 35 years, starting in 1948, Ramona's late husband Brady was the ferry captain—at first running the service himself, and then working for the provincial government when it took over the ferry in 1980. Today, the boat that makes the crossing four times an hour is named the Brady E. Himmelman, after him.
"This is where I sit," Ramona says, in the house where she lived with Brady and raised four girls. "And there's the landing on the other side, right straight across. At night it's nice to look out and see the ferry all lit up. Here it comes now."
Born in December 1928, Ramona grew up near here, on Bush Island and in West Dublin. Most days of the year she drives the few minutes to Crescent Beach where she goes for a walk, often meeting up with friends. She says despite being the daughter of a fisherman (her father, Caleb Bush, lived to 106) and the wife of a ferryman, "I never swam and I don't care that much for the water."
Although many would consider her younger years difficult, Ramona tells her story without complaint. That's just the way things were.
There were 10 of us in the family. I was the ninth child, and my mother died giving birth to the 10th. My father never remarried. He lived on Bush Island [one of the LaHave Islands] and stayed in his house until he was 100, when I convinced him to come and stay with us. He never had electricity. Later, my brother was an electrician and he would have wired the house—but he said he didn't need it.
We were five boys and five girls, and after my mother died one sister went to live with my grandmother [her husband had died], one went to a great-aunt, and another family brought up the baby, my little brother. My older brothers went off to work. One got his captain's papers and travelled all over the world, two were engineers who worked on freighters and one became an electrician.
When I was 12, the sister who lived with my grandmother went to Bridgewater to do housework. My grandmother had had a stroke and she couldn't be alone, so I was elected to go with her. That would have been in '41. We didn't have electricity or phone. I had to go to the well to get water and carry it in. In the summertime there was a garden to be looked after, and of course we heated with a wood stove and I had to look after the wood and pile it in the wood house.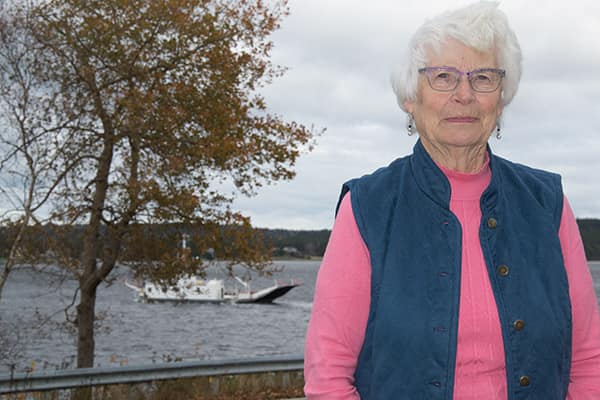 There was no refrigeration, of course. We had a cellar, and usually if you had milk you kept it in cold water in the cellar. We had a meat truck that would come once a week, and of course you had a lot of fish. Dad was a fisherman. The fresh fish was wonderful. And then in the winter you had salt food. Salt meat and so on. They say you shouldn't have salt—I mean, Dad grew up on salt fish and salt meat. Everything was salted. And we had a garden. So we had vegetables. We pickled cucumbers and made tomato chow. We didn't go hungry really. We lived well that way, but it wasn't all the fancy things you have now.
I started working summers in the GE Romkey fish plant when I was 10 years old. We couldn't wait for school to close so we could go right to work in the fish plant during summer vacation and make some money.
The fishermen would bring in boats of fresh herring, and they were filleted —backbone taken out—and put in a vinegar brine for Solomon Gundy. We skinned them, and then later they were cut and put in jars. When you were filleting that was hour work. I think it was 25 cents an hour. Skinning was by the piece: 35 cents for every 100 herring. You would skin them after they were in the brine for so many days. Then we would pack them in jars, or 200-lb barrels that were shipped from West Dublin to Halifax. I don't know where they went from there.
Sometimes you would cut yourself and it would get sore because of the vinegar and salt—oh yes, lots of sore hands. In the fall and winter it was codfish. We would work boning codfish in the winter in heated buildings. More or less heated.
After I finished school I kept working at the fish plant until I got married.
Edward Publicover had opened up a store in West Dublin and he had a dance hall upstairs. I didn't get to go to the dances. I tell you, my grandmother was very protective. I didn't get to join CGIT [Canadian Girls in Training, a United Church group] like the other girls did. There were a lot of things I wasn't allowed to take part in. Plus I had to walk wherever I went.
I remember a girlfriend and I walking to Petite Riviere to visit friends and taking my shoes to a cobbler there to get them fixed. I probably wore my shoes out just as much going out there and coming back.
I didn't get to go to Bridgewater to shows or events until I was much older. Loran James lived here in LaHave and he ran a bus. And Saturday nights there was a big old truck owned by Wallace Richards that went from Petite Riviere. He had a cover over the back and benches on the sides and you could go to Bridgewater on Saturday night.
We went shopping in Bridgewater, and then there was theatre, and of course we'd go to the Exhibition. And in summertime there was a water carnival. We used to go sit on the bank and watch the water sports—log rolling and canoeing and things like that—and then the boats would be decorated for the boat parade.
Brady and I met at a dance—pie sale they called them then—at the West Dublin Hall. They had dances and pie sales to raise money for the school, and us girls that were working at the fish plant used to get together and go. The pies were auctioned, and Brady bought my pie. I think it was lemon. From there on we were friends, and of course I couldn't leave until my grandmother was gone, so he waited for me. She died in May 1955 and we were married in October. I was 26 then. A lot of my friends were married younger.
This was Brady's father's home, and when I came here it was me, Brady, his mother and his sister. And his brother lived next door. They just took me as one of the family, and Brady's sister was just like a sister to me. They all accepted me and treated me wonderfully. It was nice to have companionship and friendship. It was a big change. Working became so much easier—there were things I didn't have to do anymore, such as firewood. If I wanted to help with it, I could, but at home I did it because I had to.
Brady started with the ferry after he came out of the Air Force marine section in 1945, when the war was over. A lot of his friends had gone with the RCMP marine, and he decided that's what he'd like to do too. So he went through all the examinations and tests and was accepted, then came home and told his mother, and she was so disappointed because she thought he would come and run the ferry like his father and his uncle had. So he gave up on his idea of going with the RCMP, cancelled his plans there and started on the ferry. It wasn't anything new for him to be crossing the river, for sure.
He started doing the ferry in 1948, and the cable ferry came on in 1980, and he was on that until he retired.
Before the cable ferry it was a scow and a tugboat. His first few years he had two Cape Island boats. In case one broke down, he had the other. The government provided the scow and he provided the boats and the manpower. So it was subsidized. I think it was 25 cents to cross at first, and then it went up to 50. All he ever got was 50 cents a car.
There used to be a lot of traffic on the ferry. At one point, there was a lot of work in Riverport, at the fish plant, and people going to work in Lunenburg. There was a lot of commercial traffic on the river too. The oil tankers would bring all our fuel up here to Bridgewater and freighters went up and loaded lumber. Brady at one point was a pilot too. He would take boats up to Riverport and Bridgewater. Whatever he could do to make a dollar, he did it.
There were lots of storms, and in the wintertime he had to tie up when the ice was in. And then people would complain that he should be running and he wasn't, and he knew it wasn't fit to go. Nobody knew the river any better than Brady did.
The provincial government almost closed the ferry down at one time, but the public got up in arms and said we need this! It's like a highway going across. It's well-used even if it doesn't make a profit. Highways don't make a profit. I don't think it was ever meant to make profit. It's a convenience.
When they brought in the new ferry in 2010 they named it for Brady. I've got a lot of pictures about that. We brought him out from the veterans' home in a wheelchair, and he was very, very proud. There were a lot of people, and of course I christened the ferry, so it was special.