Michael de Adder's latest embraces the whole country
It seems totally appropriate that Maritime cartoonist par excellence, Michael de Adder, should celebrate this 150th anniversary of the founding of Canada by releasing yet another of his hilarious You might be from… books. This one, as the name suggests, takes the reader on a highly entertaining gambol through some of the things that make us all Canadian—or that we can at least relate to as Canadians.
As de Adder says in his introduction, "We are a patchwork of experiences. Some common and others less common. This book is like small pieces of cloth I've sewn together. And hopefully by the time you're done, you'll step back and see a quilt; a quilt that resembles Canada."
Originally, de Adder had no plans to do a book about Canada, but during the various times he was working on his previous tomes about Nova Scotia, New Brunswick and Newfoundland and Labrador, he would ask himself if the items on his list of ideas for cartoons for those books were very provincial or more of an all-Canadian shared experience. His list kept growing, and with encouragement from family and friends, he created an all-Canadian treatise of cartoons.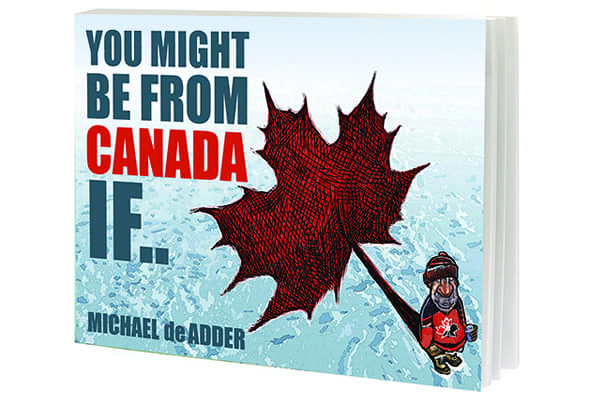 Cartoons of this nature—a single frame, usually with no words in the cartoon and only a single line as a caption—have to be well done to communicate and be funny or evoke other emotion at the same time. In this, de Adder is a master. One of the cartoons is captioned, "You keep a huge wad of cash lying around." The cartoon itself is a desk drawer with a big bundle of Canadian Tire money in it. Another says, "You find these place names quite normal" and includes Spuzzum, Head-Smashed-in-Buffalo-Jump, Saint-Louis-du-Ha! Ha!, Mushaboom, and of course, everyone's favourite, Dildo.
At the same time as most of the cartoons are very amusing, there is a sense of pride that comes from reading some of them, too. The cartoon "Your diet is all over the map" includes such quintessential dishes as Nanaimo bars, Saskatoon berry pie, Montreal smoked meat, Timbits, donair and cod tongues.
Some of the drawings are pointedly political, too, such as the Canadian dude opening a can of (Canadian, naturally) beer in front of two gun-toting Americans, and saying "This is open carry in Canada."
I defy any reader to look at the cartoon of men, women and children (and hordes of Canadian flags) standing on an overpass under which hearses are passing, with the caption "You welcome home your fallen soldiers in the most Canadian of ways" and remain dry-eyed. Not possible.
This is a book for all of us from sea to sea to sea—even if we've been waiting a long time for a Stanley Cup win (pity those poor Toronto Maple Leaf fans!) or are half an hour later in Newfoundland—or have already spilled beer and poutine on the book.
Grab your double-double and a beaver tail, settle down and laugh your way through our common experiences.