"How many people in America have roots in the Maritimes," the tourist asked. Her granddad had gone to the "Boston states" in 1926 and she was here to trace her roots. She was surprised to be told that six million was a rough estimate. Her query was overheard by an older couple. The man chimed in, "And that doesn't count people like my wife. Maggie was a war bride in '46."
Along the boardwalk, the tourist might have met a man who came to Canada as a "home child." The store beside which they stood was run by a Lithuanian, one of millions from overseas who poured into Canada after the Second World War, known then by the label "displaced persons" or "DPs." Most 20th century arrivals at Halifax passed through Pier 21 (see story page 58), but Maritime ports have been receiving newcomers ever since their beginnings. Indeed, without immigrants, these cities would not have been built.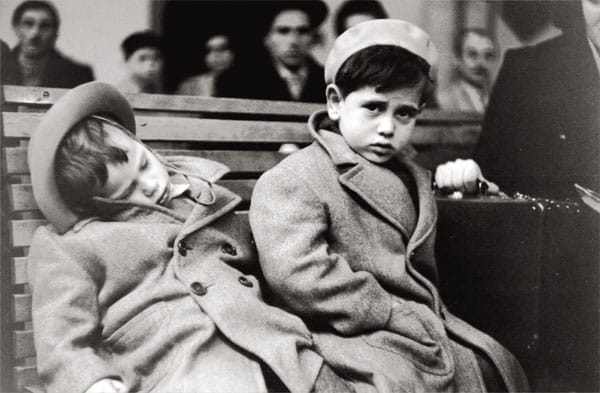 Imagine Nova Scotia's LaHave River in the 1630s, as people from France landed to establish homes in Acadie. This was the real birth of the Acadian people. Even the old inhabitants, the Mi'kmaq, were once immigrants, though they walked.
Think again! A fleet from England slips through the fog, into Chebucto Bay, NS, in 1749. Hardly have those first Haligonians spent a winter when the "foreign Protestants" enter this harbour. Some settled Dartmouth, but most would establish Lunenburg.
Think again! The New England Planters fill vacant Acadian lands, founding settlements in places such as Georgetown, NB, and Liverpool, NS, Sackville, NB, and Onslow, NS. These are immigrants twice over. Their ancestors came from Britain to New England; now they and settlers from northern Ireland become Maritimers.
Then came Yorkshire folk. The ink was scarcely dry on their deeds when war broke out in America, a civil war which exiled thousands of "Tories." These Loyalists began a new life in St. John's Island (PEI), Shelburne, NS, Saint John, NB, Guysborough, NS and elsewhere.
Like the Planters, these are immigrants warmed over. Some were descendants of African slaves. How many boat trips had they taken to get here, and under what sort of conditions?
Later still, Highland Scots and Irish immigrants set fair to turn Cape Breton, Prince Edward Island and much of the mainland into Nova Celtica. An early visitor grumbled of a Maritime town that "the language of its wild streets is Irish!" He meant Gaelic.
The War of 1812 brought refugee blacks from Chesapeake Bay, people who "found the freedom under the flag of empire that was denied them under the flag of Freedom."
Add to these the millions who passed through Saint John, Halifax, Pictou, Charlottetown, Miramichi, and smaller ports, and you see that our region was the neck of a funnel which spread its arrivals to the west and south across North America. If six million people have roots here, millions more passed through to get there. How many people today are in North America whose first sight of Canada was Sambro lighthouse or of Partridge Island? How many ate their first meal in Canada in an immigration shed, perhaps at Pier 21?
We are all immigrants in some way or other. Fortunate are those who can go and see the place where their feet first touched the soil of our country and our continent.