Cleaning the two-seater, and other rituals of tucking in a beloved little summer home.
The leaves turn crisp, the apples hang heavy, the wasps fly slow, the geese sail south, the harvest moon shines on… and I resign myself to the melancholy job of closing down the family cottage. I'll climb up on the roof to clear out the eavestroughs; carry a scrub brush, soapy water and quicklime to our two-hole outhouse; sweep out the beloved cabin, now in its 34th year; and tidy up collections of long-dead magazines, some of which I edited as a lad in my 40s. I'll rearrange the dusty games of dominoes, Chinese checkers, Scrabble, Clue and Monopoly.
They won't really need rearranging, but I like to handle them. In nights that sometimes seem almost beyond memory, when our three children were small, silly and impossibly pretty, those games bound my wife and me to them, and them to us. We played by the light of our kerosene lanterns. I really must clean their chimneys, done by twisting scrunched-up pieces of newspaper inside them.
By noon, I have a fire snapping in our Fawcett wood stove, from Sackville, NB. Unlike modern, super-efficient, airtight stoves, this old thing is not picky about its diet. It burns softwood, hardwood, driftwood, damp, green, punky and mud-caked wood. For lunch, I cook up wieners and beans on our Coleman two-burner. It's been here since Pierre Trudeau's first term as prime minister, but it never lets me down. Nothing here does.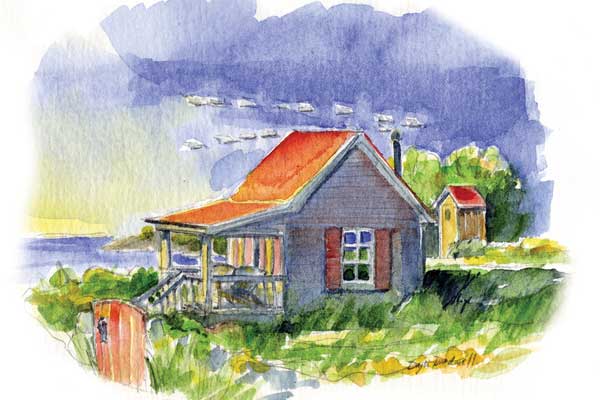 I get my mower sputtering and fuming, and spend two hours shoving it over rocks and anthills, and through the coarse, muscular grasses and bullying weeds that dominate our "lawn." The blade ends up mangled and dull but, what the heck, winter's coming on, and I can't leave the property looking unloved.
If I were wealthy enough to own a cottage on a Muskoka lake in Ontario, I wouldn't have to blow a whole day dirtying my lily-white hands on such menial tasks. I'd just hire Muskoka Cottage Sitters. According to the National Post, this outfit "looks after all maintenance and repair work, takes your trash to the dump, installs the dock and splits the wood."
Muskoka At Your Service, a similar firm, "will fill the fridge from your online list, clean and prepare meat and vegetables, garden, paint and decorate." Would such businesses stoop to shutting down a crummy hideout like ours? Maybe not. They probably have no outhouse cleaners on staff, and wouldn't know what to make of a cabin with no fridge to fill.
They're caretakers not for mere "cottages" or "camps," but for "recreational properties." Compared to the primitive joint I've loved since long before anyone could place an online order for groceries, these are palaces. Many Canadians are now so stinking rich that, without giving up their year-round homes, they're spending millions to buy themselves a ski chalet, a lakeside villa and a beachfront house in somewhere like Barbados.
Such "real estate retreats" are apparently terrific investments. Their owners love them as they love their Royal Bank or Petro-Canada shares. Moreover, without them, some parents would never see their children and grandchildren. Wendy Dale-Brennan, who sells ski chalets in BC, describes these posh hideouts as focal points for family life. "Typically, the choice is shaped by ensuring there's something for everyone," she says. "And that can take a couple of different locations to fill the bill."
So Debbie, her husband and kids won't visit Mom and Dad except at a ski-resort chalet. Her big brother, his wife and kids prefer to loll around at a five-bedroom dwelling on a Caribbean beach. Since Mom and Dad don't want to show favouritism, they buy both places.
Oh well, that's their business.
As the shadows lengthen, I finish my annual ritual. The air turns cool, the voice of the loon is heard on our bay, and I close the shutters. Our cabin sits on a seaside bluff, and the cold surf murmurs on the sand and stone far below.
Bye, bye, little home of distant laughter. Sleep tight. See you in the spring.