A group of new Brunswickers discovers the meaning of home in El Salvador.
It's about 8 a.m. and Jennifer ("J") Baxter is already hard at work, lifting pails filled with gravel, sifting sand and mixing mortar. The heat is stifling-about 30°C, far hotter and more humid than Baxter, of Riverview, NB, is used to. It makes the stench from a nearby outhouse almost unbearable. But Baxter is all smiles. She's on vacation.
Baxter, 35, a call centre human resources manager, is one of eight Atlantic Canadians volunteering with the non-profit organization Habitat for Humanity, building houses in El Salvador. It's the smallest of the Central American countries; about half of the 6.9 million people live in substandard housing following a civil war from 1980 to 1992, Hurricane Mitch in 1998 and two earthquakes in 2001.
In Panchimalco, where Baxter is working, a small town about 14 kilometres south of the capital San Salvador, metal shacks with dirt floors are common. The more fortunate have concrete homes. Most people have outhouses or pour-flush latrines. And while running water is available, traditional showers are not. An outdoor cement sink is used for bathing, doing laundry, washing dishes and preparing food.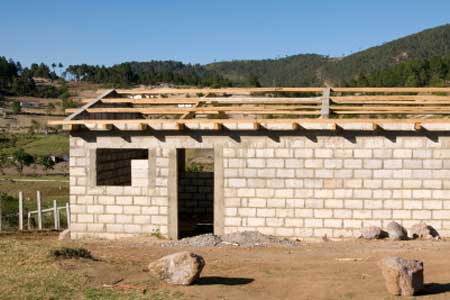 The youngest of three girls, Baxter is outside her comfort zone. "I don't do hard labour," she laughs, sweat beading on her brow, her clothes looking suitable for a Tide commercial. She hasn't done much overseas travelling, nor has she done a lot of volunteer work. Still, she's exactly where she wants to be.
The trip was organized by Beth Kelly, owner of Saint John-based Aquila Tours Inc. After going to India in 2002 she saw first-hand how travellers could positively impact the lives of local people. So the 56-year-old grandmother set up a program to combine volunteer work with overseas travel - "voluntouring." The idea is that participants can help make a difference not only through a week of volunteer work but also by contributing to an area's tourism infrastructure with a week of R&R, as well as a donation to support the volunteer project. The trip to El Salvador last October was the first voluntour trip Aquila offered; the travel agency is one of the first commercial operations in Canada to offer voluntouring.
El Salvador attracted participants from the Saint John area, Moncton and Riverview, NB, as well as Toronto and Calgary, for a total of 10. There were six women and four men; ages ranged from 35 to 70. Occupations included yoga instructor, pharmacist and retired port engineer. Some had done local volunteer work and most had travelled to some extent, but only a few had been to a developing country before-and even fewer knew anything about construction. It may have seemed that the group had little in common, but they all shared one thing: a desire to contribute, and a willingness to spend approximately $2,600 to do it.
The first week was spent working side by side with local people, helping build seismic-resistant homes made of concrete blocks and steel reinforcement. The second week the group toured El Salvador, including Cerro El Pital, the country's highest point, the colourful artisan town La Palma and the beautiful colonial town of Suchitoto. The group also stopped at the 16th century Basilica in Esquipulas, Guatemala, and took an unscheduled day trip to Honduras to visit the Mayan ruins of Copan.
They became fast friends, a family of sorts, sharing everything from deep thoughts to sunscreen and Immodium tablets, and concern for one member who was hospitalized due to being dehydrated.
It's not for everyone-being away from the simple comforts of home such as water you can safely drink from the tap, toilet seats you can actually sit on and hot showers with enough water pressure to rinse your hair; having to wait for things that never go according to schedule; occasionally fending off a huge spider or miniature scorpion that might wander into your bedroom. The challenges outweighed the comforts. The experience was physically exhausting and emotionally draining. But they all agreed they gained more than they gave.
Atlantic Canadians have a reputation for being friendly and neighbourly, but Jennifer Baxter says didn't fit the bill. "I was a jerk," she says. "I was self-motivated." It wasn't for lack of positive role models, she adds. "My parents are both amazing people…The amount of grassroots giving they do is amazing.
"I was a single woman with no children. No one in my family had ever passed away or had a health crisis. There's only so much you can give to people when you don't know. You just don't know what you don't know."
She suspects it was a serious scare with cancer, at age 32, that put her on the path to El Salvador. "It was very humbling; a huge reality check." So when she heard through a friend about Aquila's voluntouring trip, she knew she had to go.
But during the 22 hours of travel to get there, Baxter questioned whether she was cut out for it. She wondered if she might cry every day, seeing firsthand the devastating poverty. And while she owns a fixer-upper, she doesn't know much about construction. "I hope I get stirring," she joked during a stopover en route, guessing that mixing mortar would be the easiest job.
Al Redding, 70, a retired pharmacist and instructor at the University of New Brunswick, had different concerns. He is diabetic, and wasn't sure what the change in diet and interruption of his exercise routine would mean. But after hearing Kelly's presentation to the local Habitat board, of which he is a member, he jumped at the chance to participate. "I needed a new challenge," he says. "I thought being able to see another country and culture, meet new people who share the same ideas as I do, and help build a house all at the same time was a super idea."
Redding wasn't worried that people at home might question why he was volunteering abroad instead of in his own community. "People all over this world need decent homes. If somebody chooses to go to El Salvador, it's great. We're one big community; a global village. That's why those words are used," he says, referring to Habitat for Humanity's Global Village program.
For Virginia Stites, a 35-year-old pharmacist from Hampton, NB, the political climate of El Salvador was her primary concern. "It's not the most politically stable country," she says, pointing to a recent assassination attempt on the president.
But international development appeals to Stites. "We have so much and there are so many who have so little," she says. Although the Rotary Club she's been involved with for 11 years offers programs abroad to promote international peace and understanding, they usually require a three- to six-month commitment. "I thought this would be a good way to get my feet wet," she says. Stites is now planning to lead a team back to El Salvador in March.
The flight from Houston, Texas, lands in San Salvador at about 11 p.m. local time. The group is blasted with a wall of humid heat and makes its way through a bustling crowd before seeing a smiling woman holding a Habitat sign. Their luggage is loaded on a small bus and they hit the dark, sometimes treacherous road, where lanes and light signals appear optional and pedestrians are ill-advised to jaywalk.
Weary but excited they arrive at the Catholic retreat centre where they're staying. Like most homes in El Salvador, it's surrounded by barbed wire and like most businesses, guarded by a man with a machine gun; a stark contrast to its manicured gardens and surrounding lush mountains.
In the morning, awoken by a less than melodic choir of roosters and barking dogs, they enjoy a hearty breakfast and get an orientation. They are cautioned against drinking the water or wandering off alone, told what to do if there's an earthquake and urged to be polite about the outhouses they will have to use, which may or may not offer toilet paper.
About 28 families own most of El Salvador. Meanwhile, more than 35 per cent of the population lives below the poverty line. The average monthly salary is about $170 US, but basic necessities for a family of four cost an estimated $600 US a month. Even if two family members work full-time, most can't afford the basics. What's worse, the civil war left more than 75,000 people dead or missing and nearly one million in exile, meaning single-parent families are common. THIS ALL SEEMS TO ADD UP TO MORE THAN 35 PER CENT BELOW POVERTY LINE?
Habitat helps by building simple, affordable homes. The average house is 450 square feet, with two bedrooms, a living room, dining room and bathroom or outdoor latrine. They usually house four or five people and cost $4,500 US to build. Families must own their own land and pay Habitat $45 US a month for 10 years, with the money going back into a revolving fund. More than 4,500 houses have been built since 1992; each takes about six weeks to complete, less time with volunteers.
After a tour of the city, the group has dinner with the three families they will build homes for. "That really made it real," says Ed Vye, 62, a retired port engineer from Saint John. "They were nice, decent people; deserving people."
Although the families were initially shy, which is culturally typical, they eventually opened up. One man was so excited, he barely took enough time to breathe while expressing his gratitude, let alone for the interpreter to translate.
Vye has travelled to 43 countries, but never as a volunteer. He was worried the locals might resent their involvement. "I thought they might feel like we were the condescending, rich North Americans that had come to help. But they didn't seem to feel that way at all. They seemed to be very happy.
"It just confirmed for me people are people," says Vye. "Everybody's concerned about their family…We all want the same things."
The next morning, the group piles back onto the bus and heads to Panchimalco, past a modern shopping mall beside metal shacks; past buildings with bullet holes from the civil war; past police, military, even security guards at grocery stores with machine guns slung over their shoulders; past sickly stray dogs and young men so beaten down by the lack of opportunities they lie drunk in the streets.
They break into three groups for their eight-hour work day, starting only with four squares of compacted earth, divided by ditches. There aren't any power tools; just trowels, string and wooden scaffolding. Jobs include sifting sand, carrying cement blocks and mixing and applying mortar.
It's hot, strenuous work, more difficult than most anticipated. But several local children are keen to help the "gringos," often in bare feet and carrying loads that exceed their own weight on top of their heads or across their shoulders. They turn the work into play by forming a chain to pass bricks and buckets. It would never be allowed in Canada given safety regulations, but is welcomed-even encouraged-here, where the sense of community, of helping each other, is palpable.
Although none of the children speak English, the team communicates through gestures, the help of a Spanish-English dictionary and a Habitat translator who divides her time between the sites.
Russ Hatt, Beth Kelly's 53-year-old husband, whose surname led to the affectionate nickname Mr. Sombrero, anxiously waits for the translator to return so he can learn what the mason is saying about his group. "It's 'white' something," says Hatt, a supervisor for NB Power, later learning it's "Great white fighters." The mason, Fredy Saldana, 22, has never met Canadians before. He says through a translator he's impressed by how quickly they learn and how hard they work.
By the end of Day 2, Hatt has made a connection with Saldana, who calls after him as he leaves the site. "Russ, goodbye my friend," he says in English.
"That was special," says Hatt, realizing Saldana, who quit school at age 12 to work with his father, must have had to look up the words. "It said volumes. It really touched me."
As the homes rose to about shoulder height during the week, each group member experienced his or her own connections. For Joanna Manning, a freelance writer and yoga teacher based in Moncton, the most significant connection was on the third day when she became ill, likely from something she ate. An 11-year-old boy helping at her site took her by the hand to his family's home and laid her on a bottom bunk bed. He put a folded pillow under her head and covered her with a rug to keep her from shivering. "I was a stranger and they literally took me in," says Manning. "It was so incredibly touching."
Her only regret was not learning more Spanish. "I felt so inadequate," not being able to communicate, she says.
During the closing ceremony, however, much was said through smiles, hugs and tears. It was an emotional rollercoaster, playing games with the kids, presenting Bibles to the families and saying goodbye, the volunteers knowing they had done what they could but that there was so much more left to do. Despite the short period of time together and language limitations, bonds developed-especially with the children, who touched everyone's hearts. They smile radiantly despite their hardships, readily share what little they have and take care of one another without complaint.
Although they're poor, they have rich lives, says Baxter. "If you want to see what's important in life, this is a quick shot-in-the-arm way to do that."
Redding agrees. "We live a pretty good life back home," he says. "This grounds you, brings you back to reality. There's a whole other world out there."