After a stint as a contractor and cabinetmaker, New Brunswick's Brian Moxford aspires to make his living etching artistic glass designs.
A cabinetmaker by trade, Brian Moxford's company is called Alternatives in Design. "What I want to do is become established in the business of etching glass here in the Maritimes," he says. It's a craft he studied and developed in his native city of Toronto before he and his New Brunswick-born wife moved to Bloomfield Ridge in 2002.
For the past two years, Brian worked as a contractor and cabinetmaker, commuting between New Brunswick and Ontario. This past summer, he turned down a contract in Ontario to set up his business in Bloomfield Ridge. One of the deciding factors may have been when the manager of a jewelry shop in nearby Sussex recommended his work to a customer. "It wasn't a big job," he says. "A woman wanted to have the names of each of the male attendants at her upcoming wedding etched on commemorative glass beer mugs. It was the first time my work was recognized here by someone I didn't even know. More than that, it was someone who knew what the customer was looking for-handcrafted etching, not a commercial engraving."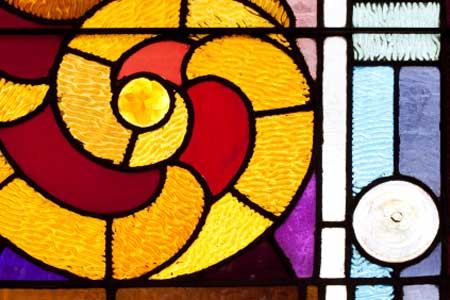 It's the artwork involved in the etchings that Brian likes best. "Right now there's a market for my work in a variety of commercial sectors, from mirrors to cars to champagne bottles," he says. One of the most popular items is an etched birthday or anniversary card. In fact, one woman whose family had him make a birthday card for her was so touched that she asked to have it buried with her when she died, and the family complied.
"I'm not too proud to etch a covered bridge on a rock as a souvenir," he adds, "just as other artists do with paint, but there is so much that can be done in a creative way, without resorting to the touristy aspect-not that there isn't a place for that too."
In 1994 Brian got into glass design by accident when he was sandblasting the rust off an old car of his in Toronto and he hit the corner of a window by mistake. "So I turned it into a design," he says. "When a racing fan saw what I had done, she asked me if I was able to do a NASCAR etching for her. It was my first commissioned job." Soon after, he had the opportunity to work with stained glass while he was renovating an older home in Schomberg, north of Toronto. He made enough money doing the repairs and restoration to take a course in stained-glass work.
"Stained glass is actually cut glass, and the proper coloured glass for this work is getting harder and harder to get," he says. "By the time you find some, the cost is so high that people have to give up the idea of stained-glass designs." Working with stained glass is a matter of cutting specific pieces of glass to a pattern, then putting them within a very narrow frame of lead that holds the pieces together. "It doesn't have the detail that etched glass has," says Brian. "It's like the difference between a painting and a charcoal drawing; the charcoal is softer."
Brian likes to draw his designs using a resist product; he believes that acid works better on smaller, more delicate work while a sandblaster is best for larger designs such as those on cars. All of his work is his own freestyle design. A realist as well as an artist, Brian accepts that he has to do commercial as well as creative work to pay the bills. "With any luck, my business might reach the stage where the commercial work will make enough to allow me to stick with my originals and pay someone to do the touristy stuff," he says.
Until then, he's happy to be in the Maritimes where he can watch his son, Jarrett, 8, grow up in a healthy and friendly environment. Along the way, he'll give his son tools to work with-tools that may be small and delicate, as the pair work together to make a voice-activated robot that looks like a fly. "The best thing of all is that it's made out of recycled electronics," says Brian. "I don't believe in throwing anything away. I might need it sometime to create a spaceship. Who knows?"