One Hundred Thousand Laughs. Find the spirit of Nova Scotia in its people.
Finally! You have some time off—time to scoot around and travel a bit with your partner, your grandkids, or perhaps your best friend. Let your hair down! You deserve a holiday, and you've come to the right place. Nova Scotia. Where anyplace is the right place in this part of the world.
Why, you might ask? Well, pull up a chair and consider: there is something here that is unique and irresistible—the spirit of the people. You can see it and hear it in their posture and voices. Although they take things seriously, Nova Scotians laugh a lot. They have smiling eyes. It's characteristic of seasoned people who haven't soured. They also have a quirky sense of humour, so get ready to smile a lot!
In Nova Scotia, you can see and experience the legacy spawned by Canada's earliest people including the Mi'kmaq, Scots, Acadians, Black Loyalists and New England Planters. Our roots run deep, as does our affection for visiting "neighbours." Nova Scotians are feisty, fun-loving and fascinating. We're proud of our roots, and love to "show and tell."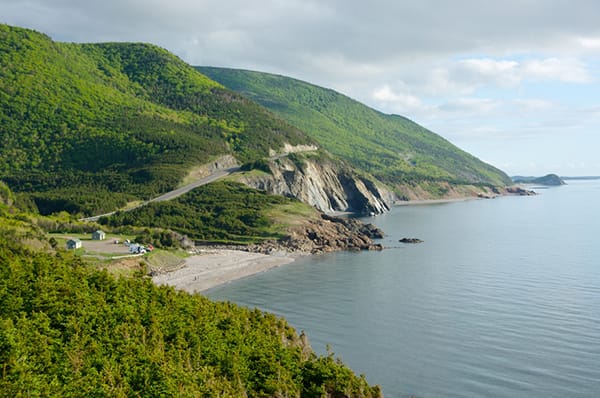 Ask the locals where the action is! Or what they'd recommend for a walk on the wild side! Snoop around. We encourage it. We'll tell you who the town characters are and where they hang out. We'll also tell you where the secluded beaches are; our secret caves; and where you can find agates and amethyst. Interested in having an aerial view in a small plane; going clamdigging; or taking a moonlight canoe paddle? Nova Scotia is loaded with gems you won't find splashed on a map or listed in a brochure. There wouldn't be space to put it all!
So take a picnic, a full tank, and an open mind. Then, as the saying goes, just follow your nose. You might discover a studio gallery and find yourself in a lively discussion about the mysteries of art; or hiking along a marsh, marvelling at the abundance of shore birds. (We are the best birding destination in Eastern Canada with more than 440 species.) And the gardens! Scores have won awards and been featured in magazines. Ditto unique places to eat. You'll find the definitive fish & chip shack or an incredible gourmet meal in the most unlikely places. Ask around!
If you fancy city life, Halifax is cosmopolitan, hip and savvy. It's also charming, gentle and delicious. It's brimming with concerts, lectures, art exhibits, theatre, trade shows, science fairs, museums, world championship sport events, regattas—you name it, you can find it!
Oh yes, and Nova Scotians love to party! There are more than 1,000 festivals and special events celebrating everything from A to Z. There are lighthouse festivals, candlelight graveyard tours, scallop days, antique car shows, folk and busker festivals. You can cosy up to clowns at old home week gatherings, try your hand at fly-tying, take part in a motorcycle rally or look into the jaws of a shark at a shark scramble. That still leaves more than 990 festivals and events to see and do!
Let the magic begin.
WESTERN Nova Scotia – Off the Beaten Track
There is no doubt: destination Southwest Nova offers more things for vacationers to experience than mere mortals can fit into a lifetime. Looking for fun? Adventure? Or simply something to refresh your spirit and ease your mind? It's all here. But the best that Nova Scotia has to offer is not always advertised, nor on the main drag. Thousands of hidden gems lie off the beaten track. People here are proud of their heritage and love to share their lifestyle. Just ask!
Then mosey down to the working waterfront. Feel the pulse of the community. Talk with fishermen and artisans. Drop into IMO Foods and learn how their globally sought-after fish is naturally smoked.
Interested in gardens? Find Walter LeBlanc and his amazing front lawn blanketed by begonias. Likely as not, he'll take you on a personally-guided garden tour in town.
Ask for directions to Chebogue Point—the most southerly point on land in Eastern Canada. You can smell the history as you gaze over 800 acres of salt marshlands, including some edible vegetation. See if you can find the stone maiden holding a sheath of wheat at the Town Point Cemetery.
Now find your way to Wedgeport, a typical coastal treasure. In the mighty tuna's heyday, Wedgeport was the fishing capital of the world. See for yourself what attracted the likes of President Franklin Roosevelt, Amelia Earhart, Jean Béliveau, and Ernest Hemingway to this community.
Further along the coast is one of the world's best-kept secrets—the Tusket Islands. Local sea kayaking guides and captains from the Argyle area can help you explore this magical place with its sea shanties, rich history, and diverse ecosystems.
If you take the turnoff to West Pubnico and your timing is right, you'll step into a toe-tapping kitchen party at the Musée Acadien. Ask about the lobster plug story or take one of many tours given by storyteller Laurent d'Entremont. He's worth the price of admission! Be sure to see the incredible new windmills before you leave.
And be on the lookout for small village museums such as the Chapel Hill Museum in Shag Harbour. Volunteers like Laurie Wickens (who was involved with the Shag Harbour UFO sighting in 1967) can entertain you for hours.
As you go along the Lighthouse Route you'll discover some of the best birding sites accessible by foot in Eastern Canada (and home to some of the nearly 30 designated Important Bird Areas in Nova Scotia). A drive around Cape Sable Island is a "must-do" destination.
Bonus: Along this coast there are over 20 lighthouses and the most picturesque and pristine beaches you can imagine. You'll meet people like Jo-Anne and "Captain" Paul Gouden from Ingomar, NS. These owners of Whispering Waves Cottages work at spoiling their guests. They'll tell you stories about rum-runners, take you seal watching, and show you how to jig a mackerel.
If you like whitewater kayaking, ask about "The Perfect Wave" on the Medway River. You might happen upon Kelsey Thompson and pick up some tips as he practises for the upcoming World Whitewater Rodeo. Though Kelsey's from Truro, he practises on the Medway for all his competitions.
Later, take a right by the store in Port Medway, and head along a spectacular drive into Long Cove in the Western Head area, home to Eleanor's Dis and Dat Store. It defies description, as does Eleanor.
In Liverpool, search for Danny Schrader's backyard. He's faithfully reproduced scale models of famous buildings and he welcomes visitors. Then take an unusual tour on a glass-bottom boat from the Brooklyn Marina.
All along these shores you can go clam digging, take a moonlight canoe ride, or buy a ticket to church supper. There's everything from lobster boils and beach bashes to sea derbies and historical societies' quaint teas. What better way to meet the locals and find out who's who and what's what!
In Lunenburg, drop into St. John's Church and see how this national treasure was restored after a catastrophic fire. Ask about the mystery of the stars that was uncovered during the restoration process. Join Eric Croft on one of his spooky (but not scary) lantern-lit tours then finish the night with a slice of "funeral pie."
From Chester, take the five-mile (8 km) ferry excursion over to Big Tancook Island where you'll find one of Canada's oldest general stores.
At some point, you'll want to switch coasts and see what the "other side" has to offer. Take Route 14 and cut over to Windsor. As you drive along the Evangeline Trail, you are never far from the mighty Bay of Fundy.
The most dramatic display of the tides on our planet occurs at Cape Split, a two-hour (8 km) hike from Scots Bay. The roar of the water (which equals the combined flow of all the rivers and streams on Earth) is called the "voice of the Moon." Look for a little known spur trail that descends into Amethyst Cove. There are ropes to make the final descent.
Then head to Halls Harbour and south on the coast road. Over 20 villages dot the 125-kilometre stretch to Delaps Cove. Artisans with working studios, magical gardens, miles of beaches, and fabulous places to go rock hounding abound. You're never too far from Route 1 so it's easy to slip back and forth. For example, take a side trip into Waterville and hop aboard a small plane for an aerial tour of the valley.
A few miles before Digby, veer off to the Bear River First Nation Heritage and Culture Centre. Enjoy native dance, song and drumming; watch a wigwam being constructed; take a hike on a medicine trail and learn about native spirituality.
And if you really want to get off the beaten track, call Ann or Hantford Lewis in Weymouth and join them for a wilderness canoe trip in the Tobeatic Reserve. You can paddle for three days or three weeks and never see another soul!
For a fascinating detour, slip inland to New France and visit the "Electric City" founded in the late 1800s. Interpretive signage and walking trails take you back to those early pioneering days.
From the municipality of Clare—a dozen French speaking villages between Salmon River and St. Bernard—back to Yarmouth, you're always close to the Bay of Fundy and sunsets that will leave you gasping. Oh yes! And watch for the primary coloured signs signalling Frenchy's—a unique string of new-to-you clothing stores. Thrill to the hunt for spectacular finds.
When you think about what's going on "off the beaten track," it's no wonder people say things like:
"You people seem to have so much time to talk to visitors. Is everyone like that in Nova Scotia?"
"This is the life. There seems to be mysteriousness about the people here. When the locals are speaking together, they seem to not even have to finish a sentence—only nod or make some other sounds—and they understand perfectly."
"I walked this beautiful beach and I was all alone. I just couldn't believe it."
"I wish I lived here."
EASTERN Nova Scotia – Off the Beaten Track
I'm about to do something strange, something I should have done a long time ago.
I'm booking a vacation, at home, in true Nova Scotian style.
Too long have I heard others rave on about the gems in my own backyard: nights at cosy inns, days getting off-the-beaten-track, breathing in invigorating sea air, playing guitar around a beach bonfire, and generally taking the time to find and fall in love with my province's world-class attractions.
Vacation treasure is around every corner in Nova Scotia.
Grab a map, and your sense of adventure, and come with me for a travel wish list ride through Cape Breton, northeastern Nova Scotia and Halifax.
The sweet, rugged island of Cape Breton, nestled in the waters of the Gulf of St. Lawrence and the Atlantic Ocean has attractions aplenty: the world-renowned Cabot Trail; Fortress of Louisbourg National Historic Site; the majestic Cape Breton Highlands National Park; and tourist mecca Baddeck, with its sailing, golf, quaint shops and Alexander Graham Bell Museum. The island's appeal stretches deep. I've long planned to camp at Meat Cove, on a cliff overlooking the ocean, and take to the sea from Pleasant Bay for a floating kitchen party on a fiddling whale cruise. There's single malt whiskey to be sampled at Glenora Distillery, lobster to be bought fresh off the boat, a Men of the Deeps concert, and tickets for a performance at the Savoy Theatre.
Here are a few other ideas on my list:
Eagle Park: The provincial park in the tidy little village of Whycocomagh rises up a mountainside to provide a peaceful oasis with tremendous views of the Bras d'Or Lake. This is the place to picnic and hike. Cape Breton's counties are visible from the top of Salt Mountain. Eagles are plentiful in the area. Indian Island, in Whycocomagh Bay, has nesting eagles. River Time: If a river can get in your veins, then surely the Margaree, famous for its fly-fishing, will fill your soul. Here's to planning some time around the "Margarees" to fish, hike, and take in a barn dance at the Normaway Inn—whew, just try to catch your breath! There's a salmon museum too, and a trip to Cape Clear in the Highlands to view the start of the Margaree River.
"You must go to Dingwall!": Those words still ring through my mind, spoken as they were with such enthusiasm this winter. "You must go," the university professor told me, eagerly describing his favourite place, just off the Cabot Trail. His family has been coming to this lovely remote northern village some 30 years, lured by mountains, beaches, the North Atlantic, and their very favourite motel. I'm planning my chance soon!
Nova Scotia's central region is home to two very different, and equally wonderful, coastal experiences. The Glooscap Trail has the world's highest tides in the Bay of Fundy, geological wonders and fossil finds. The warm waters of the Northumberland Strait lap the shores of the Sunrise Trail, with its country roads and soothing vistas. I have no problem imagining my vacation list here.
Riding the rushing tide: A fellow Bluenoser has urged me—as well as all other Nova Scotians—to experience tidal bore rafting along the Glooscap Trail. It's the only place in the world you can raft upriver, he says, and an adventure that won't be forgotten!
Love that food: Fresh produce, specialty meats, maple syrup, farm markets, wild blueberries … yes, foodies will love the Sunrise Trail. Sipping wine at award-winning Jost Vineyards in Malagash, sampling succulent blueberries in Oxford, and enjoying a melt-in-your-mouth maple brunch at Sugar Moon Farm in Earltown sounds like a great way to spend a few days. Throw in the Tatamagouche farm market and fresh seafood, and this jaunt will satisfy the most discerning palates!
Pretty Parrsboro: With a range of charming B&Bs, professional live theatre in the Ship's Company and the chance to scour the beach for minerals and precious stones, Parrsboro is a natural getaway. The Fundy Geological Museum is a gem itself, showcasing dinosaurs and a geological treasure chest. There are even curatorial walks with experts to explore the local landscape.
Last summer my family took a long overdue three-day weekend to explore Nova Scotia's Marine Drive. Each of us came away with an appreciation for this unspoiled and largely undiscovered region of the province, right down to the toddler who ran pell-mell along the long white sandy beaches, enthralled with the waves lapping at her feet at the shore's edge and digging in the sand to her heart's content. We can't wait to get back to explore even further. Halifax? There's good reason everyone loves this city. From the romance of the sea breeze that blows in from the waterfront to the chic leading restaurants, the city is choc-a-block full of jewels waiting to be discovered.
Big City: In provincial capital Halifax, the "big three"—the Maritime Museum of the Atlantic, the Halifax Citadel and Pier 21 National Historic Site—are musts. For something new, I'm intrigued by renting a bike to explore the city, then plying the harbour aboard the Tall Ship Silva. Day two would include unleashing my inner artist at the Clay Café, and a night out on the town—enjoying great music and fun pubs.
Heritage Village: Lunch never tasted so good, as in the cookhouse at Memory Lane Heritage Village, which recreates life in a 1940s coastal Nova Scotia village. I must return to this treasure along the Marine Drive. Beside good grub, Memory Lane is a living history village that should be explored. The tour starts at Hosking's General Store. There were about 35 village stores along this shore in the 1950s. The number dwindled considerably, and when this one from Jeddore Oyster Pond, was scheduled to be torn down, the Lake Charlotte Area Heritage Society took that as a rallying cry to save the vanishing architecture of the community. Memory Lane was born.
Marine wonders: The beaches are beautiful, hiking trails abound and scenery is splendid along Highway 7, the Marine Drive, which traces Nova Scotia's eastern shore. It's time to explore beach fun at Martinique, the province's longest white sand beach; Taylor Head Provincial Park, with its amazing fine white sand and great hiking; and Clam Harbour. Kayaking is great too. Plan to dip a paddle in around Tangier, which had a gold rush in 1861. The area also boasts Willie Krauch's smokehouse where visitors can buy a variety of smoked fish, including smoked salmon.