The good news is that international travel has never been easier. Be it Iceland or Cancun, Frankfurt or Florida, you can get there from here-smoothly, efficiently and, best of all, without changing planes.
The travel industry is booming in Atlantic Canada, and all indications suggest it's going to get even better. In the last five years, the three major airports have undergone drastic redevelopment that has allowed them to expand their passenger base exponentially. 
In the past, long-haul travelers were obliged to make connections through Toronto, Montreal or Boston; but those days are fast becoming history. "Over the years," says Jerry Staples, VP of Marketing and Business Development at the Halifax International Airport Authority, "there has been significant change in air service. There are more non-stop destinations than ever before. Air travel is now viewed as a natural convenience: there's an expectation that service will be available."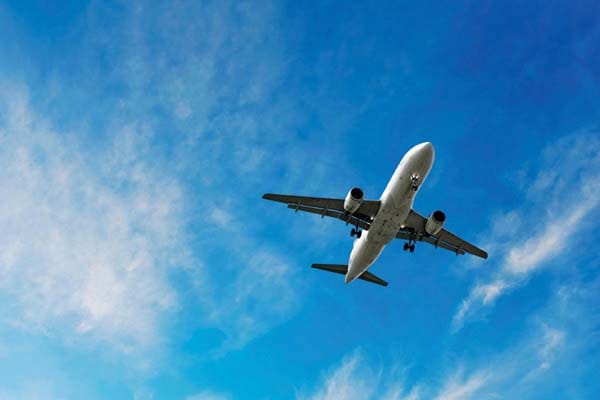 And available it is. Halifax, Staples points out, "has been the gateway to Canada historically; and it's no different with air service." Halifax Stanfield International Airport handles more than 600 flights a week, and a total of 3.4 million passengers in 2006.
Scheduled international carriers include Air Canada (with daily flights to London, Boston and La Guardia); American Airlines, United Airlines, Delta and Continental servicing New York, Washington, Boston and Newark, respectively; and Icelandair, which runs three flights a week to Reykjavik; linking to a multitude to northern European cities. And of course, Air St. Pierre flies three times a week, year round, to the French island off the coast of Newfoundland.
Seasonally, there's even more choice. Apart from scheduled WestJet flights to Florida and the Bahamas, and Northwest Airlines to Detroit, a number of charters and tour services offer a range of destinations. Air Transat services Florida between January and May, while its tour company, Transat Vacations, visits Cuba, the Dominican Republic and Mexico during the winter. Air Canada Vacations also seeks out the sun, with winter charters to Mexico, Cuba, Jamaica, the Dominican Republic and Mexico. In the summer, Condor flies twice a week to Frankfurt, Thomas Cook to London, and Zoom goes to London and Glasgow.
Halifax may be the biggest and busiest hub in the east, but St. John's International Airport is-according to Marie Manning, Director of Marketing and Community Relations-considered to be "the most beautiful airport in Canada." Its new terminal was completed in 2002, replacing a 1941 structure that was built to facilitate military flights during the Second World War.
There's good reason for pride: the sleek contemporary creation features Belle Island stone, stainless steel and lots of glass, and has so far outpaced its expectations (1.2 million passengers in 2006) that further expansion is planned.
Most of St. John's scheduled flights must go through Halifax, Montreal or Toronto; but Continental flies directly to Newark; Air St. Pierre flies to St. Pierre year round, four times a week; and there are several seasonal charters. Air Transat offers direct flights to the Dominican Republic and Cuba twice weekly from February to April, and Skyservice and Sunwing also service the Dominican Republic during the same period.
Vying for the beauty-contest bragging rights, the Greater Moncton International Airport is another impressive development that won't be ignored. "We've won architectural awards," boasts Johanne Gallant, the airport authority's Director of Airport Commercial Development. "It's very modern, with lots of windows, and the (construction) materials within the airport represents the community."
The building features red stone and blue mosaic tiles, representing the colours of the Bay of Fundy; and white birch to symbolize the province's vast forests. The walls of the restaurant resemble the curved sides of a ship, an obvious homage to New Brunswick's seafaring traditions; and an art gallery showcases works by local artists. In the words of Gallant's colleague Stephanie Coté, the airport gives travelers "a sense of place."
It also offers them direct seasonal flights to Cuba (Sunwing, Air Transat); Florida and Cancun (Air Transat); and Paris in the summer (Corsair). Continental flies daily to Newark, and Air St. Pierre once a week during the summer to (you guessed it) St Pierre. Air Canada and WestJet flights make Toronto connections. The airport, whose new terminal building is two-and-a-half times the size of the old one, welcomed 500,000 travelers in 2006, and has the capacity to handle 750,000.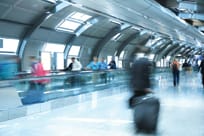 The future of international air travel in Atlantic Canada appears headed for clear skies and continued growth. Not only because of the determined push to modernize facilities and services, but also thanks to recent policy developments aimed at attracting more tourists and business travelers to the region.
The federal government's Blue Sky program has created a liberalized framework for bilateral negotiations with foreign carriers. This has brought Icelandair back to Halifax after a lengthy absence and is expected to draw other carriers in time. "Previously impossible flight configurations become possible," explains Peter Spurway, VP of Corporate Communications and Public Affairs for the Halifax International Airport Authority. "So that allows our marketing people to pitch these flights to our travelers."
Also significant (for Halifax, at least) is the U.S. customs and immigration pre-clearance, which Spurway describes as "perhaps the most exciting development for us." Since October 2006, U.S.-bound travelers have been able to clear the bureaucratic hurdles before boarding their planes.
"It's fantastic," exclaims Spurway. "It's such a convenience for travelers to not have to deal with a customs situation on the other end. It makes it much easier to plan connections."
Despite their dramatic growth spurts, progress has not diminished the east-coast warmth and friendliness of these three international airports. Moncton's Stephanie Coté points to the airport's "Welcome Crew"-a team of retirees who volunteer to provide information and help smooth out some of the challenges of modern air travel.
And where else but in the Atlantic Canada could you buy fresh lobster in the airport and have it packaged for takeoff?