Prince Edward Island
January 16
Summerside
Tommy Hunter
Some will remember Canadian legend Tommy Hunter on the CBC TV show, Country Hoedown as early as 1956. The Tommy Hunter Show began as a CBC Radio program in 1960 and went on to replace Country Hoedown on CBC TV in 1965; it ran until 1992. Hunter was inducted into the Canadian Country Hall of Fame in 1984, and appointed a member of the Order of Canada in 1986. Come out to enjoy a nostalgic evening with this classic country artist. Tickets are $36.50. Information: jubileetheatre.com/.
January 16
Charlottetown
Little Bear Live: Winter Tales
The kids will love this magical journey with Little Bear and his friends Duck, Cat, Owl, Hen and No-feet. There are dancing pumpkins, a snowball fight with squirrels, the exchange of Valentine's cards and a spring picnic. This is sure to be a show full of surprises! Confederation Centre of the Arts; 4 p.m. Tickets are $15. Information: 1-800-565-0278 or confederationcentre.com.
February 1-3
Charlottetown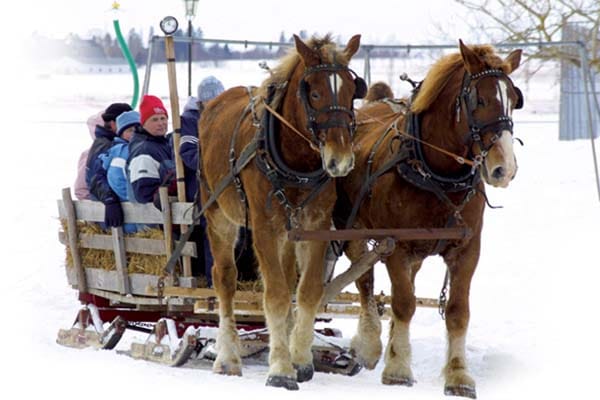 Winterdine
Explore the best restaurants-from Just Us Girls to Claddagh Oyster House-in downtown Charlottetown at this gastronomic festival. Each restaurant has prepared a wonderful three-course dinner menu with set prices ranging from $25 to $35. Plan your next social event, meet with a friend or enjoy a romantic dinner for two. Information: downtowncharlottetown.com.
February 14
Charlottetown
Valentine's Cabaret
Enjoy the romance of Valentine's Day with great live music performances at The MACK theatre. What could be better? (To make your night out even more special, savour a romantic meal at Mavor's beforehand.) The show starts at 8 p.m.; tickets are $25. Information: 1-800-565-0278 or confederationcetre.co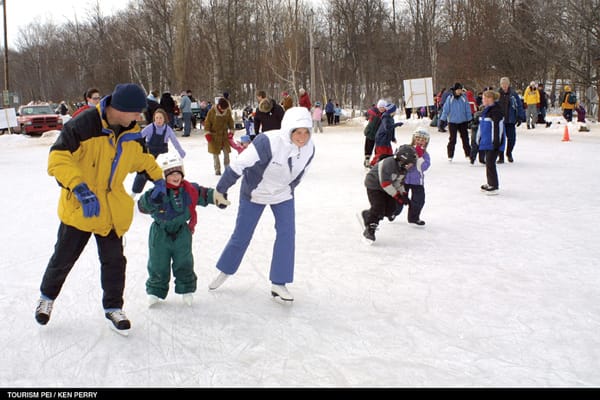 February 22-24
Charlottetown
Jack Frost Children's Winterfest
Come, bring the kids to "the biggest magic winter weekend east of Quebec City!" There are three outdoor venues and one indoor venue (and free transportation between venues) to keep everyone captivated all day. Highlights include CIBC PlayLand, featuring inflatable attractions and carnival rides, and the Aliant Snow Kingdom, with its Pirate & Princess theme… all capped off by nightly fireworks. It's the stuff of candy-coated memories! Information: 1-800-955-1864 or walkandseacharlottetown.com/jack-frost.
Nova Scotia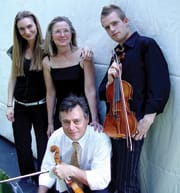 January 6
Halifax
Saint Cecilia Concert Series
Join the Djoick family as they help ring in the New Year at the Lillian Pearson Concert Hall. Pianist Lynn Stodola and violinist Phillippe Djokic are joined by their daughter, cellist Denise Djokic, and son, violinist Marc Djokic, who are home from their busy international touring schedules. The Saint Cecilia concert series is a long-running tradition of national and international classical music in Atlantic Canada. The concert begins at 3 p.m. Information: (902) 420-4085 or stcecilia.ca.
January 10-12
Halifax
Defending the Caveman
Perhaps you made a New Year's resolution to see a Broadway play? Check out this smash-hit starring Micheal Van Osch at Casino Nova Scotia. Defending the Caveman is a solo comedy about men and women, offering an olive branch in the constant misunderstandings between the sexes. (The show is apparently recommended by psychologists and counsellors.) You must be 19 or over to attend; starts at 8 p.m. Cost: $36.75 per ticket. Information: (902) 451-1221 or ticketatlantic.com.
January 19
Halifax
Share the Dream
Feel the spirit of Martin Luther King's message with the Nova Scotia Mass Choir and Eastern Front Theatre in this combined tribute to Dr. King and Archpriest George A. Francis (father of the Lieutenant Governor of Nova Scotia). Share the Dream is an annual celebration of peace and harmony. Dalhousie Arts Centre. Information: 1-800-874-1669 or artscentre.dal.ca.
January 23-February 4
Wolfville
Winter Carnival
Take the roof off winter by joining in on fun events with family and friends at the Wolfville Winter Carnival. You'll find sports, movies, culture and much more! A highlight-learn how to make your very own ice rink. Information: (902) 542-7000 or downtownwolfville.com.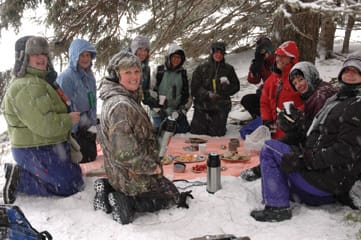 February 8-10
St. Ann's
Winter: Becoming an Outdoors-Woman
Looking for some outdoor adventure and an introduction to traditional winter sports? Check out this weekend-with workshops in activities such as cross country skiing, snowshoeing, winter camping and ice fishing-held at the Nova Scotia Gaelic College of Arts and Crafts, on a beautiful, wooded peninsula in Cape Breton. Runs from Friday night to Sunday at 1 p.m.; program partners include the Nova Scotia Department of Natural Resources. Information: Pam Grace (902) 424-5832 or gov.ns.ca/natr/outdoor/.
February 16
Gully Lake Wilderness Area
Cross Country Skiing
Enjoy the beauty of a cross-country ski through the hardwood forest trails at the Gully Wilderness Area, near Mount Thom. This 9,400 acre protected area is the largest remaining patch of mature forest in the area (and where the Hermit of Gully Lake lived). As well as cross-country skis bring water and lunch, and wear warm clothing. Suitable for adults and youth 12 years and over, this excursion is sponsored by the Nova Scotia Department of Environment and Labour. Starts at 10 a.m.; call to register. Information: Oliver Maass (902) 424-2123 or parks.gov.ns.ca/pr4p/events.asp?EventCode=February_2008.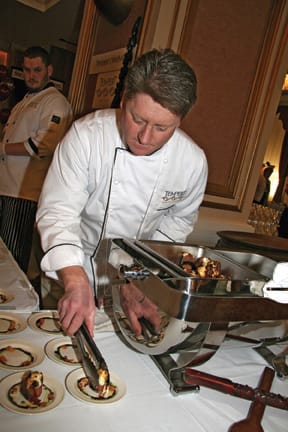 February 28
Halifax
Savour Food & Wine Festival
Mmm…good food, wine. Sponsored by the Restaurant Association of Nova Scotia, the festival features a smorgasbord from some of the best local restaurants and wine specialty stores, including, Bish, 44 North, FID, Tempest, Le Caveau and Hamachi House; wine and cheese tasting, beer seminars, pasta making, cooking demonstrations. Westin Nova Scotian Hotel; 6:30 p.m. to 9:30 p.m. Information: savourfoodandwine.com/index.asp. \
New Brunswick
January 20-March 30
Fredericton
Milestones of an Artistic Journey
An exhibition devoted to Antoine Plamondon (1804-1895), one of the great figures of 19th century Quebec painting. The pieces are toured by the Musée national des beaux-arts du Québec, and are from some 15 public and private Canadian collections. At the Beaverbrook Art Gallery. Information: beaverbrookartgallery.org.
January 22-March 23
Saint John
The Lorenzo Reading Series
Newfoundland's "highly inventive wordsmith" Lisa Moore reads from her novel, Alligator, filled with "life altering moments and… illuminations." Other readings in the series feature Patrick Warner, Aislinn Hunter, Karen Solie and Peter Behrens. Free admission; 7 p.m.; Hazen Hall Lecture Theatre, University of New Brunswick. Information: (506) 648-5637 or unbsj.ca/lorenzo/readingseries/.
February 7-10
Fredericton
The 2008 East Coast Music Awards
This four-day celebration of Atlantic Canadian music and industry schmoose-fest-now in its 20th year-is an annual highlight of our diverse musical calendar. Enjoy the energy as home-grown yet world-class artists kick up their heels in several venues across town; industry representatives meet to discuss the growth of our unique music culture. This year's line-up includes Matt Andersen, Jessica Rhaye, Dwight D'Eon, Dave Gunning, Slowcoaster, The Jimmy Swift Band, Jenn Grant, Damhnait Doyle and Lennie Gallant. The event culminates with the awards gala at the Aitken University Centre on Sunday night. Information: 1-866-884-5800 or ecma.ca.
February 15-17
Moncton
Atlantic Motorcycle & ATV Show
Whether you're a long-time biker or merely interested in wheels, there's something for you at this show. Manufacturers show new products and models; find out about destinations, training and clubs. Sponsored by the Motorcycle & Moped Industry Council (MMIC); held at the Moncton Coliseum Complex Information: 1-888-454-7469 or mmic.ca.
February 15-24
Riverview
Wild Wacky Wonderful Winter Carnival
Ready to have some winter fun with your friends and neighbours? Come on out to Riverview's annual Wild Wacky Winter Carnival and celebrate the best that winter has to offer. Be sure to pack some extra mittens for the kids! Information: (506) 387-2028.
February 16-17
Fredericton
Winterfest NB
Gigantic ice slides, a snow-maze labyrinth, polar bear golf, ice and snow sculptures, a dog sled and horse-drawn sleigh rides… must be Winterfest! With activities for all ages and interests, this annual celebration of fun will remind you of all that's wonderful about the chilly season. Information: 1-888-472-4386 or winterfest.nb.ca.
February 21-24
Campbellton
Sno-Fest
Head on down to Sno-Fest, where you can participate in activities such as a smelt fry, horse-drawn sleigh rides, dog sled rides, snowmobile tours and tube riding. Check out the village of Sno-Fest-and see what's said to be the largest snowman in Canada; watch the Snow Parade, where snowmobilers and ATVs join in on the fun. Information: 1-888 813-4433 or campbellton.org/En/SpecialEvents/SnoFest/index.html.
February 26
Saint John
Curl for Cancer
Want to get some exercise, help out a cause and have some fun too? Join this fundraising event for the Canadian Cancer Society at the Carleton Curling Club. Fees are $50 per person and $200 per team. The fun begins at 9 a.m.; lunch is provided. Information: (506) 634-6277.
February 28-March 2
Bathurst
White Gold Snow Trek
Enjoy three days of snowmobiling fun at one of North America's premier snowmobile drag races. This event is part of the International Racing Circuit, attracting some of the best snowmobilers in North America for the "fastest 1/8 mile of ice in the world." Downtown Bathurst is the hub of the activity. Information: (506) 382-6000 or e-mail This email address is being protected from spambots. You need JavaScript enabled to view it..
Newfoundland & Labrador
January 10, February 24
St. John's
Storytelling Circle
Enjoy traditional Newfoundland storytelling at this informal gathering, and celebrate your love of a good yarn. You can merely listen-or tell a story yourself. The circle meets at 7:30 p.m. at the Crow's Nest Officer's Club. Admission is $2. Information: (709) 685-3444.
February 8-17
Clarenville
Wintertainment 2008
Various indoor and outdoor activities, such as dances, snowmobile and toboggan races, skiing and snow sculptures… Lots of fun for all! Information: (709) 466 7937 or e-mail This email address is being protected from spambots. You need JavaScript enabled to view it..
February 8-17
Mount Pearl
Frosty Festival
High spirits are sure to abound at the 26th annual Frosty Festival; people from Mount Pearl and surrounding area will celebrate in true Newfoundland style-with music, magic, dancing and food. Information: (709) 748-1000 or mtpearl.nf.ca/reccomevents.asp.
February 15-24
Corner Brook
Winter Carnival
Now in its 37th year this annual fest is all about celebrating, and winter is as good an excuse as any! For kids: a snow sculpture contest, snowball fight championship, skating, races and dances. Adult activities include a tubing party at Marble Mountain and the Kentucky Horse Race at the Pepsi Centre. More than 100 activities, many for all ages; said to be the largest Carnival east of Montreal. Want to knit an official carnival scarf or toque? Check out the website for instructions. Information: (709) 632-5343 or cornerbrookwintercarnival.ca.