Unpredictable and incredibly varied, Newfoundland's weather offers legendary lore and more.
When it comes to climate, Newfound-landers don't have much to complain about. The moderating effect of the ocean saves us from the extremes felt in many parts of the world. However the weather, as former premier Joey Smallwood is reputed to have said, is an entirely different subject. Weather, which in the Newfoundland vernacular refers to foul or stormy conditions, is as engrained in the culture as the arthritic misery that in many, signal its coming.
In ancient times "sky watchers" were employed to look up at the heavens, using mystic powers to foresee weather. Today's sky watchers peer down from the heavens, using satellites to track clouds in the lower atmosphere. Even with this technology forecasting weather is still a guessing game-especially here.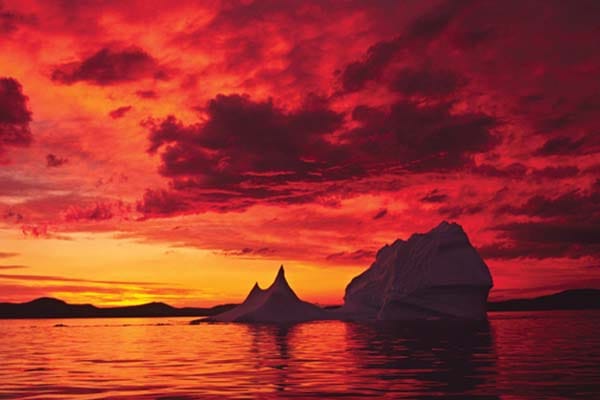 Conditions are so variable and distinct from place to place that enjoying the sunshine and staying dry may require no more effort than walking or paddling out from under a cloud. On the other hand, the unpredictability of the weather can be dangerous: the list of souls lost at sea is long, giving rise to fishing's reputation of being the world's most dangerous profession.
Clouds and precipitation often persist over high terrain while in the valley below, skies remain clear. This is especially true on Newfoundland's west coast where the Long Range Mountains, a northern extension of the Appalachians, run through a system of coastal plains, fjords, lakes and river valleys. Each abrupt change in the undulating topography is a climatic edge, resulting in a microclimate where atmospheric changes may be equally as abrupt. 
In Gros Morne National Park, perhaps the Island's most popular hiking area, the barren, cropped rock looming over Deer Arm is often shrouded in cloud and mystery. What starts out as a pleasant stroll on a warm, clear spring day may, with increased elevation, give way to fog and wind-driven sleet or snow, making movement nearly impossible amid ice-slickened boulders.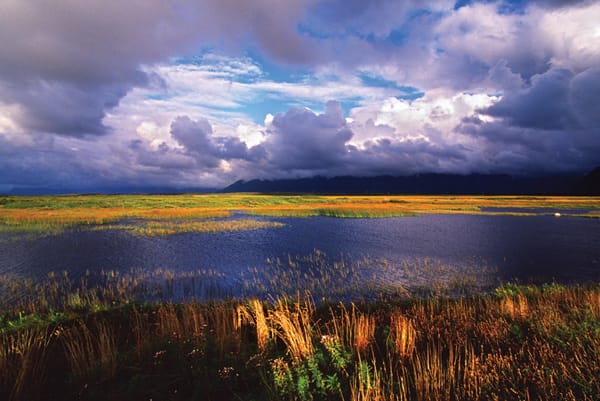 Last November, all trace of a missing hiker from Pasadena vanished on the James Callaghan Trail beneath winter's first snowfall. It's a tragic event too often repeated when late-season hikers get lost in the mountains.
Newfoundland's differences from region to region are what make the island interesting. It's classified into nine eco-regions with distinct weather patterns, topography, flora and fauna. One of the smallest and most unique eco-regions is the South Avalon-Burin Oceanic Barrens. The rolling hills of the southern Avalon Barrens are often shrouded in fog. On a trip around St. Mary's Bay I once followed a receding fog bank out to Cape Pine. The lifting fog revealed a lush green carpet etched by sunken hollows where brooks trickled from tiny barren pools and wildflowers grew profusely, sheltered from wet ocean winds.
The larger Maritime Barrens span the island's south coast, providing a seasonal home to migrating caribou escaping the deep snows and frost of the interior Central Newfoundland Forest Region. In communities like St. Alban's, bays that remain open year round have spawned a booming aquaculture industry.
In sharp contrast the northeast coast is inundated for weeks in spring with heavy sea ice shouldered on the Labrador Current. Harp seals pup on the ice pans wherever wind and tide take them and in March are often seen from shore near the headlands. Heavy ice has obstructed sealing vessels in recent years; together with sea ice the season's first icebergs increase the hazard for boats. Although the ice brings plenty of rain, drizzle and fog to northeastern Newfoundland in spring, the region largely stays dry and clear the rest of the year.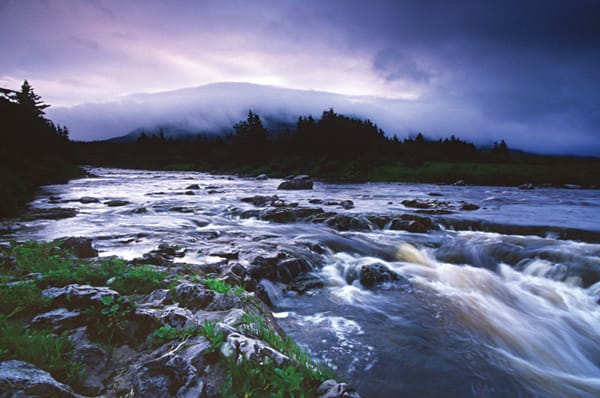 The west coast remains a magnet for winter sports. Skiers from the UK have abandoned the receding ice caps of the Alps for the more reliable snowfall of the Corner Brook region. In fact the area serves as a stage for many a winter sport enthusiast, from dog sledders to cat, kite and heli skiers, to snowboarders and, more traditionally, snowmobilers and snowshoers.
You've got options when it comes to weather in Newfoundland-the wind blows the four points of the compass. Down here, weather comes in enough varieties to qualify as a subject worthy of serious contemplation, not to mention serious conversation.
Dave Tilley has studied environmental technology at Westviking College (now College of the North Atlantic) in Corner Brook, NL, and travelled Newfoundland extensively in search of images for nature and travel magazines. Find him on the web at wildnewfoundland.com.