Traditional Acadian foods make warmly satisfying meals
What do râpure, fricot, fish cakes and meat pies have in common? They're all traditional Acadian foods—simple, unpretentious and delicious—and warmly satisfying, like getting a hug, or watching the dying embers of a campfire.
So join us for a food and culture hop, starting in the Pubnicos, NS—the oldest Acadian settlement still inhabited by descendants of its founding families. First stop: Le Village historique acadien de la Nouvelle-Écosse in Lower West Pubnico. Every Wednesday morning at 10, someone at the Maximin d'Entremont homestead starts the process of making râpure. Also known as rappie pie, it's an old Acadian dish, rarely found outside Acadian communities in southwest Nova Scotia.
Râpure is made with finely grated potatoes. The liquid is extracted and replaced with chicken broth. Onions, seasonings and cooked chicken are added. Then it's baked. As weird as it looks, it's one of my favourite dishes. You can also go into the visitor's centre, pull up a chair in Café du Crique and order dishes like râpure, fricot, or old-fashioned bread pudding (see Bread Pudding with Nutmeg Sauce recipe).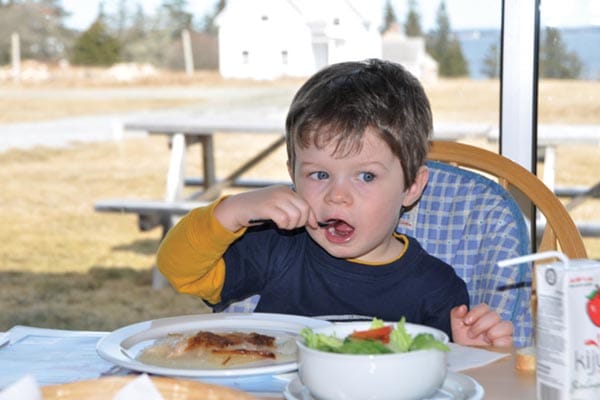 Another of my favourite haunts is the Musée des Acadiens des Pubnicos et Centre de recherche. Housed in a homestead dating from the 1800s, it has a unique garden that shows what the Acadians grew in 1653. If the stars are in your favour, you'll be able to sample treats like candied rose petals, nasturtium butter, or even "trash soup," made from a soup bone, veggies, barley or beans.
I've often thought of those early Acadians; how feisty and resourceful they were. The interesting thing is that not much has changed. You'll meet colourful characters everywhere, including at Dennis Point Wharf, in Lower West Pubnico, the largest commercial fishing wharf in Atlantic Canada. Don't be shy; strike up a conversation with the locals and get the lowdown on both their lifestyle and the fishing industry.
Restaurants in the area include the Dennis Point Café in Lower West Pubnico and the Red Cap Restaurant in Middle West Pubnico—where you'll find not only great râpure, but also the freshest fish dishes imaginable. Want rappie pie to take home? Drop into D'Eon's Bakery where they make thousands a year. Ask how it's made commercially; fascinating!
Now, we slip into the county of Clare, along the Bay of Fundy, locally referred to as the French Shore. Starting in Salmon River, NS, and ending in St. Bernard, NS, it stretches about 50 kilometres (31 miles) and includes 14 Acadian villages. Several have incredible churches, like Église Sainte-Marie in Church Point, NS. Built with the help of 1,500 volunteers, it's the largest wooden church in North America. The outer walls feature 41 stained glass windows, shipped from France, in crates of molasses for protection.
Although there are scores of stories to be found inside these massive edifices, there's much more in the area: farmers markets, coastal hiking trails, Mavillette Beach, artisans' studios, Acadian music and festivals. As well, Rendez-vous de la Baie, also in Church Point, has an impressive cultural and interpretive centre, and yes, the Internet Café (with free Wi-Fi) features fricot and râpure. It serves Evelina's Râpure (and it's worth a side tour to the company's 252-square-metre (2,800-square-foot) facility, located off the beaten path, close to Saulnierville, NS).
Aside from various kinds of rappie pie (including one made with bar clams), at Evelina's, you'll find cold-smoked herring and haddock, and salted shallots—an Acadian specialty. I put their shallots in soups, stews, stir fries and my own rappie pie. Bonus: they can ship products almost anywhere.
The newest restaurant in the region is La Cuisine Robicheau in Saulnierville—an old homestead with cheery rooms and "oh-my-lord-that's-good," food. People travel miles to eat there. Owner Nadine Robicheau admits that having access to a hefty supply of local fresh fish is wonderful, "although fishcakes seem to be a good seller too," she adds, noting that they are "an Acadian tradition." I can vouch for those fish cakes—and a belly-pleasing seafood lasagne.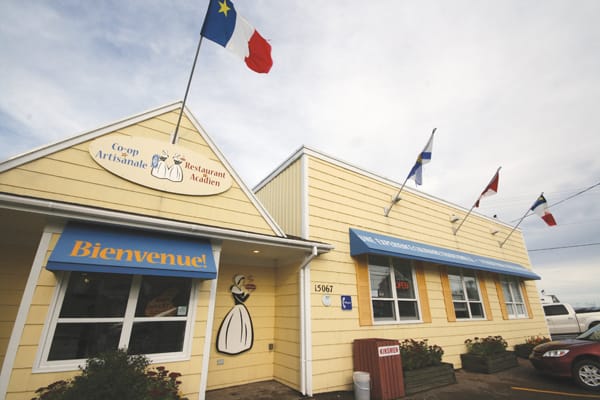 Now we'll hop up to Arichat, NS, in Cape Breton. On my first visit, I stayed at L'Auberge Acadienne Inn. Laura Lavandier, bartender and occasional cook's helper, explains: "Because the Acadians were hard-working people who lived off the land and sea, they needed a hearty diet. They salted a lot of their foods to preserve them for use in the winter. They used these foods to make some of their popular Acadian dishes such as fish cakes, and put salt pork in their meat pies" (see Acadian Meat Pie recipe).
I've stayed there three times; each time, I have meat pie for supper and fish cakes for breakfast. Laura told me the cook once ran out of salt fish and made fish cakes using fresh haddock. After the first bite, a local diner bellowed, "What the heck is wrong with the fish cakes?"
My introduction to Chéticamp, NS, on the northwestern side of Cape Breton, was over lunch at the Restaurant Acadien—part of a co-op that also showcases world-famous Chéticamp rugs and a small museum. I fell in love with the chowder. It's made with the usual: lots of fish, diced potatoes, butter, seasonings and a little water—but no milk! Although this sounds odd, the fish really takes centre stage.
There are several restaurants in Chéticamp, including Restaurant Evangeline. Nicole Aucoin's mom and dad bought the restaurant 35 years ago and it's still a going concern. I've always said that it's smart to check out where the locals go, as they are often the best food critics. Fricot is a specialty, along with fish cakes.
But there's a lot more to Chéticamp than food! Enjoy a theatre performance at La Place des arts Père Anselme-Chiasson, or visit Les Trois Pignons hooked rug museum and drool over Elisabeth LeFort's hooked rug masterpieces.
The summer-long Festival de l'Escaouette is loaded with cultural activities during parts of July and August, and North America's only water puppet theatre, Ti-Jean et la Sorcière de L'île de Chéticamp, is staged in September.
Before you leave, drop into Le Centre de la Mi-carême. It's all about preserving the bizarre and wonderful mid-Lent party tradition that's still alive and well in the region. What a hoot!