A romantic getaway turned family destination—magical, either way
The first time I visited Grand Manan, not long after meeting my wife-to-be, the small island near the mouth of the Bay of Fundy turned out to be a perfect getaway for a courting couple from Fredericton. Lisa and I stayed in a cozy cottage at the Inn at Whale Cove, ate bouillabaisse in the resort's very fine dining room and took romantic walks along beautiful beaches.
The second time we travelled to the island, we camped in a cliffside site at Hole-in-the-Wall Park and Campground, barbecued fish over an open fire and listened to whales breaching in the moonlight through the mesh of our tent.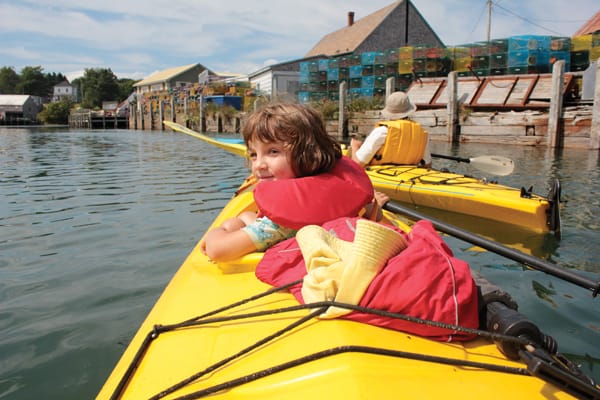 Lisa and I moved away from New Brunswick a few weeks after that trip, but our memories of Grand Manan were so idyllic that we wanted to show our daughters a place that had bookended our early experiences together, and we wanted to know what a familiar landscape looks like when seen through fresh eyes.
The ferry to Grand Manan departs from Blacks Harbour, about an hour south of Saint John, and after road-tripping around rainy Nova Scotia for a week, our drive down the Fundy coast is cloaked in dense fog. We spend a night on the mainland at the homey Harbour Tide Inn (although we can't see the harbour or the tide that evening, nor can we see anything down at the dock in the morning). Waiting for the ferry in a foggy drizzle, we are damp, tired and cranky. We need a vacation from our vacation.
After we board the 9:30am boat, Lisa takes her coffee up to the outer deck and I watch our seven-year-old twins, Maggie and Daisy, chase each other on the plastic play structure in the children's area. When I finally convince the girls to head outside, halfway through the 90-minute crossing, the fog has lifted and the sun is high—a good sign.
The weather has cleared just in time, because right after docking, we have a date with a pair of tandem sea kayaks. Kevin Sampson, the owner of Adventure High, leads us about two-thirds of the way down the developed east side of the island to Seal Cove, where we slide the boats into a sheltered inner harbour ringed by more than 50 wooden buildings, many on pilings atop the water. These smokehouses and boning sheds, once the heart of Grand Manan's herring industry, are a National Historic Site known as Seal Cove Smoked Herring Stands; some of the structures date back to the 1870s.
Sampson, who shepherds us under wharves and weaves through pilings with effortless paddle strokes, has been here since the 1980s. The Toronto native runs the only kayak outfitter on the island. When he arrived, Sampson says as we paddle beyond the breakwater, he worked aboard lobster boats. "I got so sick. I'd haul up a trap, then throw up. Haul up a trap, throw up. I had to find something else to do." Thankfully he stuck around. Otherwise visitors might not have a chance to see this place with his waterline perspective.
The next day, we get a nautical tour from another come-from-away, although Allan McDonald, who runs Whales-n-Sails Adventures with his wife, Karen, is from mainland New Brunswick, not Upper Canada. With a degree in agricultural science, McDonald got into salmon farming, but he parlayed that interest into the Elsie Menota, a 56-foot pilothouse ketch, which, with Allan's daughter "Captain Sarah" at the helm, is now motor-sailing out of North Head.
The island's whale-watching operators talk to one another to help locate the humpback, right, minke and the huge fin (or finback) whales that come into the bay to feed. Research vessels and government ships in the area also radio in reports, but biologist Laurie Murison, who runs the Grand Manan Whale and Seabird Research Station when she's not sitting in the bow with a pair of binoculars, is our best bet for successful whale-spotting. "The cool thing about working with marine systems," she says, scanning the horizon, "is that they're constantly changing." As if on cue, a fin whale surfaces off our starboard side, and all 46 passengers rush to the rail to look.
And thus begins a pleasant rhythm of criss-crossing the ship over the next two hours to stare at the dozen or so whales that breach, blow and, after taking a series of breaths, disappear into deep terminal dives with flips of their massive flukes. Top it off with a couple mugs of "right mighty wicked good" fish chowder, cooked by Jeff Fleet in the tiny galley, and you've got the ingredients of a great afternoon (and a stark contrast with our only other whale-watching trip, when a distant sighting was the sole reward for three hours at sea).
Our time on Grand Manan is, in fact, full of new experiences. We skip the signature Swallowtail Lighthouse at the island's northern tip, for instance, and drive to misty Southwest Head, where a clifftop trail serves up handfuls of ripe raspberries and stunning views of crashing waves.
But by far the best discovery of this trip—the reason we yearn to return, already—is our stay at the Castalia Marsh Retreat.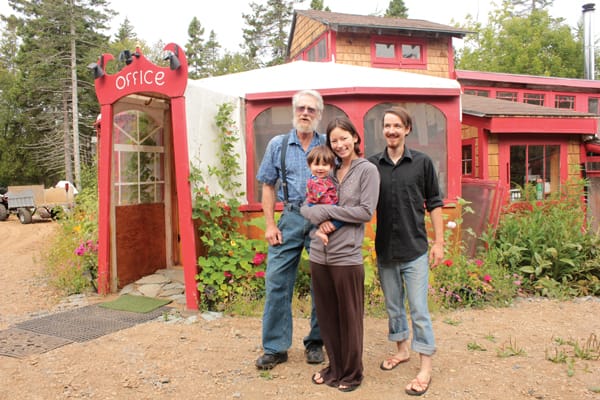 British Columbia native James Bates began carving this paradise out of the woods on the fringe of a salt marsh in 1994. Bates has now built eight unique eco-friendly sleeping units, as well as an organic garden and chicken coop, all of which are strung on a series of foot paths around a circular building called The Gathering Place, which has a communal kitchen and a sprawling sun-soaked patio.
He designed the retreat so that guests could either socialize or, well, retreat, depending on their moods. We do both. First, after that kayak outing, we hunker down in our yurt-like cabin, The Lookout, which features a wall of windows and a small deck with a view across the marsh to the sea, plus a heavenly outdoor shower tucked into the trees.
Later, fully restored, the mainland fog forgotten, we walk to The Gathering Place and cook a feast—fresh scallops, pan-fried in butter, garlic and white wine, with barbecued haddock and local blueberries—and sit down for dinner with Bates and a young couple, Kaley and Nigel, who live on the property and help with the upkeep.
"I love the environment here," says Bates, passing around a platter of corn from the garden, when I mention that the marsh, all birdsong, with no bugs, feels more gentle than the oceanside lodgings we usually rent. "And I thought other people would enjoy it too. The cabins have everything they need to make cookin' and livin' easy, so people can take a break and be nurtured by nature."
After dinner, we sit around a bonfire and watch the pale pink sunset fade to black. Then we head back to The Lookout, where Maggie and Daisy don pajamas and are set for sleep—until the New Brunswick Day fireworks erupt across the bay. From our deck, we watch crimson stars and streaks burst in the sky, an impressive display that's nearing half an hour in length when our girls do the unthinkable: they ask to go bed before the show is over.
Yet another reason to believe in the magic of this island.