Fun to catch, fun to eat
Long, sleek and illusive—and delicious—swordfish are prized by some fishermen in Southwest Nova Scotia. They are caught by two methods—longlining and harpooning. The largest catch on record in Atlantic Canada was more than 14 feet long and weighed 1,181 pounds.
Joel Jacquard's eyes light up when he talks about swordfish. He remembers sitting in the Crow's Nest, atop the mast of his father's boat, when he was 10—eating chips and drinking pop. His "job" was to be on the lookout for swordfish. Joel says, "The crew told me that if they caught me looking up, it meant I was looking for ducks, not swordfish."
Although Joel fishes for tuna and lobster, the now 33-year old finds harpooning swordfish especially rewarding.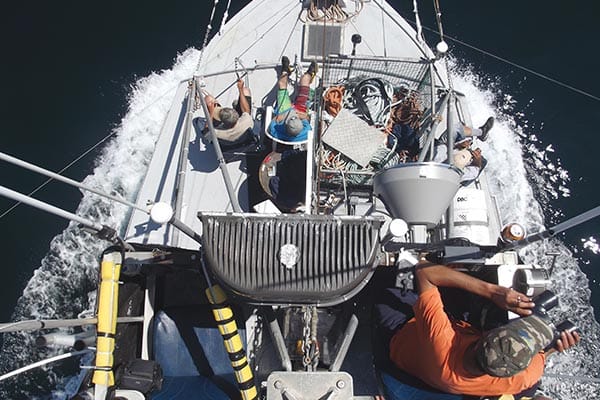 During the summer, Joel and his crew sail 120 nautical miles south from the wharf at the breakwater in Wedgeport out to Georges Bank, where they fish for about a week at a time. Clear skies and calm seas are critical to the operation, as it's all based on spotting swordfish basking on the surface.
Joel's boat, the Atlantic Angler, is equipped with a 25-ft. stand (think walkway) that stretches out in front of the bow. The tip is called the pulpit, where the "sticker" is positioned, harpoon in hand. Joel is the "helmsman," and is situated in the Crow's Nest about 25 ft. up the mast. His job is to navigate the boat while searching for swordfish in the distance. Meanwhile, the "mast headsman", perched above him, looks for fish close to the boat, he advises Joel where to go, and lets the sticker know when to strike.
"Swordfishing is an addiction and passion of mine. There have been nights when my crew made me go to sleep and get some rest, otherwise I'd spend all day and all night in the Crow's Nest, searching for the next fish."
Jacques LeBlanc also hails from Wedgeport. Jacques captains Knot For Shore and longlines for swordfish along the "Stone Fence" on the edge of the Gulf Stream between Nova Scotia and Newfoundland. It's a three-day sail to get there—a costly proposition when you factor in the crew, gear, supplies, bait, fuel, ice, ad infinitum. Snarls in the lines are common, and sharks are known to destroy gear.
When foul weather comes their way, Jacques and his crew while away the hours rigging hooks and checking on the gear. They also play cards, cook, tell stories, and occasionally jump into the brink for a swim.
"The biggest challenge is to keep your courage, and keep going," says the 35-year-old, "but it's also exciting—especially landing big ones. We had a 900-pounder last summer!"
Asked about his favourite way of eating swordfish, Jacques says, "Brush both sides of a swordfish steak with Miracle Whip. Season with salt and pepper. You can either barbecue it or pan fry it. It's delicious." Another way is to brush it with a mixture or olive oil, crushed garlic, salt and pepper before cooking it.
There's an old superstition that whistling on a boat will bring up the wind. Although they aren't a superstitious lot, no one whistles while aboard. But Jacques does pay attention to the moon. He says, "When the moon approaches fullness, the fish are more active. So we often plan our departures around the full moon."
To learn more, head to the wharves in Wedgeport, or the Wedgeport Sport Tuna Fishing Museum, where you'll meet folks who love to chat about the fishery.
Recipe