Donelda's Puffin Boat Tours—sharing her love of place a passion for Cape Breton's millionaire tour guide
Self-help experts sometimes say, "Do what you love and the money will follow." Sometimes that's true, but other times the bounty arrives in ways you don't expect.
Donelda MacAskill, owner of Donelda's Puffin Boat Tours, didn't start her company just because she loves puffins. Her husband was a lobster fisherman, and after the government closed the salmon fishery, she feared they might also lose the lobster fishery. "Who's going to hire an unemployed fisherman?" she recalls thinking during those dark days in the 1990s.
With three young sons and a Cape Bretoner's scrappy attitude, MacAskill decided to diversify the family fortunes and ordered a 45-foot (14-metre) boat so she could offer tours. She remembers seeing it coming across the Canso Causeway with a police escort. "I thought, 'What have I done?'" She also remembers the horror of seeing the name Ighland Lass painted on the boat's stern—the people who restored the boat hadn't understood her accent and request for Highland Lass. (It would take $250 to change the name later.)
What's in a name?
Scared but determined, MacAskill launched St. Anne's Tours, taking paying customers out to see the Bird Islands—two long, narrow islands near Cape Dauphin and Englishtown, Nova Scotia. The islands hold the largest concentration of black-legged kittiwakes, razorbills and Atlantic puffins in Nova Scotia and were recognized as an Important Bird Area (IBA) by BirdLife International in the late 1960s.
Nature lovers and photographers liked the Highland Lass—a glossy white boat with bench seats and large windows that can be lifted out—but not enough came. At the end of the first year, MacAskill didn't have enough money for her boat loan payment. Her husband, John, gave her the money. At the end of the second year, once again she didn't have enough money for her loan payment. She took the money from an inheritance she'd received from her mother. MacAskill knew if she didn't do something different, her business wouldn't survive.
All that winter she studied other businesses on the Internet and noticed that whale-watching companies all had "whale" in their name. The focus of her tours was seabirds; some bird species only serious birdwatchers could identify, but puffins were popular with everyone. "I changed my name to Puffin Boat Tours," she says of the small change that would pay big dividends.
She would make one more name change to align with her customers' needs. "When I bought the boat, I entered a man's world. All the correspondence came addressed to 'Dear Sir,'" laments MacAskill. But customers liked her tours and the feminine touch. Happy clients referred their friends, who would come to the harbour asking for "the tour that the woman operates." MacAskill added her name to the company and it became Donelda's Puffin Boat Tours.
Learning the ropes
Business improved with the new brand, but MacAskill knew she needed to reach even more people. When her husband asked her what she wanted as a gift for their 25th wedding anniversary, she replied, "A half-page ad in Doers & Dreamers [Tourism Nova Scotia's travel guide]!" It wasn't a traditional expression of love, but MacAskill knew it would put her business in front of a quarter million travellers and ensure her family's long-term success. She knew it was a risk. "I said, 'If it doesn't work, I won't do it again.'" Fortunately, it gave her the profile she wanted and even more people came looking for her tours.
Initially MacAskill hired someone to provide tour interpretation, but she soon noticed her employee didn't share her passion for birds. As captain, her husband liked his tips, but he noticed customers weren't enthusiastic about the guiding. MacAskill decided to take over.
People seeing MacAskill bracing her legs against the boat's rocking motion—her short strawberry-blond hair resembling the bright hues on a puffin toy she waves about while sharing bird tales—can't overlook her enthusiasm. "Everything I do is from the heart," she says of her commitment to her birds. "When we [first] went fishing off the Bird Islands, everything was a gull to me," she remembers, but then she became interested in the kittiwake nests. "I would try to have my work caught up so I would have time to look at the nests when we came to them."
She studied bird biology and behaviours, coming to learn which species appeal to photographers looking for action shots, sightseers with time to kill or serious birdwatchers. Seeing the Great cormorant—"this is one of the few areas they nest in; if you are a serious birder, you need that bird to complete your life list"—is one unique experience she now offers her customers.
Understanding her customers and their travel patterns has been critical to achieving long-term success. "You have to be in a destination area so people are coming anyway. You need accommodations in the area. They refer a lot of people to you," she says of the critical masses needed to succeed as a tour operator.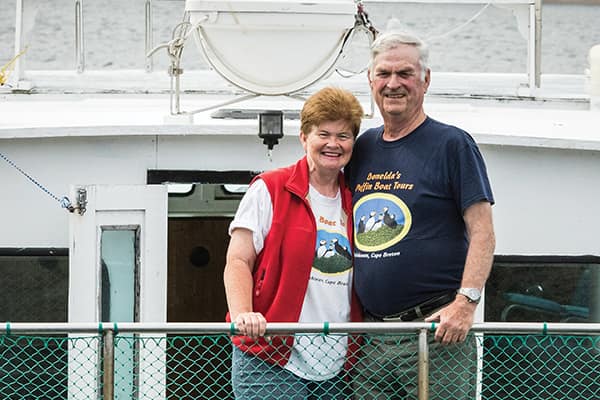 An avian fly-through diner
Perhaps it comes from scraping for a living at times, but MacAskill has a special request for her guests: "If you see an eagle approaching, be sure to point it out. If they are having trouble finding food, I always have a fish for them." A dozen eagles or more will circle the boat on a three-hour tour, flying up to the avian "drive-through" and snatching the fish MacAskill lobs across the water.
Seeing eagles is a highlight for some travellers, and MacAskill has people coming from as far away as China to photograph the birds snatching fish from her fly-through diner. One woman from Toronto took the tour daily for nine consecutive days just to see the eagles!
MacAskill's most memorable day on the water occurred more than a decade ago, when a couple from New England with their elderly father came aboard. At the time, the boat windows didn't open and it was a hot day. In the morning she had fed close to 20 bald eagles, stopping the boat each time and reaching down into the bucket for a fish to toss as sweat ran down her face.
Shortly after she started the afternoon tour, the 92-year-old father leaped to his feet, screaming, "It's an eagle, it's an eagle!" "My first thought was 'Not another one,' but I went and fed it," she recalls with a laugh. "When we got to the island, his daughter came to me and said, 'If my father doesn't see anything else for the rest of his life, it's now complete because he's never seen a bald eagle in the wild.' To be able to give that to someone...I love it. It makes so many people happy."
A change in fortunes
Even with her success as a tourism operator, MacAskill and her husband have continued their lobster fishery. "When July 15 comes and lobster season ends, there's a bounce in my step," she explains. "No one knows how hard the first two weeks of July are, when we are on the water 18 hours a day." If she didn't admit to being up since 2:30am, a passenger couldn't tell it by her cheerful demeanour.
Three years ago, she won $1.7 million in a Chase the Ace lottery! Some people might put the cold Atlantic breezes behind them—but not MacAskill.
"The win hasn't changed me. My kids will have an easier life, but I still shop at Value Village and the Salvation Army," she says. About working, she says: "When I won, someone described me as a 62-year-old retiree. My granddaughter said, 'You're not retired!'" She keeps working because, "I love people and I love sharing my little bit of the world." As for the future, MacAskill muses that she might have to be winched onto the boat to do tours into her old age. She's thought of selling the business at some point, but, for now, MacAskill is focusing on what brings good fortune. "I very seldom think of [the lottery win]," she says. "I just can't see what I'd be doing if I wasn't doing this. I like going out to see my birds. I want to see if the eagles are around today, if the puffin babies have hatched. I vowed when I won the money that it wouldn't change me." And fortunately for nature lovers, it hasn't.