Laying out the options for environmentally conscious homeowners.
April and Jeff MacKinnon in Dartmouth, NS, had a problem. They were renovating their bathroom, and it was time to decide on flooring. April wanted to use reclaimed wood. Jeff, keeping a close eye on their budget, wanted to use laminate flooring. "I said, 'No way,' because of the formaldehyde," says April; formaldehyde is used in the glue of some laminate flooring. April wanted something that was environmentally conscious, no matter the cost.
After visiting close to a dozen stores, the MacKinnons compromised with cork. That cork is a renewable resource was a big selling point. April says cost was an issue, but after shopping around says they found a deal on surplus tiles from Taylor Flooring Ltd. Now April says she wishes they had used cork in more than just the bathroom and predicts it will be their choice when they renovate the kitchen.
Cork is just one of a number of "eco-flooring" options. A flooring product is considered environmentally friendly if it comes from a sustainable source, either natural or renewable, or from recycled materials. Wood flooring, linoleum, cork and bamboo are eco-friendly. Here are the main options:
Wood: turning trees into flooring uses less energy - another consideration - compared to other flooring manufacturing processes. Replacing floors has an environmental cost, and wood floors can last 100 years or more.
Bamboo: considered sustainable because it grows faster than wood, sometimes taking only three years to mature, and requires few pesticides.
Cork: from the bark of the cork tree, it's soft underfoot and has insulating and noise-deadening properties. A tough top finish will prevent crumbling and flaking.
Linoleum: contains natural ingredients like linseed oil and rosin. Very durable and easy to maintain.
Ceramic tile: a mixture of recycled materials such as granite dust, glass and marble chips.
Carpet: mostly made of manmade fibres like nylon.
Vinyl: durable and easy to maintain, though more fragile than linoleum, made from synthetic fibres.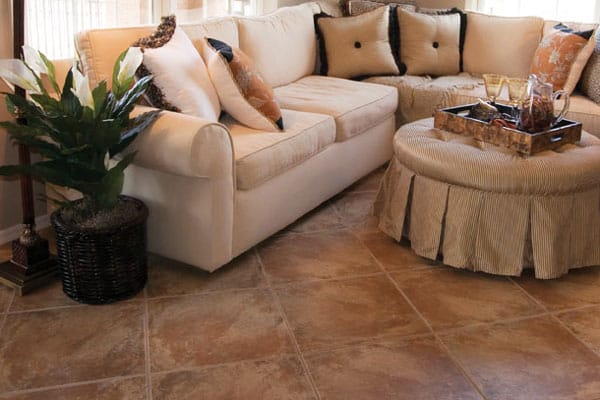 Although consumers' sensibilities are shifting toward eco-options, price can be a sticking point. Flooring specialists say that cork, for instance, is really only an option for fairly high-end buyers. Andrew King at Hallidays Flooring in Truro, NS, estimates that a quarter of his customers ask about greener products, but he says that doesn't always translate into sales. "Most people have an interest in it, but they can't necessarily afford it as of yet." (See box for pricing details.)
King suggests ceramic tile or bamboo as another option. Environmentalists, however, say that worldwide interest in bamboo means that old-growth forest in Asia is being cut down to make way for bamboo. Ceramic tile is the first choice for Virginia Salares, a senior researcher with Canada Mortgage and Housing Corporation in Ottawa. Salares says that when consumers are considering an environmentally responsible choice, they may want to focus not only on the source of the product, but on the impact it will have on occupants. Salares says products like bamboo or linoleum can be harmful if volatile organic compounds (VOCs) have been used during manufacturing or installation. VOCs are gases from natural and manmade sources such as glues, solvents and household cleaning products that make their way into lungs as well as the atmosphere. Health effects can vary from eye and throat irritation to lung problems, depending on concentration, ventilation, resident vulnerability and length of exposure.
Flooring companies are promoting a new line of carpets made from recycled materials. It looks and feels like traditional carpet but is made mostly from recycled pop bottles. Bottles are ground up and melted, then made into fibre, which is spun into carpet yarn. It takes roughly 30 plastic bottles to create a square yard of carpet. One manufacturer claims that these carpets are more durable, with emissions 60 percent lower than traditional nylon carpets.
Even with options like cork and recycled carpet on the market, the Ecology Action Centre in Halifax says local wood is still the most environmentally friendly choice. "Local FSC lumber is your surest-fire way of knowing you're getting a really environmentally sound choice," says Zak Miller, the centre's green renovation project coordinator. The Forest Stewardship Council (FSC) is an international certification body that qualifies woodlots as sustainably managed. Miller says there are several FSC-certified woodlots in Atlantic Canada (lumber from these lots is labelled accordingly). "Any wood supplier or a Kent or Home Depot should be able to connect consumers with that."
Miller says an even more sustainable choice is reclaimed wood. That's what Todd King used in his Cow Bay home. King's primary reason for going that route was to make the new home look old, but says environmental responsibility was a high priority as well. Using wood from old barns that he found at auction and through an antique wood dealer, he floored the top floor of his house and now wishes he'd done the whole house with antique wood.
King says it can be hard to find a contractor willing to work with old wood, but says the result is worth it. To pay someone to lay, sand and finish the floor will cost $6 to $8 a square foot, "which is not even that expensive a floor," he says.
Miller, a builder and designer by trade, has installed floors with reclaimed maple or oak for a fraction of the price of a new one. "We just put one in a kitchen that was estimated at $900 at Kent and it cost us $200 in materials."
Consumers who want to make a sustainable choice should take the time to research specific products in order to understand the impact that the material, as well as the manufacturing and installation, will have on the environment. King predicts prices will drop within the next three years, as the market becomes more competitive.