How do you define the value that a fireplace brings to a home?
It's not surprising that people often look for a fireplace when they go in search of a new home. A fireplace evokes the comfort and security of home and the peacefulness of a place of rest. Historically, the fireplace was where the family gathered for warmth and comradeship, where the cooking was once done, stories told, romances kindled and family history handed down.
"Fireplaces do add value to all residential properties," says Jerry Kirkland, a property appraiser, real estate advisor and a past president of the Newfoundland Association of the Appraisal Institute of Canada. He's also past national president and a fellow of the Institute.
"The question is, by how much."
he answer, it turns out, depends. The fuel source—gas, propane, wood or electric—the location of the home, and the preferences of the buyer all affect the actual cash value that a fireplace contributes.
Steve Horswill, past president of the Nova Scotia Real Estate Appraisers Association, agrees. "You may have a similar fireplace in two similar structures, but the location and the market expectations in those different locations will impact the value it contributes to the property."
The thing is, when it comes to buying a home with a fireplace, or installing a fireplace in a new or existing house, homeowners aren't always motivated by property value. "Typically, fireplaces are installed for personal enjoyment," says Kirkland, "not for resale value."
Peter Atkinson concurs. "If you have a cottage, when you come up off the shore in the evening, it's nice to put a fire on, maybe have a glass of wine, look out at the waves," he says. Atkinson has worked as an appraiser since 1989 and speaks on behalf of the New Brunswick Association of Real Estate Appraisers, so he's seen a lot of fireplaces in his time.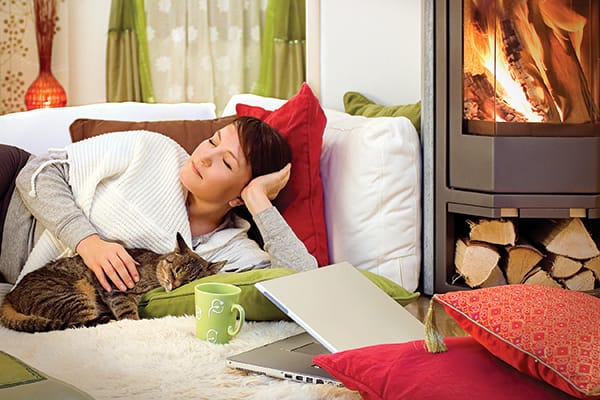 "Fifty years ago," he says, "a fireplace was a wood burning fireplace. There was no propane or natural gas. Those fireplaces, today, are a place to hang your Christmas stocking, and possibly a place to light a fire once or twice a year; they're not energy efficient. They might or might not add anything to the market value." But Atkinson warns against downplaying the aesthetic appeal of fireplaces. "It may be difficult to put a dollar amount on what it adds to market value," he explains, "but it may be the reason the home sells."
"A fireplace is a centerpiece for a room," says Horswill. "Whether it's in a living room or family room, you normally have a structure around that fireplace, in the form of a mantel, which becomes an attractive aesthetic feature."
"In Fredericton, we have homes, well in excess of 100 years old, that have some beautiful old marble fireplaces," says Atkinson. "They're not able to be used any longer, because they don't have the appropriate liners in the flues … but they are still the centrepiece of the room. You can't help but be enchanted by a beautiful fireplace mantel with dark marble."
These days, fireplaces come in such a variety of shapes and sizes, and use such a variety of fuels, that they can appeal to a broad range of buyers. But Atkinson estimates that fewer than one quarter of new homes have fireplaces, and those that do are likely to be fuelled by either natural gas or propane, at least in his area.
Horswill agrees. "You see a lot of gas or propane fireplaces with construction nowadays. They've replaced wood fireplaces. They're quicker, cleaner and cheaper to install." He adds that the convenience of new technologies is attracting some buyers to fireplaces. "It's nice to pick up the remote and—click, you've got a fire. It's not necessarily crackling in the background like a wood fire, but you are going to have something that adds warmth and atmosphere to the room."
Atkinson says it's nearly impossible to generalize about the monetary value a fireplace adds to a home, but estimates that gas fireplaces and inserts add, at most, about $5,000, while electric fireplaces may add $500-$1,000.
In Newfoundland, Kirkland says the question is really—"How much less, if it didn't exist, would the property be worth?" He says he wouldn't advise a cottage owner to install a fireplace as a way to increase the property's resale value, "but if you're building that fireplace because you really want to enjoy the winter evenings there—and if you're staying for longer than five years—then build it and enjoy it."
The message from all three appraisers is clear: monetary value is not the primary consideration when it comes to having a home with a fireplace.
What matters is that certain je ne sais quoi—that indefinable quality that varies with every individual homeowner's desires.