That old, inefficient open fireplace can become a source of super-efficient, comfortable wood heat.
In recent years, Atlantic Canadians have faced both fluctuating and sharp increases in energy costs, in Nova Scotia residents have seen an increase in electricity rates of more than 46 per cent in the past 11 years (excluding the demand side charge for Efficiency Nova Scotia programs), and another one slated for 2014.
In order to reduce and stabilize costs, some homeowners are turning to the old but trusted tradition of wood burning, filling their existing masonry fireplaces with a fireplace insert—essentially woodstoves designed to fit inside an existing fireplace as either a replacement or supplement to an existing oil or electric heating system.
But how efficient are today's wood fireplace inserts, and what are the real start up, environmental and labour costs involved? Here's what you need to know before you invest.
Terry Hicks, national sales director at Napoleon Fireplaces, says the cost can range from $850 to $7000, with most averaging $2,000 to $3,300, plus installation and tax. The variation in price depends on the model, size and additional add-ons like wheels, for convenient installation, or air wash systems to keep the viewing glass clean.
Since woodstoves on the Canadian market today require certification by the U.S. Environmental Protection Agency or EPA and must meet certain requirements, Hicks says the main differences between models are largely cosmetic, ranging from a generic look to more sophisticated varieties of contemporary or traditional moulded cast iron or porcelain veneers.
Size for your needs
In terms of size, Hicks says most people want a medium firebox, which will heat an area of roughly 1,000 to 1,600 square feet with a burn time of approximately six to 10 hours. A small box is good for smaller areas covering 600 to 1,000 square feet, but might also work well for a small, open concept bungalow, for example.
A large firebox should cover more than 2,000 square feet and may be ideal for a large house, for use as a primary heat source, or a big room with cathedral ceilings, Hicks says, adding that a larger box size isn't necessarily the right choice for Atlantic Canadians, who typically experience milder winters than provinces like Quebec and Ontario.
"If you buy too large a stove, you're going to have to choke it down and not give it any air, and you're not going to be happy because your glass will be dirty and your chimney's going to fill up with creosote and you'll have windows open in the middle of the winter because it's just too hot," he says.
Other start-up costs include the professional installation service of a WETT certified installer, which ranges in cost from about $600 to $800.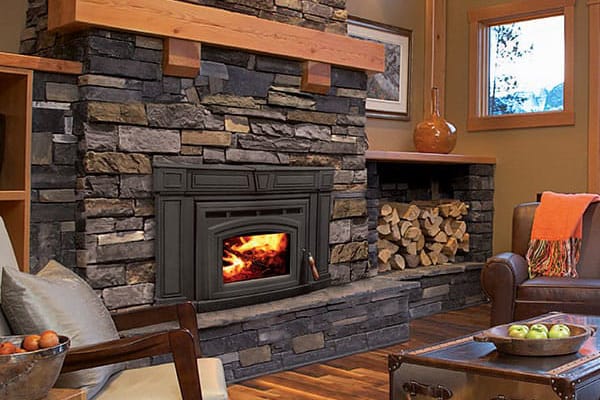 Check your insurance policy
Marlene Landry, manager of consumer and industry relations for the Insurance Bureau of Canada, Atlantic Region, says WETT certified installers are required by all Canadian insurance companies, who may increase your premiums when you switch to wood heat as a supplementary or primary heat source.
"It always varies from company to company because their home insurance policies are all individual to each insurer, and while some may charge an increase, others may not, so check if they do. Some may or may not accept wood heat as the only heat source," she says, adding that consumers are required to notify their insurance company of any material change in risk and that not doing so might jeopardize your coverage in the event of a fire. Check their website (ibc.ca) for more information and burning and safety tips.
Hicks says average overall savings is about 10 to 20 per cent, but cautions this is not a hard and fast figure as there are many variables involved.
Wood prices vary
Georgie Uhlman, named 2013 Western Region and Provincial Woodlot owner of the year by the Nova Scotia Department of Natural Resources, says wood prices have barely increased over the last 10 years. The certified, sustainable forestry management advocate from Caledonia, Queens County, uses a horse to pull his wood and sells a full cord of hardwood for only $90 to locals. That price more than doubles at roughly $200 to $250 per cord on orders from the city, he says, as sellers must factor in delivery fuel costs. Buyers can pick their own wood to get his $90 a cord rate.
Owner of Black Magik Chimney Sweeps Inc., and diehard, self-proclaimed "wooder," Marcel Ouellette says the best place to install a wood appliance for optimum efficiency is on the main level of the house rather than the lower level-—a negative pressure area. The layout of your living area is important, he says. In a 16-room Victorian, for example, heat won't circulate efficiently, leaving some areas cooler than others. He says make sure the heat will go where you want it most—like bedrooms, living, dining and kitchen areas.
"Your home, first and foremost, must be well insulated, and caulking to keep the drafts out is also important. If you are going to purchase a wood stove, buy the best, do your homework and research," he advises.
Burning wet or unseasoned wood is like burning dirty oil, says Ouellette, who recommends storing your wood inside, rather than under a tarp outside.
Tim Whynot, manager of stewardship and outreach for the NS Department of Natural Resources, says small hot fires work best, adding that you get a cleaner burn with fewer emissions if you leave the draft open; if you must close it, never do so right after adding wood to the fire.
"Let it burn 15 minutes to a half hour before you close it. One indication that you are not burning correctly is that your glass will get black," he says.
Stoves today are designed with better insulation and improved air flow, says Hicks. "In most cases, you will see no visible emissions from the chimney, and you will smell less smoke from a properly installed EPA-certified stove."
A way of life
Ouellette says that wood heat is not for everyone in what he describes as today's push button, remote control, fast food society. He says wood heat not only heats the body, but heats the soul.
"Wood heat is a way of life where time is set aside to prepare and sort your wood for the day's heat, ensure that ashes are emptied and properly disposed of, and that the chimney is properly maintained by a proper WETT certified and well experienced chimney sweep. If you find it dirty, can't be bothered to go to the woodpile and put up with all that work, then enjoy your oil."