Going squirrely? Here's how to help keep your bird feeders for the birds (photo: feeders)
Skip Pothier enjoyed Donalee Moulton's article on squirrels in our magazine (Setp/Oct 2013) so much that he thought he'd share his experiences and offer some assistance with keeping squirrels out of feeders.
The Port Perry, Ontario subscriber writes, "I too have had my share of frustration with them. We have the larger black and grey squirrels where I now live in Ontario, but the odd red critter shows up. My main battle has been keeping them out of feeders, so this former Haligonian thought he would share what seems to be working—so far!
"Hanging the feeders 5 feet from the ground on a long, fine wire from a high tree branch can work, but it is not always an option if you don't have mature trees.  The usual feeder on a pole is a squirrel's bit of exercise to make the feed taste better.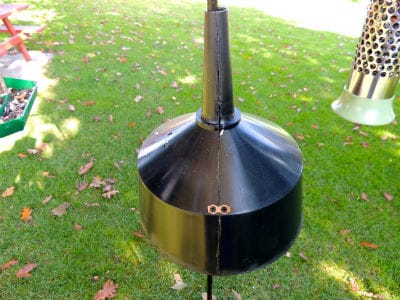 "I have just this year discovered a 12-inch diameter plastic funnel in Canadian Tire for only $6.00. Placed inverted on the pole holding the feeder has been working 100 percent so far as I gear up for winter feeding.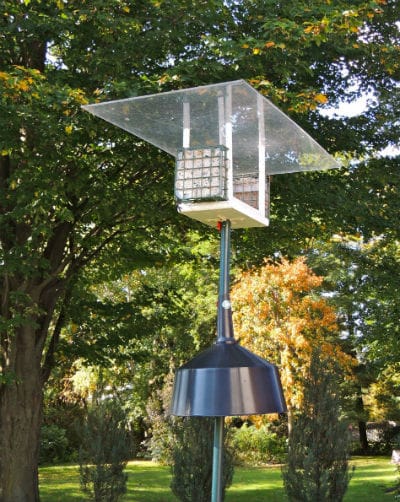 "You might have to cut off the narrowest part of the funnel to fit over the pole. A hole drilled through the funnel and pole will accept a nail right through both to hold the funnel at the right height."
Skip has many feeders in his yard, including this one he built himself: "The plastic glass roof is to let the light in for photography," he says. The bottom of the funnel is 5 feet (154.2 cm) from the ground.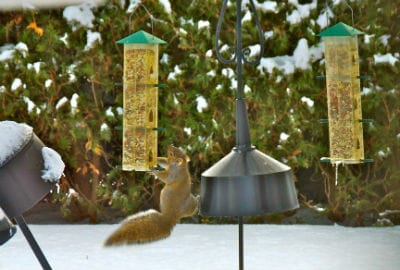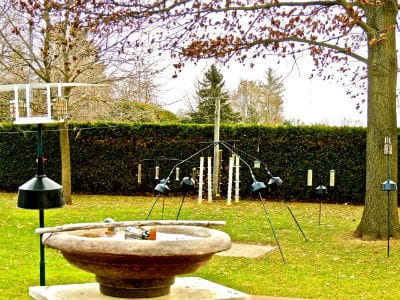 Skip has thought of a workaround for those poles that are decorative and can't have something like a funnel threaded over their ends. "If you have a solid, pole-type decorative hanger, the funnel has to be cut down one side and snapped over the pole. Reattachment, once on the pole, can be done easily." He used copper pipe strapping and several drywall screws to hold the funnel together, and a bit of duct tape holding something like a small block of wood, a clothespin, etc., onto the pole will keep the tube of the funnel from sliding down the pole. 
The right location for your feeder poles is important. Don't put them too close to something the squirrels can jump from, like a picnic table. Squirrels are determined little rascals and can jump many times their length.  If you get a lot of snow accumulation, they: