Take care of your eavestroughs this fall with a few tips from the experts
IN THE HEADY world of home improvements, checking your gutters may not sound that enticing, but maintaining and replacing them is an absolute necessity in order to protect exterior cladding, keep water out of your basement and prevent it from pooling and turning to ice.
Like roofing, fascia and soffits, gutters belong to a generally unsung group of home heroes in the fight against water damage. Coupled with the downspout, they lead the charge in directing water down from the roof and away from the house.
When gutters are clogged, water will overflow and seep down the walls of the house. In mild weather, this can cause problems such as flooded basements and damaged fascia. And when the temperature drops below freezing, trouble ramps up to include icy tripping hazards, cracked foundations and gutters that pull away from the roof.
"It pays to maintain your gutters. They'll last longer and perform better," says Bren VanderZwaag, owner of a Halifax-based gutter cleaning and installation company. "I recommend cleaning twice a year—in the spring and the fall—and replacing gutters after about 20 to 25 years, at the same time that you'd normally replace the roof."
The need for gutters, an ancient piece of home infrastructure, hasn't altered in the past 2,000 years, but materials and manufacturing methods have changed dramatically. Old favourites like wood and copper are still used, especially for heritage restoration projects, but are now prohibitively expensive for most residential applications.
Today, the most common materials for gutters—also called eavestroughs—are aluminum and galvanized steel. Vinyl was once popular, but has a limited longevity and tendency to buckle over time.
"Seamless aluminum is by far the most popular material for the jobs we do," says VanderZwaag. "Seams are the weak point in any gutter. If water is going to escape, that's likely where it will happen. Eliminate the seams, and there's less chance of leaks."
Unlike prefabricated gutters, which are sold and installed in sections, seamless gutters come in a flat roll and are extruded on-site in custom lengths. VanderZwaag says the installed price for five-inch seamless aluminum gutters with a K-profile (a standard size and profile) is approximately $5 a foot. The price for the same thing installed in galvanized steel jumps to about $15 a foot, with copper topping the pricelist at about $35 a foot.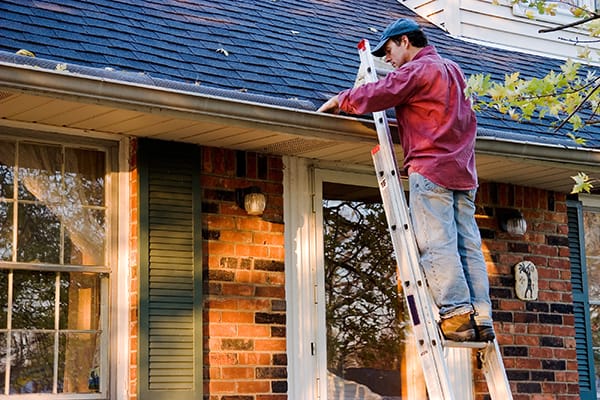 Halifax builder Mike Burns agrees that seamless aluminum is the material of choice for gutters, although he also uses galvanized steel for a more industrial look. It's stronger than aluminum, but it's also costlier.
"For most builders, the goal is to make gutters disappear by choosing a colour that blends with the fascia and soffits," says Burns. "In some houses, the gutters are built into the roof so you can't see them at all."
Thanks to post-tropical storm Arthur, 2014 will go down as a banner year for gutter cleaning requests. "We've never had so many calls as we did in early July in the days leading up to Arthur," says VanderZwaag.
Atlantic Canadians can expect severe weather conditions at least a few times a year, so it pays to deal with gutters well before the next big storm. The first step involves removing any debris that has collected in the gutters. Next, spray with a hose to remove fine particles, checking to ensure that water drains consistently and flows from the downpipe away from the house. And as long as someone is up a ladder, this is also the time to scrape away rust from metal gutters, fill holes and apply a rust-preventative coating.
Not keen on ladders? To avoid either climbing one yourself or hiring someone else to do it, consider one of the new leaf guards.
More than 50 per cent of VanderZwaag's gutter installations now include guards, which prevent leaves and other materials from settling into the gutter cavity.
In the past few years, dozens of different leaf guards have hit the market. Most clip onto the edge of the gutter and lie flat like a top shelf, but some tuck into the shingles and are installed at the same slope as the roof. "These are my preference," says VanderZwaag. "They're more expensive, but they do a better job and they come with a guarantee."
Recent business graduate, Mike Brown discovered the need for leaf guards while running a gutter cleaning business as a project for one of his classes at Saint Mary's University's Sobey School of Business. "I found everything from tennis balls, sun glasses and dead birds to full grown plants with root systems," he recalls.
Brown's gutter cleaning business took off when he began installing guards he bought from a Halifax retailer. When the store ran out of stock, Brown developed his own eco-friendly line from recycled pop bottles and milk cartons.
With professional gutter cleaning priced at about $1 a foot, gutter guards are an investment that makes sense. The smartest investment, of course, is regular maintenance.