Cooking up a more affordable kitchen update
IF OWNING A dreamy kitchen is at the top of your renovation wish list, you are not alone. Kitchen updates fall within the top three types of interior renovations in Canada. The kitchen is the heart of the home, after all, and whether it's for resale or yourself, it's an investment worth making. We Atlantic Canadians have always loved spending time in our kitchens; who hasn't been to a great kitchen party, right? As separate dining rooms are dwindling in popularity, the rest of Canada is following suit. A full-scale kitchen remodel can be overwhelming and messy, not to mention expensive. There may be another option for you, one that's less disruptive and more affordable. If you can live with the layout, but want a kitchen that looks brand new, you may want to look a little closer at kitchen refacing.
What is a kitchen reface?
During a kitchen reface, your cabinets stay put. The doors and drawer fronts are removed, and discarded. The cabinet exterior is resurfaced with a veneer to match the new door colour. Then the replacement doors with hardware (hinges, handles and pulls) are installed. In other words, all visible cabinetry surfaces are recovered.
Is this for me?
If you are wondering if this is the right route for your home consider the following questions:
Do I like the current floorplan of the kitchen?
Does my kitchen function fairly well as it is?
Are my cabinet boxes in good shape overall?
Am I budget conscious?
Do I want minimal disruption in my home?
Do I find my kitchen ugly or dated?
If you answered yes to these questions then you should consider refacing instead of a total kitchen overhaul.
Refacing is quick and can be completed within a week in most cases. It's cost efficient, resulting in a kitchen that looks brand new for a fraction of the price of a full-scale renovation. It's less inconvenient than a full makeover and creates less mess; your floors, counter and even some appliances can stay in place during the process. It can also be an environmentally friendly option. Because you keep your cabinets, far less goes into the landfill.
It's effective and has a big impact. When complete, you will feel like you have a new kitchen.
Options and colours
Doors are available in a number of materials including solid wood, laminate and MDF. Each material, in turn, is offered in various stains and colours, and also different sheens (matte to glossy). Depending upon your taste, door styles range from sleek to traditional. With all these choices, there are hundreds of possibilities. You also get to choose new hinges and hardware. This alone can go a long way toward updating the whole look of your space.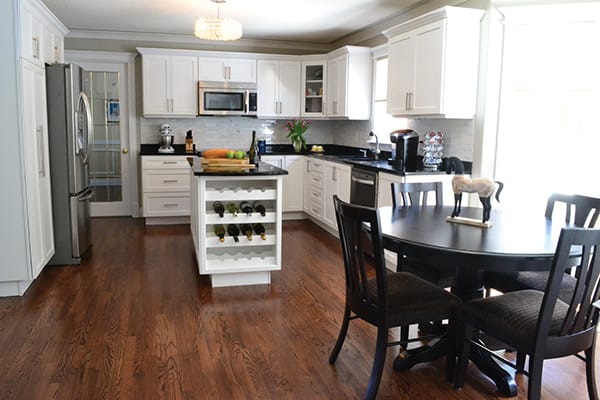 Extras and add-ons
The basic refacing of a kitchen can completely refresh the room, and if you want to take things a little further, you can have some extras built in to your revamp for even more impact. Organizational tools like drawer dividers, a lazy Susan, and trash pullouts help to maximize your space. If you are bothered by the thump of slamming cupboards, you can have dampers added to drawers and doors to soften the sound. You can also use this opportunity to replace your countertop and add a backsplash if you want an update. Under cabinet lights can brighten up your prep areas and highlight a backsplash. Even the addition of an island is an option if space allows.
Before and after
My partner in all things decorating, Susan Mills, wanted to refresh her kitchen. You can see in the before photo (page 57) that the kitchen was in great shape and has a nice layout. The cabinetry, together with the floors and table added a lot of wood and felt heavy and dark. The arched cathedral style doors were too traditional for Susan's taste. She really wanted a new look, but didn't want the commitment of a full remodel.
You can see from the after photo that refacing worked wonders in breathing new life into her kitchen. The result is an updated space that is bright, fresh, and fully functional. Her classic black granite countertops stayed the same, but the cabinets were rejuvenated with fresh white shaker style doors and drawer fronts, brightening the kitchen and giving the illusion of more space. A beautiful stone tile backsplash was added. Its polished finish not only protects the wall, but also adds a reflective element to the design.
There were a few easy tweaks like moving the microwave over the range, removing the cabinetry bridge from above the sink area, and changing the style of the wine rack in the end of the island. These little modifications help to modernize the look of the "new" kitchen.
Final details
To pull together the space, some accessories were added. The sleek hardware pulls make a modern statement. The overhead lighting is sparkly and pretty injecting a bit of glamour. In addition to making the backsplash sparkle, newly installed under cabinet lighting also brightens the counter space-—adding both eye appeal and more function.
The new black table and chairs harmonize with the countertop and contrasts nicely with the white cabinetry and light wall colour, creating a dramatic effect. The bright Roman shades in the before photo were swapped out for sophisticated yet understated cellular shades that let the rest of the kitchen shine.