Modern deck and patio designs to enhance alfresco enjoyment (summer reading materials are optional)
THE BACK DECK is no longer just a simple porch or a place to stash the barbecue—it's become an integral part of the home, extending our living space into the great outdoors.
The options available to homeowners who want to enhance this versatile space are extensive. Home shows abound with elaborate deck and patio options and with outdoor kitchens, spa rooms and fireplaces—but before you start picking out the furniture, you need to settle on the very structure itself.
Ed Versteeg, a landscape architect and past president of the Atlantic Provinces Association of Landscape Architects, says homeowners have a growing number of materials from which to choose.
"Instead of seeing a magazine and being frustrated because you can't replicate that here [in Atlantic Canada], now you can. There are enough talented carpenters, concrete and stone experts to do whatever you want, and to do it very well."
All that choice, however, can be daunting. Tim Amos, an instructor in the faculty of Horticulture at the Nova Scotia Community College's Kingstec campus in Kentville, NS, says it's important to understand what you want from your backyard, and to think about the future. He warns against using trendy products, saying he's seen many projects that—20 years later—have become the shag rug and avocado kitchen fixtures of the day. "They seemed like a good idea at the time," he observes.
Luckily, current trends in landscaping are classic or timeless. Many homeowners are seeking a natural look for their yards. For example, stone has become a popular choice for patios and garden walls. Whether you use natural stone or concrete materials made to look like natural stone, this material connects the home with the yard visually, integrating it into its surroundings.
Natural wood is also becoming popular as decking material. While most decks are still being made of pressure-treated wood, cedar and exotic hardwoods are becoming more readily available. They are naturally rot resistant and don't require a lot of maintenance.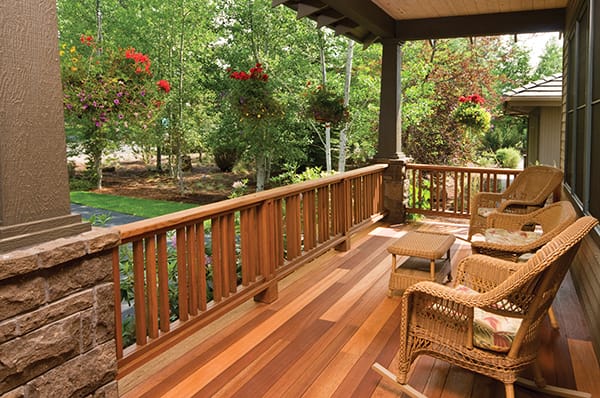 When Kingston, NS, homeowner Pat Rice decided to resurface his back deck, he opted for a tropical hardwood called tigerwood. "It's very deep and rich looking," says Rice. The wood is lightweight enough that he can use the deck's current structure without reinforcement, and it gives him the natural look he wants. "It doesn't fade over time, so it will maintain a reddish-brown colour with black streaks through it." More expensive than pressure-treated wood, Rice says the lower maintenance and a unique look are worth the difference.
As well as connecting the face of their home to their surroundings, people are looking to connect the external with the internal, or extending the decor of their homes into their outdoor spaces. This creates a demand for products that offer contemporary, clean lines—composite decking and concrete options are popular choices.
Concrete can be made to look like natural stone, but it won't come with the moss and aged patina look of natural stone; it can, however, be tinted—from a faint bit of colour to rich colours in complex patterns. Plastic or composite decking (made from wood fibre and plastic) both offer almost maintenance-free options and often come with interesting railings and decorative finishes.
Clean lines aren't limited just to decking material, either. Glass and Plexiglas railing are also popular, as are built-in lighting products and finishes that hide the hardware used to keep the deck together.
Amos says he's seeing a lot more thought going into the way composite decks fit into the overall decor. "They are much more creative [these days], with different colours and patterns available; the deck is almost an art form in itself."
Composite and plastic options are appealing to people who are thinking long-term. "We're designing for a clientele who are not older yet," says Versteeg. "They may be in their 40s, 50s or 60s, but they're thinking about how their houses or landscapes will function in the decades ahead." With that in mind, some designers are minimizing stairs, and creating subtle grading.
This trend is also leading to designs that incorporate both raised decks and ground-level paved patio areas. A patio that offers direct entry into the yard or garden is a popular location for a fireplace or a water feature. Versteeg notes that, in fact, many are passing on the traditional deck altogether and opting for multi-level or sprawling walk-out patios.
"Clients are more comfortable experimenting in the outdoors these days," observes Versteeg.