Getting to the bottom of the composting toilet
KEVIN PRITCHETT often sees contractors' trucks pass his Gambo, NL, building supply store loaded with heavy machinery for digging septic beds. "I shouldn't mind," he says, "because I sell them the septic tanks, but in so many cases it just doesn't make sense."
Whenever possible, Pritchett advises property owners to save the thousands of dollars they would spend installing a septic system and instead to purchase a composting toilet. He also sells them in his store, primarily for cottage use, and has a self-contained, waterless, non-electric model in his own cottage on Gambo Pond, NL.
As you might imagine, there's more to composting toilets than meets the eye. Operating on the same principal as a backyard composting bin, they harness the natural cycle of decomposition and evaporation to convert human waste to nutrient-rich compost. Gravity channels liquids to a low point and solids to a chamber where bacteria work to break them down.
Once a relative rarity in Atlantic Canada, composting toilets have now gone mainstream. Easy to operate and relatively inexpensive to purchase, they are found in homes, cottages, stables and stores, and even in large-scale installations like the public restrooms at Peggy's Cove, NS, and in the Irving Eco-Centre, near Bouctouche, NB.
Composting toilets eliminate the transport of human waste, reduce the amount of water that enters our waste stream and prevent the contamination of our oceans, rivers and groundwater.
"We use large quantities of drinking water to flush human waste into sewers and septic tanks," says Chris Muir, Canadian sales manager for a Burlington, Ont company that has been manufacturing composting toilets for more than three decades.
"Water is a valuable resource. We can't afford to waste it in this way."
Wolfville, NS, resident Andrea Lynn agrees. "The flush toilet was a mistake," she says. "As a society, we're conditioned to remove ourselves from things we find unpleasant."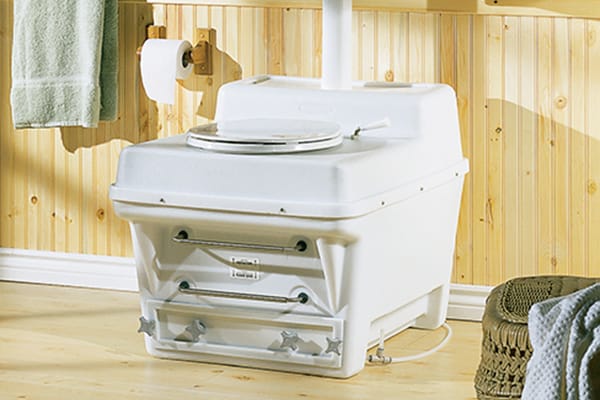 In the 1970s, Lynn lived in Sweden, where composting toilets were common. Today, she has two one-pint flush units that connect to a central system in her home, and a self-contained, non-electric model in an off-grid cottage in central Nova Scotia. "They're environmentally friendly and trouble-free," she says. "And we've never had any odours."
According to Kevin Pritchett, the most common misconception about composting toilets is that they smell. "They do not," he says firmly. "When you lift the lid, air from the room draws in to create a partial vacuum."
New systems are designed with fans, chimney vents and heaters that prevent odours. At specified intervals—sometimes as long as one year for vacation and non-permanent use—users simply have to open the finishing chamber (many systems include easy access trays that slide out) and remove a material that looks much like topsoil. No need to hold your nose. The finished compost is rich soil that can be added to flower beds (but isn't recommended for vegetable gardens).
Other advances in composting toilets include smaller, more attractive units, easy-to-clean bowls and traps, and manufacturer-specific features such as bio-drums, tiny wind turbines and dual fans. With one Canadian manufacturer alone producing more than a dozen different models, there's a unit to suit every situation.
A key decision is whether to opt for a central, or split-level unit, as opposed to a self-contained one-piece unit. In central units, the toilet is in the bathroom, while the composting chamber is below the bathroom floor by about 29 inches (74 cm) or more. Self-contained models combine the toilet and treatment unit in one system. Both systems are available in a variety of sizes to suit seasonal or residential use and to adequately accommodate the number of potential users.
Chris Muir advises consumers to look for units certified by the National Sanitation Foundation (NSF), a regulatory body for composting toilets in North America. In order to receive certification, models must be free of odours—even during overload testing—and have acceptable levels of fecal coliform. Note: watch out for manufacturers who claim that their products "meet" the standards for certification. That could mean that the product has not been certified.