Barbecuing is no longer just about chuck it and flip it
The last time I barbecued, I didn't barbecue at all. I smoked instead. The entire process from start to finish was a long, slow cook in a smoker using natural lump charcoal with freshly cut apple wood added to create the smoke. The meat was never over direct heat, resulting in heavily smoked, fall-off-the-bone tender, yet juicy portions of pork ribs that would make any Texan proud.
Don't get me wrong. I own a charcoal barbecue, and a gas grill, in addition to the smoker. All three are useful and I cook using charcoal more often than I smoke, partly because smoking is more time consuming.
Propane is great when food has to be on the table fast or when grilling something particularly delicate such as vegetables or fish. But these days, my gas grill is not seeing a lot of action since I found some new tools and methods to streamline the cooking process on the charcoal barbecue and learned not to be intimidated by the smoker.
Charcoal comeback
I'm not alone in my outdoor cooking tendencies. Weber, the venerable barbecue company, conducts annual surveys, and its latest on fuel preference and grill type, suggests it's about even with 56 per cent owning charcoal barbecues and 59 per cent going for gas grills. (About one third of those surveyed own more than one type.)
While these numbers are based on a U.S. survey, my bet is that they likely reflect the trend in Canada. For one thing, of those surveyed, 35 per cent have barbecued or grilled in weather below freezing. A little snow never kept a hardy Canadian from a rack of smoked ribs.
Barbecuing, grilling and smoking are part of a larger trend, according to Pat Bourque, owner of Maritime Fireplaces in Moncton. He says: "Cooking in general is on the increase, so outdoor cooking is following that trend. People like to spend time outdoors. The whole outdoor room idea is growing." He agrees that the use of charcoal is on the rise and believes it's because of the versatility. "It's being able to cook low and slow at a couple hundred degrees," says Bourque. "Or you can bring the temperature up for roasts, pizza, even cakes. You can treat it like an oven."
To get this kind of versatility, Bourque recommends a ceramic barbecue like those made by Big Green Egg and Kamado Joe. "You set your temperature by controlling the draft," explains Bourque. "If you open the top and bottom drafts, you can get temperatures up to the 800 to 900-degree range. If you want, you can put some smoking chips in it and close the top draft off so some of the smoke will stay inside."
Bourque says a gas grill can achieve a degree of versatility with the indirect cooking method —leaving one burner off creates a convection effect—but without drafts it's difficult to control the temperature. "Napoleon has come out with an accessory that adapts your grill to a charcoal cooker. You can cook right on the grill with charcoal."
For the truly dedicated (and affluent) outdoor cooking enthusiast, there's the $25,0000 top of the line Kalamazoo designed to burn round wood. "You start with the gas burner," explains Bourque. "You light wood and bring it down to a coal bed. You're making your own charcoal and cooking off that."
Professional-grade machines aside, Bourque says a couple hundred dollars can get anyone into barbecuing or grilling while a good quality smoker averages around a thousand. Such smokers are not for everyone, but any charcoal barbecue can double as a smoker with the addition of smoking chips and the indirect heat cooking method. Build the fire on one side of the barbecue, add wood chips and cook on the other with the lid and top vents closed.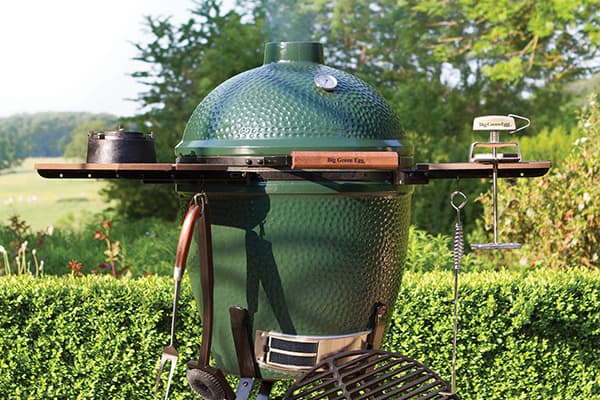 Today, charcoal is tastier and easier
Back to that Weber survey: findings suggested that charcoal grill ownership is rising while gas grill ownership is falling (about 10 per cent in each case). And the number one reason why grillers are increasingly returning to charcoal barbecues is flavour.
Gone are the days when barbecuing meant throwing a few hotdogs or hamburgers on the gas grill for a quick dinner or to entertain. Gone too are the days when the only non-gas option seemed to be briquettes laced with chemicals and lit with petroleum fluids. Today, those who grill with charcoal have lots of options for avoiding the unpleasant off-flavours that come with such techniques and for adding flavour to ribs, fish, steak, chicken, even vegetables with everything from slow-burning wood chips to marinades, rubs and sauces.
Many locally made barbecue condiments are available, at markets and major grocery stores. Justin Lohr, owner of Farmer John's Herbs in Canning, NS has a favourite herb mix for outdoor cooking. "We have a blend called Savoury Sea Salt with summer savoury, garlic, onion, pepper and sea salt. I rub it into my steak, let it sit for an hour so the salt dissolves into the steak, tenderizing it." Lohr says he uses the mix for more than just meat. "The only way I'll eat asparagus is on the grill with a little butter and Savoury Sea Salt."
Maple syrup is the main ingredient in BBQ Maple Sauce, a local barbecue sauce made in Tantallon, NS by the Allaway family. Brian Allaway of Acadian Maple says, "There are three protein foods this barbecue sauce is great on: salmon, chicken and pork. That's because it's sweet." Allaway recommends brushing on sweet sauces like this near the end of the cooking process because sugars burn easily. Acadian makes peppered and chipotle maple sugars as well. "If we're doing a pork chop or salmon, I just sprinkle some of that on."
Enter the barbecue cart
All these tools and methods are great, but they create another annoyance for some—lack of storage. No one wants to repeatedly haul out a dozen items to barbecue. Enter the portable barbecue cart, the accessory that keeps outdoor cooking organized and equipped for the best results.
Most gas grills come with some storage space, but a cart can make even an inexpensive barbecue into a stylish, portable outdoor kitchen where food can be prepped and served without leaving the patio party.
With a barbecue cart, it's easy to keep all the essentials in one place, including spices, rubs and sauces for adding lots of flavour to anything you care to through on the coals. Some outdoor cooks might prefer to build their own—there are lots of do-it-yourself plans and kits out there—but many hardware stores carry several pre-built carts. Castors allow for easy portability while shelves, drawers, hooks and handles provide lots of storage and hanging space for utensils, some condiments, charcoal, wood chips, dish towels and even iced drinks. Light the charcoal, pull out the barbecue cart, and you're ready to create tasty meals.