The longest love of my life is handsome, reliable, practical, and non-judgmental
I'm in a relationship. I might go so far as to say I'm in love. Other loves have come and gone, but this love has been constant for most of my life. Some may consider this love cold and inanimate—not me!
My love is Old Friendly, my wood cookstove. He's there when I need comfort or sustenance, when I talk to him he responds. He feeds me; the teakettle on the hob lets me know when he needs to be fed with more wood.
Cooking on Old Friendly is a joy. His top has a hot, medium and low setting with various other spots in between. All I need to do is slide pots from one spot to another. The food produced on Old Friendly is delicious—I sometimes don't know which one of us is responsible for the masterpieces that reach the table. Something as simple as toast is the best you've ever tasted, soups and sauces are superb, and slow roasts in the oven can't be beat.
Let me cast back to when and where the love affair began. Picture my grandmother's small cottage on the banks of the Bay of Chaleur in New Brunswick. The time was a bit past the '29 crash so there wasn't a lot of money floating around. My grandmother, registrar of deeds for the county, and her daughter, a teaching librarian, kept us afloat. My mom held the fort at home. My dad was a totally irresponsible honey of a guy… but I digress.
The stove in the weeny kitchen was a green porcelain-front Enterprise with high legs. I could hide under it. I was high chair age and the rule was "waste not, want not" or "eat everything on your plate." I did so gladly, except for porridge cooked on the stove. I hated it!
One of my earliest memories is of standing in my high chair, bawling, holding the bowl at an angle hoping the gloop would drop on the floor. No such luck. I was to stay there until the bowl was empty. Finally, I broke into hives that were blamed on the porridge. Thank heavens, a rescue! I was penalized though. My mom made me wash the gloopy porridge pot from then on.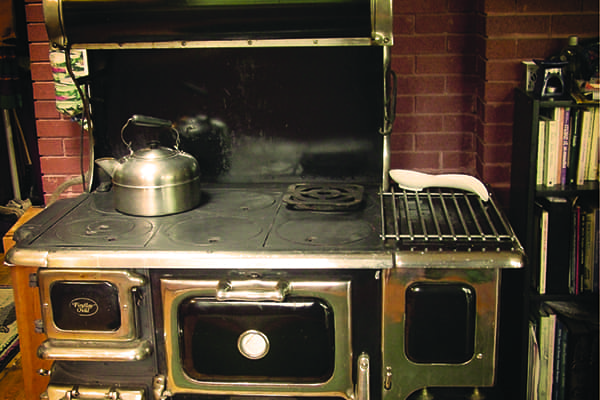 Fast forward to living in a big house in town. The stove was a later vintage Enterprise. The water for all daily uses was heated in a tank hooked through the stove. We had to put our names on a list for enough hot water for a bath. The only thing I was allowed to cook on the stove was toad-in-the-hole for my dad's breakfast when he had to leave before the rest of the household arose.
There was a small nook next to the stove where we snacked, chatted, and played cribbage. My favourite seat was with my back to the heat.
Outdoor skating was a popular activity for all ages in our area. Picture coming in the back door, taking the skates off, limping with frozen feet to the oven door of the stove, and thawing out. That beats the warmest embrace you'll ever feel.
Way forward again. Married and renting an apartment in Halifax with four young boys. We purchased a property in the suburbs and Husband Number One drew up the house plans. Did I want to select taps and light fixtures? No! Did I want to oversee construction? No! All I wanted was a place of our own and a wood cook stove.
The sod was turned in October with completion expected in February. I showed Husband pictures of the kind of cookstove I wanted, and periodically asked if it had yet arrived. Response was usually a grunt or two. I didn't push it because I was so busy with the boys, each of whom was only a year and bit older or younger than the next.
Finally, a wintery February day was moving day. To my chagrin, not only was there no wood cookstove, there wasn't even a chimney in the kitchen. There was a strong temptation to turn the living room into the kitchen since it housed a fireplace! For the next 15 years I cooked and grumbled on an electric stove—then I left. The missing wood-fired cookstove was a factor.
Husband Number Two and I wanted a retreat from our condo in the city. We built a cabin on a river not too far away. The brick chimney was built before anything else: the floor went in, then the roof, then the Findlay Oval wood cookstove went in. The rest of the house was built around it.
That's where I live now, still happy with Old Friendly. Husband Number Two died several years ago. Husband Number One remained a good friend and he and his wife enjoyed the comfort of the stove many times before he too departed this world. His wife, still a good friend, puts her feet up in front of Old Friendly when she too needs to escape the city.
Now Old Friendly and I live alone with our canine buddy Kasey, who likes to sleep under the stove. Piling, splitting and carrying wood to feed it gets to be a pain in many ways, but I wouldn't trade it for anything. I could tell you about recipes or food but I'd rather not—I'm happier if folks join me here at the river and let me create something special for them. I'll never drive a stranger from my door.
Old Friendly always listens to me, talks to me and gives me the advice I want to hear. He's my constant companion and best friend. I don't want to be away from him for more than a few days at a time.
Do you say that about a love in your life?