More to Foliage than Green
Looking for a little colour? From lacy, deep purple to serrated, shiny lime, foliage plants add interest all season round.
When people say their gardens are suffering from a lack of colour past the mid-summer flush, I ask them about foliage. I suggest they cast a look around their plantings, and notice that there are, indeed, many shades of green. But yes, I know…we want more going on in our gardens than just greens. The answer is to introduce different foliage colours and textures into your garden, through spectacular shrubs, terrific grasses, and a mixture of annuals and perennials.
Alice d'Entremont, who owns and operates Ouest-Ville Perennials in West Pubnico, NS, says she frequently hears the lament from gardeners that their garden "has no colour."
Rich Foliage Colours
"I always remind them that green is a colour," she says as we wander around the wonderful display gardens at her nursery. "But I also like to get people excited about different foliage colours, shapes and textures. Right now, we're finding that gardeners are really excited over plants with black or burgundy foliage." She points to a spectacular black cohosh, Cimicifuga 'Black Negligee', as one of the most beautiful foliage perennials available. The plant features deeply cut dark purple-green leaves that look spectacular when planted near a gold-leafed plant such as Tradescantia 'Sweet Kate' or Campanula 'Dickson's Gold'.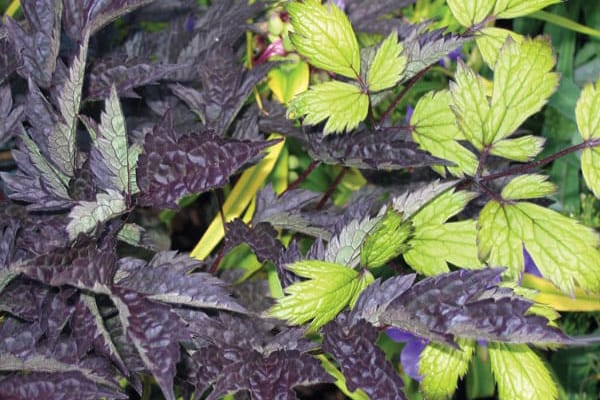 Alice is a fan of hostas, those great foliage workhorses, and has a fine bed of them in front of her house instead of grass. They range from the tiny 'So Sweet' to the massive 'Sum & Substance', and in a host of colours and shapes. Another perennial foliage gem receiving a lot of attention in recent years is Heuchera, also called coral bells. Breeders have seized on heuchera as the next big thing in foliage plants. Every year there are new and flamboyant colour combinations available, plants with delectable names like 'Crème Brulée', 'Lime Rickey', 'Chocolate Ruffles' and 'Peach Melba'. Like hostas, heucheras produce flowers—attractive sprays of tiny bells much loved by hummingbirds—but gardeners grow them primarily for their remarkable foliage colours and compact, clumping growth habit.
Get Into Grasses
Alice has been selling grasses since she started Ouest-Ville Perennials 11 years ago, but is only now seeing them become popular. Whether they are the miniatures best suited for rock gardens, like Carex conica 'Marginata', or the real showy types like silver feather grass (Miscanthus sinensis 'Silberfeder'), you just can't go wrong with grasses for terrific year-round foliage, she says.
Some grasses develop fall colours before fading to a tawny gold or bronze for the winter months, and many keep their seed heads well into winter, providing visual interest and food for birds. When choosing a grass, gardeners are advised to find out if the species forms a clump or spreads by runners, given the latter types can be invasive. "We recommend that if a grass is a spreader, it be planted inside a root barrier [such as a pot] or in a place where it will have room to spread, like by a pond," Alice says.
Sampling Shrubs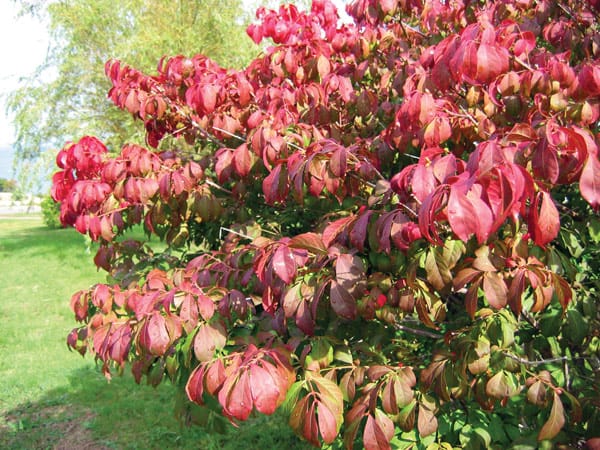 Of course, you don't have to just look for perennials and annuals to add colour and texture to your garden's tapestry. Many shrubs, especially those with novel shapes and distinctive foliage colours, provide multi-season interest: they flower in spring or summer, have lovely colours of leaves and stems, and many present spectacular colours in autumn. With those that bear fruit, you have the added bonus of providing food for wildlife and birds, or for yourself. Come winter, the shapes of deciduous shrubs provide a wonderful framework of lacy twigs and stems—and animated shadows—while conifers and other evergreens are in their element, looking even better than they did in the height of summer.
As with perennials, many common garden shrubs, such as weigelas and dogwoods, are now being bred with variegated foliage to complement their flowers. Some of these are less tolerant of being grown in full sun, being susceptible to sunburn, so are better planted in partial shade.
Alice d'Entremont says she's not always convinced that variegated varieties of perennials and shrubs are as hardy as their green or burgundy cousins. This can be an advantage in the case of variegated forms of plants that are great spreaders: we have a lovely variegated obedient plant (Physostegia) that stays very nicely where it's planted, whereas the regular form is neither obedient nor well behaved. And of course, anyone who is cursed with goutweed knows that the variegated form is less invasive than its all-green counterpart—but neither should be sold in garden centres.
You won't see goutweed for sale at Ouest-Ville Perennials. Or growing in Alice's gardens.
Punchy perennials
Bugleweed (Ajuga spp.)
One of these days I hope to create a quilt effect using the various cultivars of this ground-covering perennial, variegated with shades of rose, burgundy, bronze, silver, gold and green, and topped off with violet blue flowers. Bear in mind that plants do cover ground but are reasonably easy to control if they spread beyond where you want them to be. Many of the named varieties tend to be somewhat evergreen, and do well in either sunny or partly shaded areas.
Euphorbia
The "flowers" of euphorbias are actually bracts, or modified leaves, just as the "flowers" of poinsettias are its showy bracts, so I consider these to be foliage stars. Try E. purpurea 'Chameleon', with purple-green foliage, E. myrsinites or donkey-tail spurge, a blue-green ground-hugger that looks like a succulent or desert plant, and the more common E. polychroma or cushion spurge, with acid-green bracts. Not only are these plants luminous in the summer garden, many of them have great fall colour as well.
Heuchera
If you want colourful foliage, you'll never see anything as dazzling as the newest in heucheras. For a while the hues ranged mostly in the green, red, burgundy, purple and silver realm, but recent breakthroughs in colour have included peach, amber, gold and dazzling acid green. Happy in acid soil but requiring good drainage, they benefit from a good supply of organic matter—and will sulk if they're in dry shade.
Hosta
Ranging in size from delicate teacup-wide plants to robust, sprawling giants, hostas are treasured for their foliage and ability to grow in shady areas as well as in sun.
Lysimachia
This is an interesting garden genus, which includes groundcovers like Creeping Jenny and enthusiastic spreaders like Gooseneck Loosestrife. My favourites are the golden Creeping Jenny (L. nummularia 'Aurea') and two yellow-flowered tall varieties: L. ciliata purpurea 'Firecracker' with deep purple foliage, and L. punctata 'Alexander' with green and white foliage. Bear in mind that these spread, so a root barrier is recommended if planting in a small space.
Ornamental Grasses
Many grasses hold their flowers and their shapes well throughout the winter, adding to seasonal appeal. Look for blue oat grass, (Helictotrichon sempervirens), which looks nice planted near bronze hair grass (Carex comans 'Bronze'); and the popular, showy beauty Miscanthus sinensis 'Graziella,' which has wonderful pink flowers that fade to silver by autumn, accompanied by brilliant orange foliage.
Pulmonaria
Whether you call it lords and ladies, lungwort or Bethlehem sage, pulmonaria has to be one of the great all-purpose perennials, performing well in sun or shade. Various species and cultivars have leaves that are splashed, spotted or spangled with white or silver highlights.
Salubrious shrubs
Barberry
New cultivars are being developed all the time, including those with purple or rosy foliage and others with golden leaves. Generally hardy to Zone 3, these shrubs can range from dwarf varieties to large, and are useful in creating a privacy hedge—but they can be a pain to prune.
Evergreens
Not only do they have great foliage colours, they have a variety of exciting forms, from the weeping hemlocks and cedars to the sprawling thread-leaf false cypress, and they come in all sizes from tiny, dwarf shrubs to giant, towering trees. A few great ones include Thuja occidentalis 'Rheingold', an arborvitae with yellow-orange new foliage that turns a rich golden-brown in winter; Juniperus squamata 'Blue Star', a low-growing beauty with silver-blue foliage; Tsuga canadensis 'Pendula', the wonderful weeping hemlock; and Picea abies 'Nidiformis', the bird's nest spruce.
Ninebark
Creamy-white or pink-tinged clusters of tiny flowers followed by red fruit complement the deep burgundy foliage. As an added bonus, during the winter months you can see the peeling bark on older stems. Of the two golden-leafed varieties available, 'Nugget' keeps its colour better than the older 'Dart's Gold'.
Spirea
In many cases the spirea's showy foliage colours are brighter than theirblossoms. When autumn comes, they really erupt into a show of colour. Some of the more popular cultivars are 'Gold Mound', 'Flaming Mound' and 'Neon Flash'.
Sumac 
Not only are sumac's lovely multi-foliate leaves attractive from spring to fall, when they turn beautiful colours of red, orange and yellow, but it has distinctive, upright clusters of fruit that last on the shrub until spring. The most attractive is Rhus typhina 'Laciniata', with lacy, cut edges on its leaves.
Textural Treats
The leaves of many plants offer distinctive shapes and textures, adding character, depth or drama to a planting. Here are a few favourites: lady's mantle, cranesbill and wood anemones, all with rounded and scalloped leaves; darmera and ligularia, with their huge, platter-like foliage; thread-leaf coreopsis, so well named; lupines, thermopsis and blue wild indigo, with unique, fine foliage; heaths and heathers with coarse shimmery greys, blues, golds and bronzes. There are wonderful sea hollies and globe thistles, with their prickly, glossy leaves, and silver-leafed beauties such as lamb's ears, rose campion and silver sage, all covered with a soft down to add to their appeal.
Fall Fireworks
Autumn is the time when some foliage plants really strut their stuff.
Amur Maple (Acer ginnala) - This small tree can be pruned to behave as a multi-stemmed clump, or left to grow as a regular tree. Its three-lobed leaves are glossy and attractive through the summer but show off in fall with glorious colours.
Black Chokeberry (Aronia melanocarpa) - A native shrub with wonderful, red-orange fall colour and clusters of purple-black fruit, often used in jelly-making—if you can get to them before the birds do. Look for the cultivar 'Viking' for particularly good fruit set.
Burning Bush (Euonymus alatus) - This has to be one of the very best fall foliage showoffs, available in dwarf as well as full-sized shrubs. It's attractive enough during spring and summer, with its lovely, bright green foliage, but becomes electric as autumn coolness triggers its leaves to change to a rainbow of red and fuchsia shades.
Canada Holly or Winterberry (Ilex verticillata) - You can't help but notice the wonderful displays of Canada holly growing wild along the roadsides in southwestern Nova Scotia during autumn—glowing, orange-red berries festoon its branches. This native shrub has glossy leaves that turn yellow before they drop. You need both a male and a female plant in order to get the fruit set, as with other hollies.
Red Leaf Rose (Rosa glauca) - Everything about this rose is wonderful, from its purple stems to its bluish-rose leaves, to the deep-pink single flowers, but especially the profuse clusters of rose hips that take centre stage as the leaves drop in autumn.
Shadbush, Serviceberry, Chuckly Pear (Amelanchier species, particularly A. laevis) - A native tree that's gaining a lot of attention as a great ornamental. The first shrub or tree to burst into flower in the spring, it's covered in shiny white flowers and attractive leaves that turn red, yellow, orange and violet in fall. The fruit is delicious and appealing to humans as well as wildlife.
Viburnum - Many of the viburnums show off brilliant hues of fruit well into the fall, making them great shrub choices for gardeners who feed the birds. Look for V. dentatum, with blue berries and spectacular foliage colour; highbush cranberry (V. trilobum), with bright red fall foliage and juicy red fruit; and witherod (V. nudum var cassinoides), also with blue berries and purple foliage in fall.
Virginia Creeper (Parthenocissus quinquefolia) - An old favourite, it and its cousin Boston ivy (P. tricuspidata) light up in autumn with dramatic leaves in shades of purple through to deep burgundy. Both can be overenthusiastic growers—they'll take over nearby siding or trees.