Our food editor, Alain Bossé, and staff photographer, Perry Jackson, work hard to make sure that every food photo shows the food to its best effect. But sometimes a great food shot requires a little smoke and mirrors - otherwise known as food styling.
Here are some of Alain Bossé's food styling secrets.
SS: Do you cook all of the food that appears in the pages of the magazine yourself?
AB: Yes.
SS: And do you do all of your own food styling?
AB: Yes.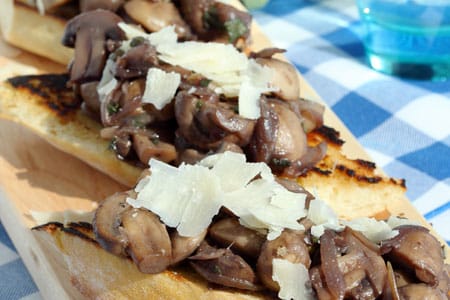 SS: What kinds of things do you have to keep in mind when you're setting up a shot?
AB: The freshness. We are constantly replacing garnishes, we're constantly replacing a lot of little things, because under the lights it gets too hot. The key is to make sure that we watch our ingredients very closely.
SS: Do you have any food-styling tricks you'd like to share?
AB: Lets just say that we don't actually eat much of what we put into the magazine! For one thing, the food stays under the hot lights for a long time. It takes a good solid hour per shot.
Sometimes you use ingredients that are not necessarily the ingredients that appear to be there. Ice cream is my favourite one. Vanilla ice cream is always lard, because ice cream would melt quite quickly. If we were cooking a turkey, we would just cook it until it's nice and brown on top. One of the tools that we use is a butane torch to brown things.
SS: I'm looking at a shot of you preparing the mushroom crostini (Button Mushroom Ragout on Crusted Italian Bread) for the upcoming May/June issue. Can you take me through the process?
AB: First, we put the dish together, and from there we adjusted it, hand-placing every item to make sure it looked pretty. There were a couple of mushrooms in the front that kept falling forward. We had them propped up sideways so we could see a perfect view of the inside of the mushroom.

In this case, the shot is about the mushrooms, so we tried to feature the mushrooms in a way that was pleasing. I was placing some of the cheese in the right spot so we could still see the mushrooms, and pulling out some of the peppers so we could see some of the redness.
SS: Do you enjoy the food-styling part of your job?
AB: Yes. It's a new part of my job, and I really, really enjoy it. Perry Jackson does such a phenomenal job from a photography perspective. He's a great partner to have, because he's very objective. It's really a team effort; I've learned a lot from him in the three years we've worked together.