Wine and food blogs
Nova Scotia
FEISTY CHEF
Halifax chef, mother and self-proclaimed crazy cheese lover, Renée Lavallée, shares her tips, recipes, book reviews, travels and experiences from her 17 years in the restaurant industry (including stints as chef at The Inn at Bay Fortune, PEI, and at Il Mercato and The Five Fishermen in Halifax) and from her home kitchen.
She started her blog when her daughter was born in 2009, and now has a son as well, so she shares stories about raising two kids.
Renée has a wonderful sense of humour and dishes up no-nonsense advice and recipes that are relatively simple for the home cook; she also offers her thoughts about wine pairings and her favourite local beers.
WITH BITE
Kristen Pickett works for the Halifax Chamber of Commerce by day, but by night, she scours Halifax restaurants, markets, festivals and events so she can report on them in her deliciously witty blog. This 20-something foodie has an endless appetite for local tastes and adventure. The site offers mouth-watering food photos, wine tips and reviews, and interviews with people behind the food and wine scenes.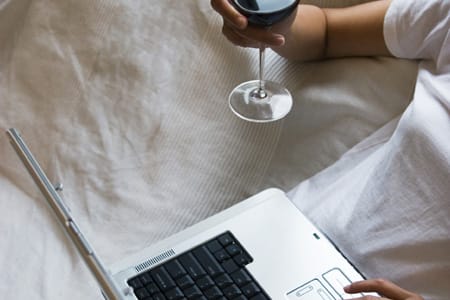 LABELED
Jonathan Wilson is a knowledgeable wine lover who takes the intimidation out of wine for novice drinkers with his fun and accessible blog posts. He also throws in some meatier information for enthusiasts, but never veers from his easy style.
Jonathan isn't afraid to say what he really thinks. "I have never been an advocate of following trends in the wine world," he writes, "and have little to no respect for those who make wine a certain way just because they know it will appeal to the mass audience." When he graduated from the Canadian Association of Professional Sommeliers program, he won the Kent Clarke award for top graduate. He is the sommelier at Nectar Social House, in Dartmouth, NS.
HALIFOOD
Laura Oakley shares her thoughts about locally produced food and wines, in addition to telling stories of her food-inspired adventures abroad and her culinary experiments at home. Her passion for gastronomy was ignited while studying hospitality and tourism management at Mount Saint Vincent University, in Halifax. Her blog also features beautiful photography.
PASSABLE
This thought-provoking blog brings together a number of local writers on food and wine culture in Halifax and around Atlantic Canada. Writers are described as curious amateur gastronomes who spend a lot of time and money dining out, cooking and buying food. Together, their posts create a terrific collective journal that highlights local food and wine.
FOOD CRITIC
A former professional chef, Liz Feltham was the Coast's restaurant critic for eight years and has three cookbooks to her credit. She combines knowledge and passion with a strong voice, taking food, but never herself, seriously. Blogging since 2007, Liz shares her observations and musings on food, cookbooks and restaurants in her unique style.
New Brunswick
NB WINES
Norman Siebrasse declares that he's not a wine expert, but a wine lover. His blog offers reviews of wines available in Alcool NB Liquor stores. He also invites readers to submit their own reviews, which he'll post alongside his own-to encourage an exchange of opinions about good bottles available in the province. He says that his wife, Kelly, who often posts or is mentioned on the blog, has a better palate than he does. Smart man.
LE TIRE-BOUCHON
Mario Griffin is another enthusiast who reviews wines available in New Brunswick. His interest in wine led him to get involved with FestiVin, an annual food and wine festival in Caraquet this year from May 28 to June 4. He began his blog-which is entirely in French-when he became overwhelmed with friends' requests for wine advice. In 2010, he published his first book, Le Tire-bouchon Griffin 2010, the first wine guide for New Brunswickers.
Newfoundland & Labrador
ONE BRILLIANT BOTTLE
Renowned Newfoundland novelist and playwright Kevin Major started a blog last year about his other passion: organic and biodynamic wine. His blog is a rollicking read and his tastes are broad, educating his followers about wines from the world over. He selects one bottle each week and writes superbly about its taste and history.
ROCK RECIPES
Barry Parsons' blog biography reads: one wife, two kids, perennial student and lifelong food obsessive. His blog certainly fulfils the last descriptor, offering thousands of recipes with a traditional Newfoundland flair. Barry is also known for his creative ideas and for his recipes for produce and berries in season. Some of his recent posts include Strawberries and Cream Bread Pudding and St. John's Stout and Steak Soup, using locally brewed Yellowbelly beer.
WICKED SCOFF
Mark Penney is a Newfoundlander who moved to upstate New York in 2007. His cooking style marries New England flavours and recipes with traditional Newfoundland ideas.
He's named this blog with a word from the vernacular of each region: "Wicked," he explains, is a New England slang term (also used in Newfoundland) that means wonderful or deeply satisfying, as in "that was a wicked good lobster roll." The Newfoundland word "scoff" originally referred to a cooked meal at sea or ashore, often at an impromptu party, especially at night. Over the years, he notes, "the term has come to mean any meal, but often signifies a lavish spread of ingredients, drink and good company."
He also enjoys tasting and cooking with regional beers. "Expect a beer of the month, often paired with recipes," he says.
Wine retailers in Atlantic Canada
DIALOG WINES
St. John's wine importer Greg Winter keeps Newfoundland oenophiles happy with his selection of unique bottles from around the world.
Established in 2009, Dialog Wines is built on Greg's industry experience in both Canada and the US, as well as his education from the American Sommelier Association. Greg is known for his discerning taste and ability to find those undiscovered gems of the wine world that aren't sold in provincial liquor stores.
BISHOP'S CELLAR
Bishop's Cellar, a private wine retailer on the Halifax waterfront, has re-launched its website recently to offer a host of interactive features, including a wine selector tool that allows visitors to narrow their search by type, country of origin, grape variety, body, food pairing and price.
The site offers an interactive video tutorial on the main page which highlights many of the site's features. The staff make wine unpretentious, with classes, events and DJ-hosted tastings. Customers anywhere in Nova Scotia can e-mail to have a bottle delivered via Canada Post. Customers from the Halifax area can call ahead and request that a bottle be chilled before they pick it up.
CRISTALL AND LUCKETT
This private wine retailer in Bedford, NS, sells hundreds of wines from around the globe, the vast majority of which are in the $10 to $20 range. Its website offers information about upcoming tastings and hot buys. It also features great wine tasting notes that are helpful when choosing a wine for dinner.
PROVINCIAL LIQUOR STORES (NBLIQUOR.COM, MYNSLC.COM, PEILCC.CA, NFLIQUOR.COM)
Each of the provincial liquor operations-Alcool NB Liquor, the NSLC, the PEI Liquor Control Commission, and the Newfoundland Labrador Liquor Corporation-offers a searchable database of the products it sells. NB Liquor also runs the Selection Wine Club (selectionwineclub.ca), with special offerings.
Winery and restaurant sites
WINES OF NOVA SCOTIA
This comprehensive directory of Nova Scotia wineries, created by the Winery Association of Nova Scotia, is all about building awareness of the Nova Scotia wine industry. The site features news, events, contests, festivals, winery profiles and links to producers' sites. It also offers advice and links for those interested in learning about how to start a vineyard in Nova Scotia.
NATDECANTS
In addition to wineries in Nova Scotia, there are also a number in New Brunswick, Prince Edward Island and Newfoundland.
Most have their own websites, to which I've linked through my own directory of wineries in Atlantic Canada. I also include my reviews of wines from wineries all over Atlantic Canada.
TASTE OF NOVA SCOTIA
Taste of Nova Scotia promotes Nova Scotia restaurants, wineries and food producers. It has a comprehensive calendar of events, recipes and contests. You can order a basket of local treats online and have it shipped anywhere in Canada.
E-DINING
This site has an outstanding directory of Atlantic Canadian restaurants with links to their sites, and an informative e-newsletter with events and special dining promotions.
Each restaurant listing contains contact information and describes restaurant features (patios, private rooms) and reservation requirements. The site also has information about the annual February Dine Around Event, when various restaurants across the Atlantic Provinces offer prix fixe menus.
ATLANTIC SOMMELIERS
The Atlantic Canada Chapter of the Canadian Association of Professional Sommeliers (CAPS), holds tastings of fine wines, beers, and spirits, open to its members around the region. It also offers CAPS accreditation training programs for professional sommeliers.
Wine and food events
MONCTON WINE AND FOOD FESTIVAL
One of the region's largest food and wine shows, this week-long event, usually held in November, offers dinners, seminars and tastings that showcase many wines and foods available in Atlantic Canada.
FESTIVIN
FestiVin, held this year in Caraquet, NB, from May 28 to June 4, is now in its 14th year. There are eight days of activities, seminars and restaurant events exploring wines from all over the world.
FESTIVAL OF WINES
The PEI Liquor Control Commission presents the 2011 Festival of Wines, where wine lovers can taste from more than 200 limited-quantity wines.
Sommelier Jean-Sebastien Morin will offer "Tasting Like a Pro," a complimentary workshop held prior to each tasting session to help attendees get the most out of their Festival of Wines experience.
NOVA SCOTIA WINTER ICEWINE FESTIVAL
Nova Scotia winemakers and some of the province's finest chefs come together to celebrate their passion for local food and wine during the Winter Icewine Festival, with more than 40 events taking place during 10 days in early February. Sample icewine paired with local cuisine or learn how icewine is made.
BY THE GLASS
By the Glass is the region's largest private food and wine club, with more than 1,500 members. The club hosts local food and wine events in Nova Scotia and New Brunswick, with visiting winemakers, sommeliers and chefs. They get rave reviews for their guided wine-and-food tours to destinations such as Burgundy, Tuscany, Spain, South America and South Africa. The hosts of the tours include local celebrity sommeliers, including Mark DeWolf and Alanna McIntyre and chefs such as Craig Flinn from Chives, Mark Gabrieau from Gabrieau's Bistro and Richard Julien.