Call it glace, gelato, or maybe, sherbet. Mold it into a bombe, cassata, ice mousse or spumoni. Add a few ingredients and call it a sundae, coupe, split, or tortoni. Cover it with meringue and put it into the oven to bake. Or wrap it in pastry and deep-fry it. We're talking about ice cream. Plain or spiffed up, it's Canada's most popular dessert. So, where did it come from? What genius created it? Fingers point in various directions. But who can check through 3,000 years of legends to find the answer? And have it verified?
Some say the ancient Chinese were the first to combine fruit juice and honey with ice and snow brought down from the mountains. Others credit the Romans, Persians, Arabs, or Turks. Marco Polo is said to have gotten into the act by bringing recipes from China to Italy during his travels in the 13th century. But these could only be termed ices, sherbets, or sorbets. When and where did the blessed cream enter the mix?
Some researchers say the happy event occurred in 1533 when Catherine de Medici of Florence, Italy arrived in Marseilles, France to become the child bride of the 14-year-old boy who would one day be Henry II. Romance had little to do with it. The marriage was arranged.
But Catherine was fond of food and unwilling to give up her team of Italian chefs. She brought them with her, and it is said that they prepared a different flavour of "iced cream" for each day of the wedding festivities.
Well, it's a nice story, but it's hard to choose from the many existing claims of how and when ice cream came to be. We have enough to do to remember our own first lick of the heavenly frozen treat!
Memories frozen in time
Carolyn Kavanagh, of Halifax, has fond memories of the ice cream she enjoyed while growing up in Middleton, NS.
In this heart of the Annapolis Valley town, the summer temperatures could soar to 100 degrees Fahrenheit. People from miles around would escape the heat by driving over North Mountain to one of the little villages along the Fundy shore, where temperatures were dramatically cooler. Most went to Margaretsville. There, along with the cool breezes, ice cream was available in the two little ice cream parlours the village supported. "The first ice cream parlour I remember was run by a Mrs. Hudgins," Carolyn recalls. "It had tables inside, but most people went to the window to place their order and ate it outside at picnic tables, or sitting on the grass."
The favourite flavours then, as now, were vanilla, chocolate and strawberry, but sometimes other fruits would be used in season, and caramel ice cream was a frequent treat. Cones were piled high, and sundae sauces were usually handmade.
"This was not just ordinary ice cream, good as that is, but was all homemade, creamy and rich in natural flavours," she says.
As Mrs. Hudgins semi-retired, Mrs. Willett opened another ice cream parlour and expanded the choices.
Carolyn's favourite was a Banana Royal.
"This was served in a long glass dish with a banana sliced lengthwise under three scoops of ice cream, a different sauce on each, and topped with chopped peanuts and maraschino cherries, all for 25 cents," she says.
Maybe it is these lingering memories that make it almost impossible for Carolyn to go a day without ice cream. Her Lemon Ice Cream is as delicious as it is easy to make. Try it.
The urge to indulge
Gary Stewart of Brule, on Nova Scotia's Sunrise Trail, makes what he believes is the best sherbet in the world. But, with equal amounts of milk, cream and sugar, is it really a sherbet? Or is it just one of the most delicious ice creams in the world? Let's not bicker about the name. I've tasted it, and it is g - o - o - d!
Gary calls it Skiff Lake Sherbet, since his grandfather Cecil used to make it at Skiff Lake, NB some 60 years ago.
"I just confirmed that it was actually my grandmother, Jean, who developed the recipe. God love her," he says.
In later years, his father Bud would mix it up for the family, cranking it by hand for at least 45 minutes, with few offers of help from Gary, his mother Doe, his sister Janet or brother Mark. That is to say, until it was ready to eat.
"It was an amazing treat on hot New Brunswick summer days," Gary says. "As I recall, we would make it every two weeks or so, since in those days, there were not a lot of freezers around, especially on our Skiff Lake island retreat, with no electricity."
Gary, who is a dealer business manager for Rogers Wireless, and helps his wife Brenda operate her Caora Sheep Farm, in Brule, still makes this cream sherbet for special occasions, or whenever he gets "the urge to indulge."
"I use blend to make it thicker, although the original recipe called for milk," he says.
Aunt Maud's sweet tooth
According to Elaine Crawford and her daughter Kelly, of Norval, ON, who authored Aunt Maud's Recipe Book (Moulin, 1996), Lucy Maud Montgomery used to make an excellent Brown Sugar Ice Cream. At least, it was among the recipes in the famous author's recipe ledger, a treasured family inheritance, passed down to Elaine from her mother, Marion Laird, who was a distant cousin of the creator of Anne of Green Gables. Whether the ice cream was ever made in Cavendish, PEI, where Lucy Maud grew up near Green Gables, is not mentioned. However, the recipe does appear in a menu for an afternoon tea at the Manse, in Norval, where Lucy Maud moved, with her husband, the Reverend Ewan MacDonald, in 1926.
Having described their Aunt Maud as "an excellent cook [who] took great interest in good food," they put their seal of approval on her ice cream, which they tested in a modern Donvier ice cream maker.
The hand-cranked freezer method, used in Lucy Maud's day, was far more complicated: "Ice was shaved from blocks of ice which were stored under sawdust in the ice house and the shavings or 'snow' were packed in the outer compartment of the ice cream freezer around the central container full of ingredients. Salt was added to the snow to accelerate freezing. Ice needed to be replaced part way through the freezing process. The crank had to be turned by hand constantly, until it could be turned no more. The ice cream was 'ripened' by standing for several minutes before serving."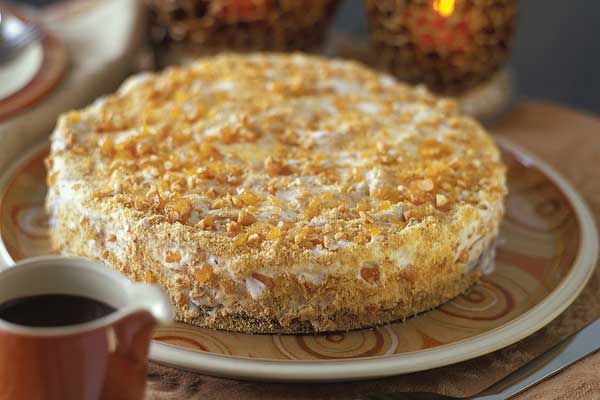 Recipes featured in this article: