Celebrity chefs help to showcase abundant Island harvests—including sensational shellfish
Food producers, chefs and food lovers of all kinds will once again converge on PEI in September to celebrate its fresh tastes and traditions. Hosted by chef Michael Smith, the Fall Flavours Festival, which runs from September 2 to 25, welcomes national and international "celebrity" chefs to help showcase the best of the Island's food. Events include Le Festin Acadien avec Homard and a Lobster Party on the Beach, hosted by chef Corbin Tomaszeski; Beef n' Blues and the Red Sands Potato Fest, hosted by chef Mark McEwan; and Applelicious, Chef on Board and Picnic in the Park, with chef Lynn Crawford.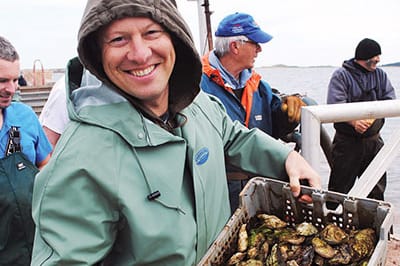 Not to be outdone is the PEI International Shellfish Festival, held on the Charlottetown waterfront September 15 to 18—now in its 16th year, and part of Fall Flavours. Don't miss Australia's Curtis Stone, a contestant on Donald Trump's "Celebrity Apprentice," and one of People Magazine's sexiest men alive: he hosts Shellfish Feast and Frolic, plus live cooking demonstrations featuring PEI shellfish and agricultural products.
This festival is also home to the wildly popular PEI Potato Seafood Chowder Championships, plus plenty of other food demos and entertainment. Throughout the events, visitors can meet many of the Island's purveyors of clams, oysters, mussels and other shellfish.
Recipes featured in this article: