Home is a comforting word. Home cooking more so. But a talented chef cooking at home has it all—the expertise, the knowledge, and more than a smattering of the science behind the food. So it is with Atlantic Canada's best known chef, Michael Smith, host of Food Network Canada's popular cooking shows: The Inn Chef, Chef at Large, Chef at Home, and the latest, Chef Abroad.
While proving himself completely at ease with microphones and cameras, this energetic, globetrotting food ambassador from Prince Edward Island puts it in writing as well. His fourth cookbook, The Best of Chef at Home, has just been released.
Published by Whitecap, of Vancouver, it's a heavy book. With a full page given to almost all of the120 recipes, and a facing full-colour delectably-honest photo by James Ingram for each, how can one resist??What struck me first was the obvious turnaround. Chef Michael has switched from the high-end, often complicated dishes featured in his first two books (Open Kitchen (1998), and The Inn Chef (1999), both published by Callawind, Montreal). The Brandy Oxtail Consommé with a Morel Mushroom Flan and Foie Gras-Stuffed Morels with Arugula and Steak Julienne gives way to a kid-friendly Pizza Soup. And the recipe for Pan-Seared Skate Wing with Mint Tapenade and Roast Shallot Custard in Tomato, Chive, and Caper Water bows out in favour of the simplistic, but tasty, Pan-Fried Whitefish.
Not that this is a sudden change. The seminal seed for healthy food was planted around the time his young son, Gabriel, first started to eat solids. By wanting the best for his family, it has become a way of life for this talented chef, both in his home kitchen and in his professional career. ?He says the whole point of cooking is to create healthy food to sustain your family and friends, and sourcing local ingredients supports your local farmers and food artisans as well. Food grown close to home is fresher, tastier, and better for you, particularly if it's produced organically, he says. It also profoundly affects the environment in a positive way.
"There are few things as powerful and rewarding as cooking a simple meal and then sharing it with your family and friends, especially when you enjoy the art of creation."
I know this simplicity to be true. When I was invited to his home for a bowl of clam chowder a few years back, there were no put-on airs. You picked up your bowl of chowder in the kitchen and you carried it to the dining room, along with a spoon and the knife you needed to butter the bread. I loved it. Both the chowder and the camaraderie. The recipe is in the book.
The Best of Chef at Home could be considered a cooking course as you cook your way through the recipes, all of which Chef Michael considers to be essential for today's kitchen. Each recipe is accompanied by what he calls freestyle variations, offering alternative suggestions designed to please every palate. In fact, he calls it a guidebook rather than a cookbook. But it's both.
If you're having trouble perfecting risotto, for instance, you might want to practise on Michael's favourite Barley Risotto with Bacon. Or let him guide you through the steps, the first of which is patience, in preparing Risotto with Parmesan and Peas.
He says he never cooks a dish the same way twice. That would be boring. Just look at his so-simple baked ham, which offers 10 variations, and room for more.
You start with a "cook before eating" ham, add your choice of liquid—fruit juice (apple, orange, or pineapple), wine or meat broth, add a couple of tablespoons of your favourite condiment (mustard, horseradish, marmalade, jam, jelly or chutney, perhaps), season to taste, and simmer in a covered pot for 90 minutes or so. You can now slice and serve the ham. Or you can score it, glaze it and bake it for 30 minutes at 375º F (190º C), before serving with one of his (or your) suggested sauces.
The details are all there for an easy lesson by a first-rate teacher.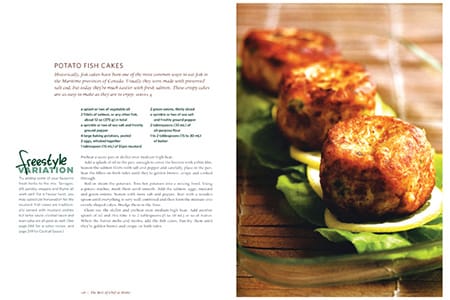 Priced at $29.95, it's a good book to have around — to use often in the kitchen or display it on the coffee table—to guide, to teach, and to cook. ?