We all scream for homemade ice cream
Summertime and ice cream go hand-in-hand. With so many ice cream machines available these days, it's never been easier to scoop out a homemade cone of your favourite frozen dessert.
The first thing you should decide before starting is the type of ice cream you want to make: cream-based or custard-based. Cream-based is a good place for newbies to start. All you need to do is combine sugar, cream and your choice of flavouring (like fresh fruit or vanilla extract) in your ice cream maker and press start.
If you want to take things up a notch, you can whip up a custard-based ice cream, but before putting any ingredients in your maker, you'll have to cook the custard, strain it and refrigerate it. It's a bit of work, but the ultra-creamy results are always worth it.
Luckily, we've got a few surefire tips to make sure your custard ice cream is delicious, and recipes to get you started.
First off, the chilling reservoir for your ice cream machine needs to be ice cold, so always keep it stored in your freezer. It doesn't take up much space, and if it's already cold, you won't have to wait for it to chill if the mood strikes.
If you're taking on a custard-based ice cream, don't forget to temper your eggs so they don't scramble when you add them to the hot mix. Simply warm them up by adding a few tablespoons of warmed cream, one tablespoon at a time, whisking continuously.
And remember: You have to refrigerate the custard before using it. When the mixture is finally cold enough, pour it into the ice cream reservoir, but make sure not to fill it more than three-quarters full because it'll need room to aerate. For intense flavours, use pure extracts, and add them just before you start to churn.
When the churning's done, you can store it in a long, shallow container. Store-bought ice cream comes in those deep tubs, but the texture of homemade stays more consistent in a shallow baking dish covered in plastic wrap.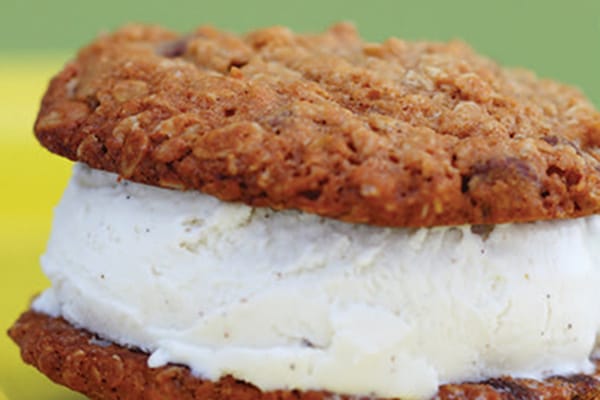 Ice cream is wonderful in a cone, but it can be enjoyed so many other ways, from ice cream cakes to sandwiches. Here are a few recipes for you to try.
"I love gardening," she says. "But not more than I love my dogs."
Recipes