What does A retired military tank commander/custom tailor do when he retires? He moves to a small northern New Brunswick town and opens a food truck. At least that's what Donny Savoie did.
Donny and his wife Christina wanted to open their own restaurant, but didn't want the overhead costs of a traditional brick and mortar place. So the pair decided to open The Food Truck, the first mobile restaurant of its kind in Dalhousie, NB.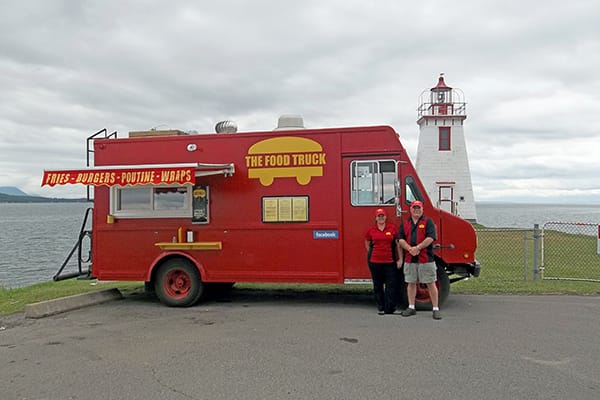 To make their unique array of comfort food dishes, the Savoies purchase local ingredients, such as fresh baked buns, New Brunswick potatoes, local cheese curds and lean ground beef, daily. The Food Truck's main menu features traditional pub-type food including burgers, fresh-cut fries, poutine and chicken wraps. But the Savoies also try to feature special culinary treats like deep-fried mac and cheese with marinara sauce, pulled duck confit, samosas and deep-fried pepperoni.
The Food Truck sets up in the old mill parking lot in Dalhousie, and is open Wednesday, Thursday and Friday, 11am until they sell out. ~AB