Isaac's Way, Fredericton, NB
WHAT MAKES a local hot spot? It's a place where everyone feels at home, no matter their age, gender, occupation or income. It's a place people couldn't imagine not having in their neighbourhood or community. Isaac's Way in Fredericton, NB is just such a place. In October 2012, after eight years in business, the popular café was destroyed in a devastating fire. Locals rallied around owners Jason and Tina LeJeune, and their business partner Tabatha Smith, and in June 2013, Isaac's Way found a new home at 649 Queen Street, in the old historic York County Court House.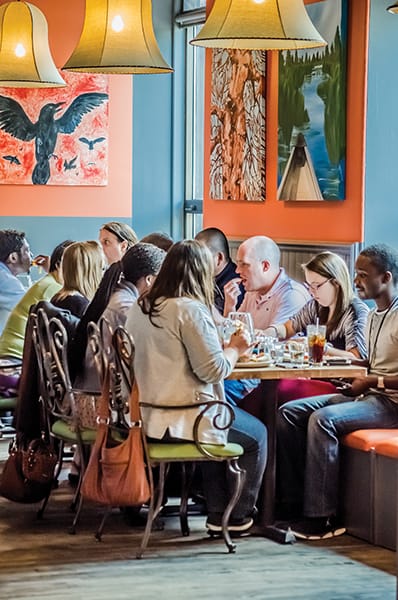 Isaac's Way prides itself on serving the freshest and most local fare possible; they strongly believe that keeping money in the community benefits all. They serve craft beers brewed in New Brunswick and even their coffee mugs are hand-crafted in the region! Open for lunch and dinner, Isaac's Way's amazing fish cakes with lemon dill sauce is a popular lunch items; in the evening patrons love their Picaroons Braised Beef Melt—beef that has been slow-cooked with Picaroons Irish Red and served open-faced on sourdough bread with spicy aioli, crispy onions and asiago cheese, along with a side of sautéed red pepper, onions and mushrooms, and a "smashed" potato.
As much as the community supports Isaac's Way, the business reciprocates. The walls of the restaurant are lined with local artwork that raises money for underprivileged children through an ongoing silent auction. Isaac's Way also donates food every week to the Wilmot United Church Drop-In Centre, feeding 30 to 40 hungry individuals every Saturday evening, and also supports the Community Action Group on Homelessness.
Isaac's Way knows that to be successful you need to offer great food, wonderful service in a fabulous atmosphere and, most importantly, that you need to give back to the community that gives to you.