Everything's better with basil
Basil is one of my favourite fresh herbs. I associate basil with dishes like Caprese salad, flavourful pesto and bruschetta, but there is something magical about basil when it's warmed as well. There is nothing better than a hot steaming bowl of pho, and when you add in some glorious Thai basil, the flavour and aroma are intoxicating.
There are 15-plus types of basil plants, although sweet basil is the most common variety used in Italian and North American cooking. Other favourites include Thai basil; found in Asian markets, it is slightly more pungent; and purple basil, which adds a wonderful colour without much difference in flavour (although the aroma is quite different). Other intriguing varieties include lime, lemon and ginger.
Fresh basil is fairly easy to grow although it does require hot sun and a liberal hand with water; basil will typically last until the first frost. I find it can be hard to source fresh basil in the winter and the quality is debatable. However, there are a few ways to help make summer's bumper crop last through the winter.
The obvious recipe choice is pesto and this is where most of my homegrown basil ends up. Pesto can be used in many ways but my favourite is straight from the jar over hot pasta. It's quick and gives a wonderfully fresh and light twist on an otherwise heavy dish. Pesto is made from a flavourful combination of quality olive oil, basil, pine nuts, garlic and Parmesan cheese, and makes a product that will easily carry you through the winter and into the next growing season. Pine nuts tend to be pricey, and not always easy to locate at grocery stores, so we've experimented with other oily nuts and seeds with pleasing results; we've used walnuts and almonds, but have also enjoyed pesto made with both sunflower and pumpkin seeds. We've included a recipe made with almonds that has served us very well.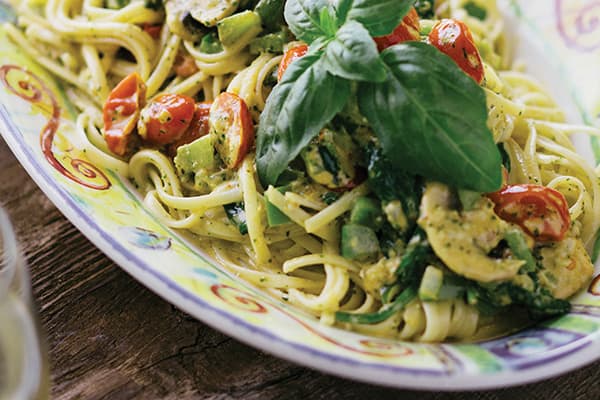 If you have plenty of fresh basil, can't use it all at once but want to be able to use it later to impart a rich flavour into other dishes such as soups, freeze it! Simply place chopped basil in an ice cube tray, top with olive oil or broth and place in the freezer. Once frozen, transfer the cubes to a freezer bag and store for up to six months.
Basil butter is another amazing way to add a bit of summer to our winter dishes. It's made by simply adding three or four chopped basil leaves to half a cup of butter. Mix, then place onto plastic wrap and tightly roll into a log, store it in the freezer. Slice off a round to top fresh fish or steak; it's also delicious on oven-roasted potatoes.
Lastly, my favourite way of enjoying my basil yearround is making basil oil. The basic method is to add a half-cup of very fresh basil to one cup of high quality olive oil (don't use extra virgin olive oil as the flavour will overpower the delicate herb). Pureé the basil in a high-powered blender, as the herbs need to be very finely chopped, before adding the olive oil and mixing. Next, place in a saucepan over medium heat and allow to simmer for one minute, then remove and run the oil through a very fine strainer lined with cheesecloth. It is very important that at no point should the herbs be squeezed or pressed through the cheesecloth as this could result in a bitter taste in the oil. It can be a bit time-consuming but the final result is worth it. Once the oil has been strained, pour the finished product into an airtight container, leaving behind any dark residue that may have collected at the bottom of the bowl. Store in the refrigerator for one week and use as a marinade, for dipping bread or on salads.
Note: this recipe can easily be doubled but its shelf life is relatively short, so it's best not to make more than can be consumed within one week
Recipes