Little Louis', Moncton, NB
As a child, Pierre Richard spent hours working with his mom in their Moncton, NB family garden. As much as he loved the planting and harvesting, it was using the results of his labour to create meals that really got him excited. Pierre chose the Southern Alberta Institute of Technology in Calgary to begin his formal training. After receiving his Red Seal certification in 2006 he returned to New Brunswick first to Saint John where he was chef de cuisine at Opera Bistro, and then back to his home city of Moncton where he became sous-chef at Little Louis', one of the top restaurants in Atlantic Canada. Pierre's contributions earned Little Louis' the coveted Four Diamond Restaurant status award by AAA/CAA. When the executive chef of Little Louis' left, it was a natural progression for Pierre to step into the role, and under his leadership the restaurant has maintained the Four Diamond status for eight consecutive years.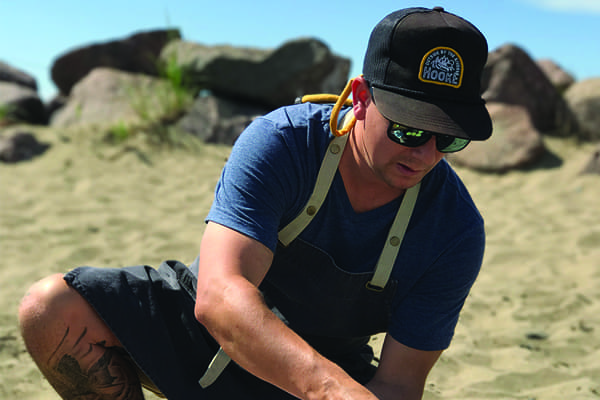 Q What is your favourite meal?
A There are too many favourite meals for me to say one in particular! For me the time of the year, my mood and what is available will determine my favourite meal.
Q Who do you look up to?
A Everybody that has influenced me in a positive way in my never ending journey. Two names that come to mind are chef Andrew Stevens whom I worked under when I first started at Little Louis' and Peter McDermott at the Sheraton in Canmore, Alberta; he was a huge influence during my apprenticeship days. But there have been many more along the way.
Q What accomplishment are you most proud of?
A That time [in May, 2016] I went to New York to cook at the James Beard house. It was a dinner to showcase Canada coast-to-coast. The event was hosted by the very special Anita Stewart, the founder of Food Day Canada.
Q What is your favourite ingredient to work with?
A My favourite ingredient to work with is the type you can harvest yourself on the spot whether from the garden, forest, marsh lands, beach…
Q What is your favourite style of cooking?
A I love regional cuisine; I also love "new age Acadian," old classics with a new flair. I love giving the classic food I grew up with a modern twist.
Q What do you see as upcoming trends in food?
A Ploye! [ploye is a buckwheat pancake popular in Acadian cooking.] Actually, I think that more and more recipes from the past will come back but slightly reinvented to suit today's tastes.
Q Do you have a favourite cookbook?
A I have lots! The first Eleven Madison Park cookbook they came out with is pretty awesome.
Q What foods do you eat in secret?
A Garlic fingers and the Acadian poutine rapée.[a pork/potato dumpling].
Q What's the most embarrassing thing that has ever happened to you in the kitchen?
A One time I was changing my menu and we were short on time with lots going on. We were in the weeds! I had a sweet and sour squash puree to blend up and we had just got a new blender with multiple gears on it. Unfortunately it was on the highest gear and when I turned it on and the scorching puree flew everywhere in the kitchen and left me some bad burns on my face and arms. We did execute the menu change that night but was not the best for me.
Q If you could cook for any three people, who would they be?
A I would always choose my family first; there's no one else I would rather spend time with.
Q What do you not always enjoy about your industry?
A The hours can be tricky.
Q What gets under your skin in the kitchen?
A When someone takes the last of something and they don't write it on the board. Also stuff that is not properly put away or stacked.