Learning to learn at Landmark East school
Our annual list of terrific gadgets for the foodies in your life has been running for several years and we've covered everything from the perfect grapefruit spoon to personal Vitamix blenders. It amazes me that the folks who come up with these gadgets never seem to run out of ideas, and each year they seem to get either more inventive; or in some cases, a little more out there.
This year while considering the new "must haves" I realized that although some gadgets may be unusual or amusing, do we really need an automated self-lighting peppermill in order to be successful in the kitchen? Of course not. So this year we're celebrating some of the essential—but not fancy—must-haves good cooks should have in their kitchens. On Christmas morning a good potato peeler may not trump the latest greatest gadgets and gizmos, but it will be a hit the other 364 days of the year!
1. Potato Peeler
This might be the most humble gadget in the entire kitchen but the differences between a good quality potato peeler and a poor quality one are vast. A good potato peeler will have heft to it, it should have a small handle that is cupped by your palm and that handle should have a soft covering that makes it easy to grip. The blade should not be too flimsy and it should be fairly wide. If you can find one made by a Swiss or German company, chances are it will be of high quality.
2. Measuring cups
Every kitchen needs two types of measuring cups; a glass one for measuring liquids and individual metal ones for measuring dry ingredients. These aren't meant to be used interchangeably; each has a specific purpose. When looking for a liquid measure make sure that it is made from tempered glass so that it won't break when it comes in contact with hot liquids. For individual cups I recommend stainless over plastic, as plastic tends to get greasy over time and the edges peel and can mingle with food.
3. Measuring Spoons
As with measuring cups, I feel that investing in a good sturdy metal set of measuring spoons will pay off. I like to use the edge of a knife for leveling off measures, and steel is far more durable and easier to clean than plastic. I actually keep three sets on hand so that I do not have to continuously stop and wash them after each use; it's an insignificant investment that definitely pays off in time saved during recipe preparation.
4. Conversion Calculator
We've covered the conversion calculator before but it really is an essential tool in my kitchen. It converts measurements in milliseconds, which is extremely useful, especially when doing multiple batches of a single recipe, or when making smaller versions of a large recipe.
5. Strainer
A kitchen strainer or colander is a safety must-have. Tilting a pot lid and draining into the sink is a recipe for disaster. A good-sized colander is much safer and does a better job. I recommend metal over plastic; and do look for one with two side handles rather than one long handle, so that it fits perfectly in the sink.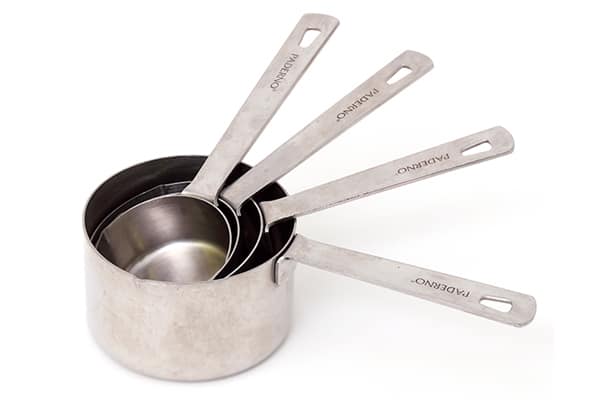 6. Turning Knife
We all having paring knives in our collection but a turning knife will do a better job of peeling vegetables because it has a blade with a gentle curve. It's ideal for rounded vegetables like potatoes and turnips; the handle is also a bit shorter than a paring knife so it nestles perfectly into your palm, giving you great control.
7. Thermometer
A thermometer might seem like a tool only used in restaurant kitchens, but to me it's essential in any kitchen. It removes all guesswork; no more wondering if the turkey is actually cooked or if the quiche is still cold in the centre. Many foods such as steaks should never be cut to check for doneness because this impacts the integrity of the meat. Purchasing a good thermometer and downloading a temperature guide is guaranteed to help elevate your kitchen game.
8. Knife Block
Good quality knives are the backbone of every kitchen but throwing them into a drawer will cause them to get dull, can damage the blades and is just plain dangerous. A knife block ensures that the blades of your knives aren't banging against each other, keeping them in top condition. If a knife block doesn't appeal or you don't have the space for one, consider a magnetic strip for hanging; it will provide the same end result.
9. Electronic Scale
This gadget is definitely more useful for baking than cooking. If you do like to bake I promise you will see a difference in results when you weigh out your ingredients. If you have three people scoop out one cup of flour, then weigh the measures, you will have a range of anywhere from three-quarters cup to one and a quarter cup. I went from being a mediocre baker to a more skilled baker just by adding a scale to my kitchen.
10. Glass Bowls
Plastic and metal bowls may be cheaper but glass has definite advantages. It can be hard to get plastic clean if using oily substances and I also find that plastic has a more porous surface that can allow bacteria to breed. Metal sometimes has adverse reactions to ingredients and affect to how your food turns out in some instances; anything tomato-based can react to metal, giving the final product a tinny taste. Glass has none of those issues—but make sure it's quality glass that can handle hot liquids.