I've always wanted to do it, but I'm not sure I would survive a menu made entirely of chocolate. Perhaps there are braver people out there who are willing to give it a try, but I won't hold you to it. Although I relished every chocolate dish on this issue's menu, as did my tasters, we took them one (or two) at a time. Whether alone, in pairs, or with complete indulgence, I hope you will find a chocolate offering or two that will help to stir romance into the soul.
Many people are aware of chocolate's Peruvian beginnings. But did you know that it's credited with keeping Montezuma virile for his harem of 600 concubines? An awesome task – it must have taken a lot of cocoa beans to provide the 50 cups of chocolate he is said to have consumed daily.

Crossing the Atlantic, the powerful aphrodisiac qualities of this "food of the gods" made addicts out of amorous adventurers such as Casanova and Madame du Barry, who also fed it to potential lovers. While their passions have long been sated, there are new generations looking for a little help in keeping their traditions alive. Can it be found as easily as in a chocolate bar?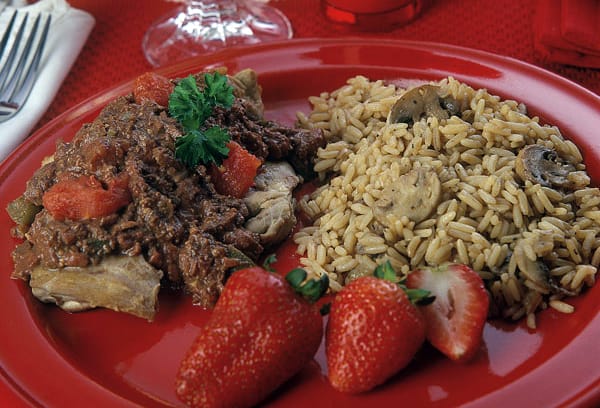 Dissection is hardly romantic, but I'll provide a few hints. It might be the stimulating influence of caffeine that makes chocolate "provocative to lust," as one ancient royal physician claimed. Chemists, on the other hand, might credit a substance called phenylethlamine, which is said to have produced emotional giddiness and is always there when two people fall in love. Or is it the way a piece of good chocolate melts seductively on the tongue, creating sensual surges and silken sensations?

Whatever.

At least the labels "sinful" and "bad for you," which have tarnished chocolate's image for decades, can finally be laid to rest in that empty heart-shaped box. New research has shown that the flavonoids in cocoa (and thus in chocolate, especially dark chocolate) can reduce the risk of heart disease and, women take note, 45 grams of milk chocolate can provide up to one-tenth of your daily requirement of iron and calcium.

(Nutrition 101: Flavonoids are beneficial plant compounds, which, recent studies indicate, act as antioxidants in the body, inhibiting the development of cancerous cells and protecting against disease, including heart disease and cancer. Dark chocolate contains almost three times the amount of flavonoids as milk chocolate. And, before you ask, antioxidants are a class of vitamins, including vitamin C, vitamin E, and beta-carotene, which fight disease by destroying free radicals, which, in turn, are produced in the body as a by-product of oxygen, and floating around in there, can harm our cells. Now you know!)

So, we can be grateful to all those people who worked for more than 300 years to develop the process of turning cocoa butter into solid chocolate. Blessings on them all from St. Valentine. And me.
Recipes featured in this article: