"What can I have for supper?" This nagging question haunts many a meal-maker on the way home from work. Frustration accelerates during summer, when thoughts of an unbearably hot kitchen occasionally prompt a detour to the nearest take-out.
If only you could wave a magic wand and have supper ready when you get home. But there is an answer, and it isn't magic. It's an old-fashioned idea slated to drive panic from modern, frenzied lives, and it's called a slow cooker. You may have one stashed away in your back cupboard or garage-if it survived your last yard sale.

Maybe it was the desire for more sophistication in our meals that relegated the slow cooker to the far reaches of a top shelf, but tell me, please, how sophisticated is a take-home pizza or a meal of boxed macaroni and cheese, often brought forth to meet the demands of an impatient family?

Not very.

So, let's take another look at the electric slow cooker. It's been around since the 1970s when Rival brought out the Crock-Pot in those stylish colours of avocado green and harvest gold. Remember? Since then, many new models have joined the pack, but even though my old 3 1/2-half quart (3.5 L) pot doesn't have a removable crockery lining (which would make for easier cleaning) I have no need to replace it. It still works.

I tested these recipes in it and although I like to give the pot a start on high heat (300°F/150°C), it may not always be convenient if you're rushing out the door. In this case, just set it on low (200°F/100°C), and go. No stirring is needed, and your meal will be ready when you get home.

Sometimes a finishing step is needed before the dish is ready to serve. A gravy may require thickening, for instance, or ingredients that don't take well to long cooking may have to be added during the last hour. But this is a small inconvenience for a nutritious and tasty meal that's ready with so little effort.

If mornings are too busy for you to prepare the ingredients, you can do so the night before. Any marinating can be done in the refrigerator overnight. Most vegetables can be peeled, chopped and stored in plastic bags in the refrigerator; meat can be cut up, browned and refrigerated.

Or, you can let the slow cooker do its work overnight. Set it up after supper, remove the cooked ingredients in the morning and refrigerate. Then, when you come home from work, you can reheat and finish the dish on top of the stove.

It's just so easy!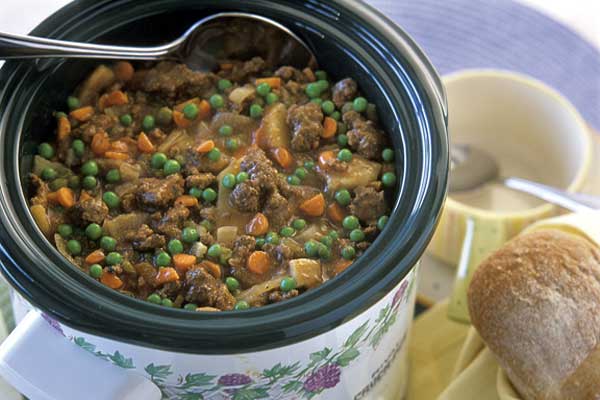 Slow cooker safety
A few years ago, I had reason to check with the Canadian Food Inspection Agency about the safety of cooking foods at a low temperature over a long period of time. The information that came back satisfied any concerns I might have had. I was told that even at the low setting, internal temperatures of foods are raised well above 140°F (60°C), the minimum temperature needed to kill bacteria.
However, there are six simple rules to follow to keep your food safe:
Use fresh ingredients.
Keep equipment and preparation surfaces clean.
Thaw meat and cut into small pieces.
Use recipes that contain a liquid.
Avoid filling the cooker more than 2?3 full.
Keep the cover on and the steam in. Any time the cover is removed, add 20 minutes to the cooking time.

Recipes featured in this article: