Quick-to-prepare dishes you'll be proud to serve to crowds, with a little novelty thrown in for good measure.
So we have summer, and the cooking is easy. Or it should be. The trick is to keep the kitchen cool while the food cooks. This brings the outdoor barbecue into play as often as possible, while indoors, electric grills and toaster ovens do extra duty. There are times, however, when small appliances can't carry the workload. When serving upwards of six people, it's often easier to depend on the oven or stovetop to efficiently get the job done. That's when short cooking times come into play. Turn the oven on, yes, but not for long, in order to keep your cool. This issue's recipes were chosen with that in mind-dishes you'll be proud to serve to guests, but which require minimum cooking times.

Those who know me know that I am always looking for recipes out of the norm. Why else would I have chosen to serve roast chicken with a popcorn stuffing? Or offer a baked beans cake or bean brownies? Unusual, yes, but one of the best cakes and absolutely the best brownies I have ever tasted! Most of you agreed, although some thought I had lost my mind.

Sometimes it's a recipe's name that attracts me and sends me to my kitchen to reinvent it with my own twists. Like Hoffle Poffle and Grizzlenuckles, recipes that you appeared to be pleased with.

So what to do this time? Apart from supplying easy-to-prepare recipes for summertime entertaining, there should be something unusual. Well, there is. Twofold. There's the Shaker-Style Sliced Lemon Pie, a version of which I have often enjoyed at Epicurious Morsels Bistro in Halifax's Hydrostone district. (You can always bake pies in the cool of the evening a day or two before you need them.)

Then there are radishes, a fast-growing and prolific vegetable that's been around for more than 2,000 years-yet it's usually recognized only as a garnish or colourful addition to a green salad. Now, how can we bring it to centre stage? Out come the cookbooks, one after another. Here's a recipe for Smashed Radishes, where the radishes are crushed slightly, sprinkled with salt and allowed to stand for a bit, then drained and mixed with a dressing of soy sauce, vinegar, a little brown sugar and oil. Chilled before serving, the salad is peppery and delicious.

Here's another, called Glazed Radishes. The radishes are cooked in butter, a little water, a bit of sugar and salt and pepper until tender, then removed while the pan juices are reduced to form a glaze. They are then returned to the pan and cooked over low heat; you shake the pan often until the radishes are coated and shiny. Three bunches of radishes will make four side dish servings. A good idea?

Or you can do what American food guru James Beard used to do: make a salad with sliced radishes and oranges, and serve on a bed of crisp greens, dressed with a lemon vinaigrette. Nothing could be simpler.

I even considered serving radishes instead of cucumbers in the usual sour cream and vinegar mixture, Lunenburg-style. All good ideas. But I finally settled on the radish salad that follows. For summertime eating, it's best served well chilled-just like the wine that accompanies it.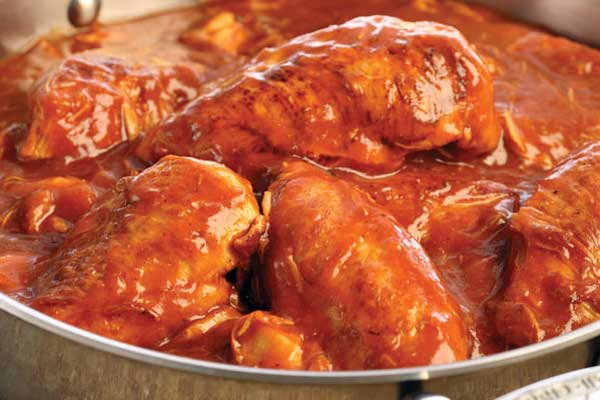 Recipes featured in this article: