Remember when I dared you to try an entire menu of chocolate dishes? That was in the January/February 2003 issue, and the menu consisted of chocolate soup, triple chocolate biscuits, chicken mole with beer rice, and a nut-crusted truffle pie, all of which was preceded by a chocotini and chocolate-dipped fruits. I couldn't do it. Not all at once. But there was at least one family who took up the challenge, and succeeded. Here's what Brenda Burgess, of Yarmouth, NS, had to say about it in May 2003.
"We did it and we survived! We tried your completely chocolate menu for Easter. As a family of chocoholics we were up to the challenge. It was thoroughly enjoyable and we have been talking about it ever since. The kids particularly liked the chocolate soup and triple chocolate biscuits while the adults preferred the chocotinis and chicken mole."
My congratulations to Brenda, her husband Allan Crosby, and their children Taber and Isaac.

Now, methinks it's time for another challenge. So, how about blueberries? If ever there was a berry that can well and truly be called Atlantic Canadian, it's this little blue gem, which grows well here on our acidic soils in all four provinces. It's rich in health-promoting antioxidants, and great eaten out-of-hand, over cereal, or baked into countless numbers of things, from muffins and pancakes to puddings and pies. And yes, you can precede the meal with a blueberry spritzer, made by mixing equal parts of bottled blueberry juice and carbonated mineral or soda water.

If you're like me, you may be sad to see the fresh blueberries disappear as fall sets in. But, if you have the foresight to load the freezer, you'll be able to enjoy them for several months to come. My 2003 supply lasted through February 2004-and that's when I began to sing the blues. So this year's stash is even larger than the previous one.

I like to stock up on both the lowbush and high-bush varieties. The smaller, wild berry is best for baking, while the sometimes close-to-grape-size highbush blueberry, cultivated commercially or in home gardens, stands on its own or adds its inimitable flavour and bright colour to fruit compotes.

To freeze highbush blueberries, first rinse under cold, running water and dry thoroughly with paper towel; pour into rimmed baking sheets, spreading them out in a single layer, and place in the freezer until solid. Then measure in desired quantities, pour into freezer bags, remove air, and store for up to two years in the freezer.

The secret of storing wild blueberries is to keep them dry-so washing before freezing is not recommended. If buying boxes of IQF (Individually Quick Frozen) wild blueberries, put the whole box in the freezer and remove berries as needed.

Is anyone willing to sport a blue tongue?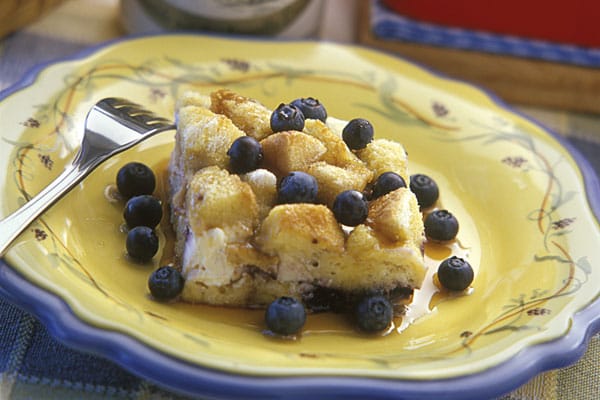 Recipes featured in this article: