Workplace stress can be overwhelming. It can consume your life and make you sick-but only if you let it.
All the technologies that were supposed to give us shorter work weeks and freedom from piles of paper have, in many cases, become modern-day leashes. We are now connected to our work, our bosses, and our stresses 24 hours a day-and the costs are high. The Canadian Mental Health Association says burnout costs Canadian businesses an estimated $12 billion every year in health claims, lost productivity and absenteeism.

The combination of having too much work to do in too little time with little or no power to call a timeout is a perfect formula for stress in the workplace. Relationships with superiors and co-workers can also affect stress levels. But some people may not even know they are stressed, or may not have considered whether they may be overdoing it.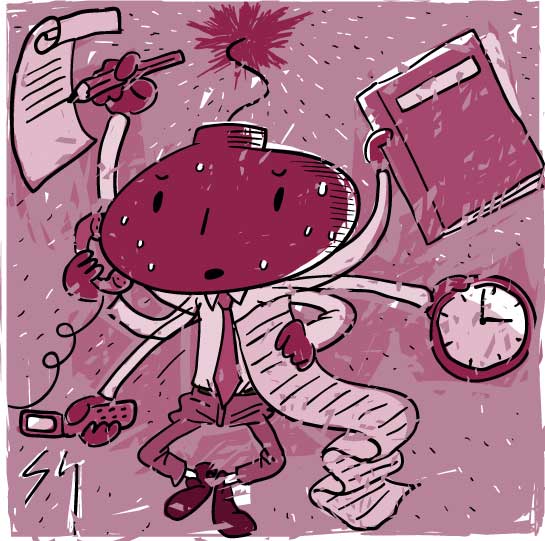 "Self care is likely the first place we need to go when things get stressful in the workplace," says Dawn Burstall, director of the Healthy Workplace and Diversity department at Capital Health in Halifax. She points out that when people take the time to look after themselves, that leads to healthier relationships with others. Strategies can include physical approaches-taking up yoga, exercise, walking or doing whatever makes you feel relaxed-and greater mental awareness: listening to your mind and body when it shows signs of stress.

"Self care isn't selfish," says Burstall. She says it's simply taking good care of oneself in order to be happier and more productive. "It could be as simple as saying yes when you want to say yes and saying no when you want to say no," she points out, adding that people often overextend themselves without considering that other options are available. Examining your choices-giving yourself time to think before you take on more work-is an essential step in self care.

Self care is particularly important for those in authority, says Burstall. Leaders need to serve as role models for their employees in order to create an environment in which their employees can practice their own self care.

One employee who does have her stress levels under control is Sherida Flemming, administrative assistant at the Healthy Workplace office. She's warm and friendly-and because she takes care of herself, she brings a calming presence to those who come to her office. Flemming recently joined Capital Health's gym and says it makes a difference in her day.

Flemming points out that the reason many people go into health care is to help others, but they can find it especially difficult to maintain balance. "People say they can't afford to take their breaks or their lunch time, but they can't afford not to. If you are tired or stressed out, you are not going to be any good to anyone. Patients need someone who is responsive to them, especially when you are their first contact."

Burstall says too much stress over a period of time can have significant physical and psychological impacts. Physical problems can include digestive issues, headaches, decreased immunity, high blood pressure, sleep disturbances and a tendency to be more accident-prone. Psychological impacts can be increased anxiety, greater cynicism or apathy, relationship and memory problems and substance abuse.

She notes that some people fail to seek help until they reach a crisis point. One recent survey said 37 per cent of Canadians did not take time off when they experienced physical health problems related to stress, anxiety or depression-because they felt they needed the income. She advises anyone experiencing symptoms to speak to someone about their feelings: a trusted friend or colleague or a mental health professional. Many employers offer Employee Assistance Programs or other workplace wellness services.

Wondering about how much balance you have in your own life? Take the CMHA's "Work/Life Balance" quiz under "Your Mental Health" at www.cmha.ca.