Sam Drader, 21, had been eating to comfort himself since he was in elementary school. But when he was in Grade 9, his relationship with food changed. "I went from turning to food, to turning away from food," Drader says. He began fasting for 24 hours at a time, then stretching that out to three days. After finally eating something, even just an orange or yogurt, he'd often vomit.
This continued for months, until Drader, who lived in Nova Scotia's Annapolis Valley, began missing school and lost 50 pounds. "People began asking me if I had an eating disorder. I said no. I didn't think it controlled me. I thought I controlled it," he says.
Complex illnesses
Eating disorders are complex illnesses, and, although each individual may provide some clues into the development of his or her illness, there is no single known cause. They are associated with poor physical, mental and emotional health, and have the highest mortality rate of all psychiatric disorders.
The disorders are classified as anorexia nervosa, in which food intake is severely limited; bulimia, in which binge eating episodes are followed by purging, exercising or fasting to mitigate the overeating; and eating disorder NOS (not otherwise specified). Eating disorders are the third most common chronic illness among adolescents.
While the majority of initial diagnoses are in girls—sometimes girls as young as nine—boys suffer from eating disorders too. In fact, males account for an estimated five to 15 per cent of patients with anorexia or bulimia. Many sufferers have more than one eating disorder, or vacillate between them.
Furthermore, eating disorders often go hand-in-hand with other mental illnesses such as depression, anxiety or obsessive compulsive disorder.
"Often it's the tip of the iceberg. When you start to treat the eating disorder, you begin to unmask the other disorders," says Dr. Joanne Gusella, clinical psychologist on the eating disorders team at the IWK Health Centre in Halifax.
That team includes Gusella, a dietitian, a social worker, a psychiatrist and a registered nurse. The Eating Disorders Clinic operates as an out-patient service, but children with extremely poor vital signs are admitted as in-patients while they are in critical condition.
Reaching out
For Drader, anxiety ran parallel to his eating disorder. He lost control of his eating, and even when he wanted to eat, worried he'd vomit involuntarily, as had become his habit—repeated vomiting had loosened his esophageal sphincter so he had difficulty keeping anything down. His eyes were bloodshot, he worried about vomiting on his clothes, and he often stayed in bed for days.
The straight-A student became a Grade 11 dropout and finally accepted he had an eating disorder. He tried medication, but it failed to control his anxiety, so he voluntarily admitted himself to a hospital with fatigue and anemia, only to leave against his doctor's advice 20 hours later. "I felt like a failure and I doubted their ability to help me," Drader says.
"Patients aren't happy with you for taking over their area of control," says Gusella, but adds that they generally overcome their resentment. "It's not uncommon for [former patients] to come back to us and say they are glad we were stronger than their anorexia."
Road to recovery
While clinicians do not use the word "cured," two-thirds of children diagnosed within three years of acquiring an eating disorder will overcome it.
The team at the IWK Eating Disorders Clinic practises the Maudsley approach, a family-based treatment that first focuses on weight restoration and understanding the dangers of severe malnutrition associated with eating disorders—dangers such as hypothermia, growth hormone changes, cardiac dysfunction, and cognitive and emotional changes.
Weight gain to restore the child's developmental trajectory and therapy that focuses on supporting, rather than blaming, the child or family members, are important elements of the approach. Often, it takes a full year for a child to recover to a healthy weight, as foods must be reintroduced gradually. If a child is severely malnourished, Gusella explains, food is reintroduced carefully, so as not to overtax his or her system or unbalance electrolytes. "That's just the start in terms of helping the child get back on track in their growth and development," she says.
Parents play an active and positive role in helping restore their child's weight to normal levels. "Parents are supported by the team to reaffirm normal authority over the child," says Gusella. A family's patterns around eating are also assessed and families are coached to be empathetic and supportive. Dr. Gusella adds that many children—even some older teens—are relieved when their parents are back in charge, so they can drown out the unhealthy anorexic voice that is telling them to starve themselves or to keep over-exercising.
Once the patient has reached at least 95 per cent of his or her ideal weight, the focus turns to establishing healthy adolescent identity.
Rock bottom
Drader hit rock bottom before he began to recover. "Starving yourself affects your brain and you make bad decisions," he says. His stomach lining was so damaged, he was vomiting blood. At one point, he was hospitalized and confined to a wheelchair, because he was experiencing irregularities with his heart. He became deeply depressed and suicidal, and made two serious attempts at killing himself.
"There is no magic fix, no magic pill," he says, adding that doctors can help you, but you have to want to help yourself. A big motivator in his recovery was seeing how deeply he was hurting his family, as was watching his peers move forward with their lives while he felt stuck. Eventually, he says, he wanted other things more than he wanted his eating disorder.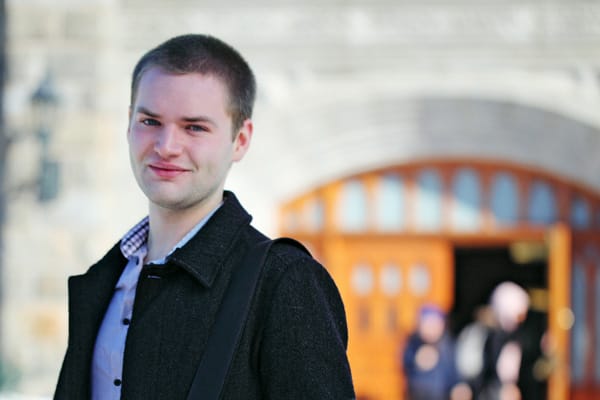 Today, Drader is excelling as a psychology and criminology student at Saint Mary's University in Halifax. He's been further diagnosed with celiac disease, so cannot eat gluten, but says otherwise he eats what he wants and maintains a healthy weight without obsessing over scales or his waistband size. "I have recovered, but I'll deal with this the rest of my life," he says.
He wants other sufferers to know that if they can take the incredible energy they direct toward disordered eating and channel it into something productive, they are capable of doing pretty much anything.
"Now," he says. "I use that energy to better myself—not destroy myself."