In almost all sport or physical activity, there is risk. In many cases, the mouth, jaw or teeth are affected. Mouth guards can reduce both the likelihood and the severity of injury.
An ounce of prevention can prevent a ton of pain
Depending on the type and extent of the injury, a single blow to the mouth can result in months or even years of treatment—and no shortage of pain and discomfort.
In almost all sport or physical activity, there is risk. In many cases, the mouth, jaw or teeth are affected. Mouth guards can reduce both the likelihood and the severity of injury.
Here's why. "A properly fitted mouth guard will help protect not only your teeth but your lips, tongue, cheeks, and jaw joint. The mouth guard cushions the impact and has even shown to reduce the severity of concussions," says Dr. Todd Rix, a dentist in Charlottetown whose office has been making mouth guards for the Charlottetown Islanders hockey team for six years.
"Studies have shown that athletes are up to 60 times more likely to suffer harm to their teeth when not wearing a mouth guard," he adds.
According to Health Canada, when you are hit in the mouth or jaw, a mouth guard acts as a buffer that redistributes the force of the blow, so the impact is absorbed more evenly. It also provides a barrier between the teeth and the soft tissue in and around your mouth.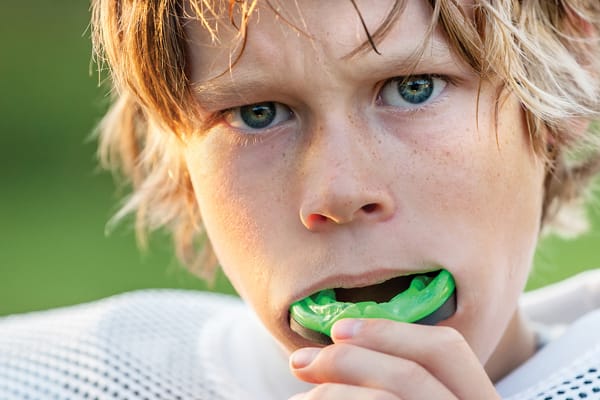 More than just a mouth guard
Not surprisingly, mouth guards help prevent chipped or broken teeth and protect lips and gums. They may do much more, however. Health Canada notes that some studies have found mouth guards may also help prevent concussion, bleeding from ruptured blood vessels in the brain, and neck injuries although the evidence is not definitive. Still, almost a decade ago the Canadian Academy of Sport Medicine took the official position that mouth guards should be worn while playing soccer for "the definite dental protection they provide and the possible role in concussion prevention."
Three types of mouth guards
Wear the correct mouth guard for you:
1. Stock tray mouth guards can be purchased from most sports stores. They are pre-made and come in a variety of sizes. All you have to do is open the package, and put the guard in your mouth.
2. Boil-and-bite mouth guards, which can be purchased at your local pharmacy, become pliable when heated. Once softened, you pop the guard in and it forms to the shape of your mouth and fits more closely over your teeth than a stock guard.
3. Finally, there are custom made guards that your dentist can prepare. These are molded specifically for your teeth and your mouth. Many experts recommend those.
Younger athletes, those from about age six to 13, require custom mouth guards to be changed more frequently as they have a mix of adult and baby teeth, and their mouths are changing. "This means that their mouth guards will probably need to be made new each year, and sometimes sooner," says Dr. Rix. "You can always have the dentist check to see if your mouth guard still fits or is worn out."
Most mouth guards are worn over the upper teeth only. However, for people with braces and other dental devices, a guard for the bottom teeth may also be helpful. There is also no lack of variety. "They come in different colours and combinations so can match your team's colours," says Dr. Rix.
If you're playing a sport or engaged in an activity that requires a helmet or headgear, mouth straps can be added so your guard hangs lose when not in use and can be instantly popped in your mouth when required for play.
Keep it clean
You will need to ensure the mouth guard is clean. This isn't difficult; before and after each use, rinse the guard under cold water. You can also clean mouth guards easily with toothpaste and your toothbrush. Stay away from the automatic dishwasher though. "Many patients have tried to clean them in their dishwashers only to find a big ball of plastic," says Dr. Rix.
He also recommends that mouth guards be stored in a perforated container to prevent distortion. "High temperatures can also distort them and cause them not to fit," Dr. Rix notes.
Fit is critical. It's what affords you the ultimate protection you want when you're on the ice, on the field or anywhere else your activity could cause an injury or an accident.
Not just for contact sports mouth guards aren't just for pro
athletes and extreme sports enthusiasts. Most team sports and some individual activities carry a risk of injury that mouth guards can help prevent.
"Most people think of contact sports like hockey or football, but any sport where there is a potential for a fall or to be hit by something, even individual sports like gymnastics or skateboarding," will benefit from a mouth guard, says Dr. Todd Rix.
A sports mouthguard is also recommended for non-contact sports because mouth injuries can also occur unexpectedly in what may be considered fairly low-risk activities, such as:
A blow to the face etc.
A jaw and teeth injury caused by severe clenching of teeth in
weight lifting
An inadvertent contact in basketball