Learning to recognize the early symptoms and staying active leads to better quality of life
Jack and Janet Rowe of Dartmouth, NS have just come back from the gym. This afternoon they will stop by the Bide Awhile animal shelter to pick up cats to take to the nursing home to visit patients. They go for dog walks in Shubie Park and take along their daughter and her husband and their big Newfoundland dog.
"He's a beautiful dog, gentle and pleasant," says Jack.
They are active busy people who spend a lot of their time volunteering to help others. Jack is a retired lawyer; Janet is a retired nursing home recreation director.
Early signs
Four years ago Janet noticed a change in Jack's behaviour. "He was always an ardent Rotarian, going to meetings, but he lost interest in that. He lost interest in initiating things here. I noticed his driving was getting a little erratic. I thought it was time to check it out."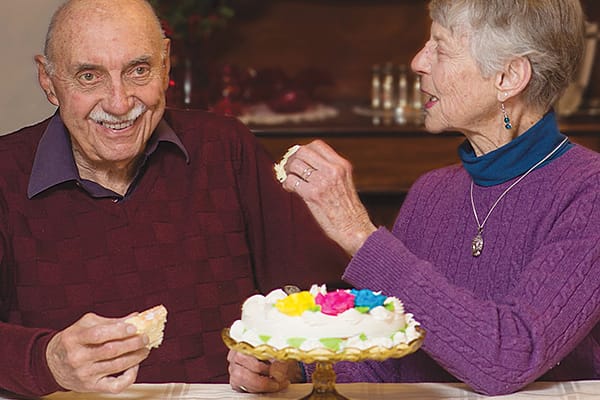 Fortunately for Jack, Janet has a lot of experience in this area as a long time volunteer with the Alzheimer Society of Nova Scotia. She leads a support group for caregivers of people with dementia or Alzheimer's, so she recognized the early symptoms and knew to contact what she calls the gold standard of care, the Geriatric Ambulatory Clinic at Camp Hill, to get an assessment. Jack was assigned a geriatrician and the tests began. The first day was an all-day test that included interviews with both Jack and Janet, tests for physical health and memory loss. They determined Jack had memory loss and should not be driving.
As a young man, Jack couldn't wait to get behind the wheel of his old man's car, but he doesn't mind not driving now. "I swim at the gym, I enjoy doing those laps at the pool, " he says. He mentions this several times.
Janet does the driving now but says with age there have been changes for both of them. She prefers not to drive at night, so they attend afternoon Symphony Nova Scotia concerts in place of the evenings at the Rebecca Cohn. Jack's best friends from childhood took them both out to a pub lunch recently to celebrate his birthday. She says some people in her caregiver support group say friends give up on them when there is a dementia diagnosis, but that hasn't been the case for this couple's friends. She suspects some people don't know how to react to a person with dementia and might feel awkward.
Living with dementia
"Dementia is the overall term for the symptoms that are caused by disorders of the brain; Alzheimer's disease is the most common cause of dementia," says Linda Bird, director of programs and services with the Alzheimer Society of Nova Scotia. More than 747,000 Canadians are living with Alzheimer's disease or other dementias, 17,000 of them are Nova Scotians.
Alzheimer's is a progressive disease with a span from eight to 12 years. Regular physical activity, eating a healthy diet and staying socially engaged helps people reduce the risk of developing dementia and can improve quality of life for people living with the disease. The Alzheimer Society provides information, education and support for both the person with dementia and their family or partners in care. The website has useful information such as warning signs to look for: memory loss affecting day-to-day activities, difficulty performing familiar tasks, problems with language, disorientation in time and space, impaired judgment, problems with abstract thinking, misplacing things, changes in mood and behaviour, changes in personality and loss of initiative.
If you have concerns about two or more of these, you should consult your family doctor. There's a difference between normal aging memory loss and dementia, Bird explains: "If you didn't remember where you parked your car in a parking lot, that's probably normal aging. If you get into your car and you don't know how to turn it on, that's when you should talk to your doctor, when you can't do the things you have always been able to do."
Early diagnosis can help to rule out treatable illnesses that can be causing the symptoms and to ensure the person with dementia can be involved in health care decisions. Medication can improve quality of life, but Bird cautions, not everybody responds to medication in the same way.
"We really want to focus on how do we engage people, no matter what stage of dementia they are in, with activities on a daily basis that give their life meaning. Everyone deserves to be successful and have happiness and joy in their lives," says Bird. She also says not to do things for the person with dementia that they can do for themselves. If they are having a problem picking out clothes to wear, provide a couple of choices. Assist, but allow them to do all that they can on their own.
Activity important
Jack participates three days a week in an adult day program put on by Ocean View Serving Seniors of Eastern Passage, now also offered in Dartmouth. They do arts and crafts, board games, physical games, painting, music, chair yoga; it varies from week to week. The program isn't only intended for people with dementia but also for seniors who like to get out to socialize. Janet would like to see government subsidize the $29 daily costs. "We can afford it, but not all seniors can."
She explains her frustration with government priorities. "There's a program called Supportive Care where we could probably be eligible for up to $500 per month in services from Continuing Care. I could get a person to come and sit with Jack all day, just looking at the four walls," she says.
"I wouldn't be happy," Jack says.
Once a month, from September to May, Jack and Janet take in Artful Afternoons. The Berkeley Retirement Home, the Alzheimer Society of Nova Scotia and the Art Gallery of Nova Scotia offer creative activities and gallery tours for people with memory loss and their partners in care.
"Jack would not be doing these things on his own," Janet says. Just as the person with dementia needs support, so does the person caring for them. She urges caregivers to join a support group. A good group leader can provide a wealth of contacts for resources and services the caregiver may not be aware of. Ideally, Janet would like to see a dementia navigator to gather this information as a one-stop-shop for people with memory loss and their caregivers.
Jack also has Northwood Intouch, so when Janet has to go out, she knows he can press the button for immediate help. They will call her, then her son or daughter and if they reach no one, they will call 911.
"Life doesn't stop when you get the diagnosis, you keep living it. It is the same thing if you have Parkinson's or MS; ALS is a heck of a lot more devastating. Alzheimer's and other forms of dementia are chronic conditions that can't be cured but can be managed," says Janet.
Jack says, "You see so many of your contemporaries having to face up to some sort of illness, pain, or disability. Thank God, we've not experienced that."