A psychologist with the IWK Health Centre's Autism Research Centre and an associate professor in Dalhousie's departments of Pediatrics and Psychology & Neuroscience, Dr. Smith said she is honoured to be appointed to the chair, and through this work, "to help build services and supports for individuals with ASD and their families."
A key member of the autism team at the IWK Health Centre for more than 15 years, Dr. Smith has provided leadership in the training of clinicians and developing programs to support people with ASD. 
Along with her colleagues and students, Dr. Smith is also identifying ways to improve the surgical experience of children affected by ASD as well as their families and caregivers.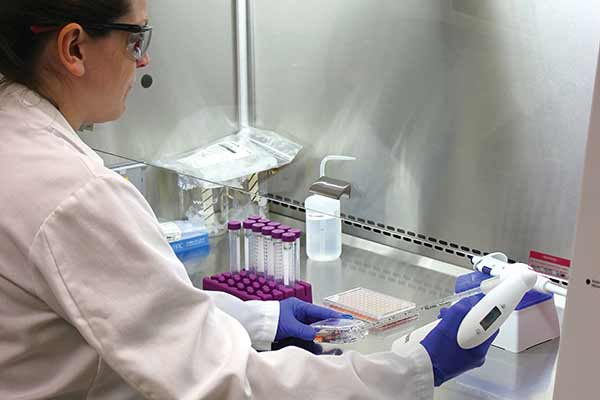 The Joan and Jack Craig Chair in Autism Research was established in 2001 by Joan and Jack Craig, who have an adult son with autism. The first holder of the Craig Chair was Dr. Susan Bryson, a colleague of Dr. Smith's, whose research has led to improvements in the care of children with autism throughout the Maritime provinces and beyond. 

Health care blog to tackle tough issues
In an effort to broaden the discussion on health care, Dr. Patrick McGrath has launched "Organized Curiosity,"  a blog looking at ways to improve health care in Nova Scotia and across Canada.
"Health care in Nova Scotia is facing a crisis. Although much care is excellent, there are serious problems with access, quality and sustainability," said Dr. McGrath, who is currently the integrated vice president of research and innovation at the IWK Health Centre and Capital Health. Dr. McGrath has focused on finding innovative ways to deliver health care to children and families throughout his career. 
"Change requires a community discussion—involving the public, health care professionals, administrators and scientists—about how to make health care better and to get better value for our health care dollars," he added.
Dr. McGrath will be inviting respected health care professionals and researchers to guest blog and share their opinions. Read the blog at: organizedcuriosity.wordpress.com

Night of Discovery gala, a fundraiser for life-saving research
Researchers at the QEII Health Sciences Centre devote their working lives to finding new solutions to tough health challenges in order to improve the health of families and communities.
To support this important work, the QEII is hosting their third-annual Charm Diamond Centres Night of Discovery fundraising gala.
The gala helps fund Translating Research Into Care grants, which are awarded to teams of QEII researchers and administrators whose projects will have a direct, positive impact on health care. Previously funded projects include an online portal for home dialysis patients, an expanded COPD (chronic obstructive pulmonary disease) outreach program for respirology patients and improved care for pain management. 
The gala will take place on Saturday, Oct 18 at the Cunard Centre in Halifax. Organizers promise an evening of exceptional cuisine, captivating entertainment and inspiring moments. Visit QE2Foundation.com to purchase tickets.

Free Wi-Fi for patients at QEII Health Sciences Centre
Patients and families at the QEII Health Sciences Centre will soon be connected 24 hours a day, 365 days a year with free, unrestricted Wi-Fi.
The first phase of the project launched in late 2013—thanks to a gift to the QEII Foundation from the Gauthier and David families—and gave free Wi-Fi access to patients in high-traffic areas of the QEII.
Gerry Post—a former inpatient of the QEII's Nova Scotia Rehabilitation Centre, who still visits the QEII regularly for outpatient treatment—welcomed news that Wi-Fi service (called "QEII_Wi-Fi") would be expanded to the rest of the hospital.
"Until you are in the situation, you really have no idea how much having access to free Wi-Fi at the hospital means," said Post. "Not only did it allow me to stay connected with my daughters in Montreal and San Francisco, but there are also a number of rehabilitation apps and opportunities available for patients, including voice recognition and eye-gaze technologies. I am very happy someone came forward to make this happen."
The first phase of the project provided free Wi-Fi to the Nova Scotia Rehabilitation Centre, the dialysis unit in the Dickson Centre, the orthopedic waiting room in the Halifax Infirmary and the Charles V. Keating Emergency and Trauma Centre. The goal is to eventually make the QEII's Victoria General and Halifax Infirmary sites completely Wi-Fi accessible.

Helping victims of child abuse
A multi-disciplinary team at the IWK Health Centre in Halifax is working to create a new Child and Youth Advocacy Centre (CYAC), called the SeaStar Centre, to help child abuse victims. It will be the first of its kind in Atlantic Canada.
CYACs are partnerships between communities and government agencies, bringing professionals working in child abuse cases to one location. Currently there are 15 CYACs set up across the country offering a seamless, simplified and collaborative approach to helping child and youth victims. For example, victims only have to tell their story once, making the process smoother and less traumatic.  
The IWK-hosted CYAC demonstration program is a collaboration between many groups, including the IWK, the Nova Scotia Departments of Community Services, Health, Justice, and Education, Mi'kmaq Family and Children's Services, Transition House Association of Nova Scotia and the Avalon Sexual Assault Centre.
The federal Department of Justice has also recently committed an additional two years of funding to support the ongoing development of the SeaStar Centre.
The CYAC demonstration program has supported more than 300 children and youth to date. A photo essay on the program can be seen at: victimsweek.gc.ca/stories-experience.

Tests on youth suggest hope for Alzheimer's patients
Memory tests on young people indicate that a drug called Memogain may help people suffering from Alzheimer's disease.
Memogain was developed and commercialized in Germany and was bought by Charlottetown-based drug company, Neurodyn, last year.
The company tested the drug not on patients with dementia, but on healthy young people. Staff gave college students a range of cognition tests before giving half the group Memogain and the other half a placebo. They were then asked to take more tests.
The cognitive powers of the Memogain recipients increased significantly. "We noticed improved memory performance, and this in healthy adults," said Neurodyn executive director Robert Cervelli.
"The specific neuron system in the brain which affects memory is damaged in Alzheimer's patients, whereas it is present and presumably fully functioning in young adults," he said. "If a drug works on this memory system of young people then it should work on the same system in adults with Alzheimer's."
All new drugs are first tested in healthy young volunteers for safety purposes, he added. In the case of Memogain, the company tested for safety with excellent results. Plans are now underway to test the drug in a patient population.
The company will have discussions with Health Canada, the US Food and Drug Administration and the European Medicines Agency later this year to determine when the drug may be brought to market.
Government of Nova Scotia and the QEII Foundation work together to improve care
In the last year, the QEII Health Sciences Centre saw improvements in patient care in the form of a multi-detector CT scanner, a neuroangiography unit and an identification and classification system used to diagnose different viruses and bacteria.
Other advancements funded by the QEII Foundation, in collaboration with the Government of Nova Scotia, include an automated dispensing system for medication, heater and cooler units used during cardiac surgery, and a neurosurgery microscope.
"Whether it is a simple item that provides added comfort for patients or a complex machine that delivers high-tech treatment, all advancements help improve patient care at the QEII," said Bill Bean, president & CEO of the QEII Foundation.