Alicia Marie LeBlanc on living with cerebral palsy
Alicia Marie LeBlanc starts her day with a one-hour workout, her music cranked. Her stepdad Mark set up a homemade gym in her bedroom to work her arms and legs. "It keeps her in shape and keeps her legs moving," says her mom Sharren. She also does stretches twice a week with her caregiver.
Twenty-six year old Alicia, of Fall River, NS, has spastic quadriplegia cerebral palsy with athetoid. While giving birth to Alicia, her mother Sharren had a rare and serious reaction called an amniotic fluid embolism, which deprived the baby of oxygen for some time. It was a struggle for survival for mother and baby for the first month. This lack of oxygen is what caused Alicia to have cerebral palsy.
IWK neurologist Dr. Ellen Wood explains the condition: "Cerebral palsy is a term we use to refer to abnormalities in the tone of a person's muscles. Spastic refers to the stiffness. Quadriplegia refers to the fact that all four limbs are involved. Athetoid refers to abnormalities in the movement and posture, writhing movements that the person can't control."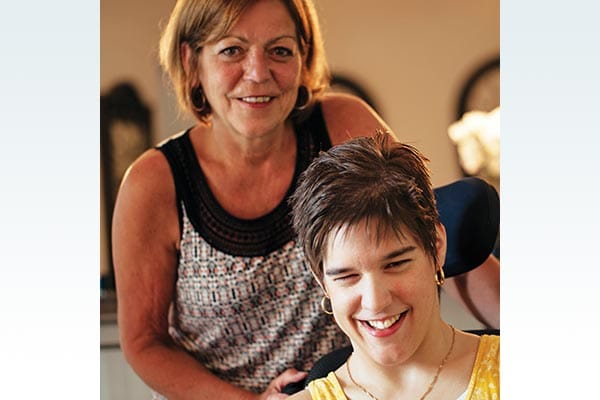 Dr. Wood says the symptoms can range from inability to walk or use the hands, inability to talk or use the tongue, to less severe forms where people may be able to walk and talk but may be a little harder to understand; they may be able to use their hands but might not be so well co-ordinated. She says this kind of cerebral palsy does not affect intelligence. "People looking at a person with CP may underestimate their abilities because of troubles with movement, the abnormal movements and speech that is often unintelligible. People can mistake that for lack of intelligence and that is not the case."
Keeping hope
Alicia needs help getting up out of bed, getting washed and dressed and is unable to feed herself or walk. She also has difficulty speaking. And yet, she can read, work out, use her electric wheelchair, go on her computer and Facebook with friends and FaceTime with her grandmother Marie Agnes. An indication of her work ethic and determination is the fact that she wrote her life story, My Challenging Life with Cerebral Palsy, and typed it, all 111 pages, using just one finger. The book took her eight months to complete. She says she wrote it because, "I didn't have anything else to do."
She does have a wry sense of humour.
"Technology makes such a difference," says Dr. Wood. If you have any muscle you can control (some people use their tongue) you can access a device, the touch screen of an iPad or a tablet.
When she was born, doctors told Sharren that Alicia might not know her, may never be able to eat or sit up. "It's hard to think positively when you hear these things," Sharren says. "But as time goes on, you think they told me she wouldn't be able to do this and she is doing it."
She says it is easier to say than do, but it is important to keep hope.
Therapies and treatment
In her book, Alicia describes the many treatments they tried over the years. As a young child she went to the IWK three times a week for physiotherapy, occupational therapy, as well as many visits to the neurologist. She also had surgeries to release tightness in the muscles behind her knees and inside her upper thighs. She wore a hip splint for six months to stretch her hips apart. At age six, her mother took her to Picton, Ont, to try five weeks of conductive education, an intense form of physiotherapy, which was created by Dr. Andras Peto in Hungary in 1945. Alicia learned to crawl during her time in Picton.
At age seven, her mother took her to Hungary for nine months when a therapist believed she could teach Alicia to walk. Air Canada employees, where her mom works, raised funds to cover the costs. After nine months of effort, Alicia took 15 steps with her therapist Gaby, but that was as far as she could go. Sharren says, "Because of the severe type of cerebral palsy she has, walking was not possible. However, the experience did make Alicia much stronger."
A few years later they went to Vancouver for very costly hyperbaric treatment, which involved breathing pure oxygen. Alicia says she had to wear a blue suit and something like an astronaut helmet, just like she was going to the moon. "We couldn't have afforded it without my mother's help," says Sharren.
"Physiotherapy, occupational therapy and speech therapy are the mainstays of treatment," says Dr. Wood. Orthopedic surgery is also an option for contracted joints that get bent out of shape. Once people stop growing, they tend not to have as much trouble with their joints. "Medications to help decrease stiffness a bit and to decrease involuntary movement are used, but they don't work for everyone. The drugs we use are replacing chemicals that the brain would normally make. So if the brain injury is in the part of the brain that makes these chemicals, those medications can be very helpful. If the injury is in the part of the brain that responds to these chemicals, it doesn't help to give any more chemicals," she says.
She says there is a lot of research being done on cerebral palsy, but in terms of practical stuff to help people, other than the technology to get around some of the problems cerebral palsy can cause, there really hasn't been anything done. Two signs of hope are stem cell research, which is still in the early stage, and research to prevent newborns from getting cerebral palsy. "The commonest cause of that type of cerebral palsy is a lack of oxygen which can happen during delivery. So there is a lot of research being done to help babies who were born having had a lack of oxygen at birth, to help them recover better," says Dr. Wood.
Support is critical
Over the years, Sharren and Alicia have benefitted from the love and support of family and friends. Sharren's mom and then her sister have taken care of Alicia so Sharren can go on vacation once a year. "You need respite," she says.
Alicia has done a lot of travelling, including to Disney World in Florida. She says she doesn't much like the travelling, "I like it when I get there."
"There isn't a lot offered when CP kids outgrow the IWK services and make the transition to the Nova Scotia Rehabilitation Centre," her mom says. They did use the Rehab Centre for a while but don't anymore. She says transportation is a problem when you live in Fall River. The Access-A-Bus comes to the only bus stop in the community and it is a distance from their house.
Pet peeves
In her book, Alicia mentions some pet peeves regarding how people treat her, such as people talking about her to her caregiver rather than talking directly to her. Not letting her take the time she needs to get her words out is another. She needs help with feeding but some people will actually taste the food on the spoon to make sure it is not too hot, and then feed it to her. "Yuck!" says Alicia. Or people say, "Num, num" as if she were a child.
"People staring, as if they have never seen anyone in a wheelchair, is annoying," says Sharren.
Alicia says some people may see her wheelchair as a burden but she has a different take on that.
"Being a young woman who has to live with cerebral palsy isn't an easy ride, but my electric wheelchair is like having my legs and freedom where I can enjoy seeing this beautiful world."