Van Bernard was born with spinal muscular atrophy, Type 2. New advances in treatment are giving this active 11-year-old more hope
At six months of age, Van Bernard's parents noticed he wasn't meeting typical gross motor skills milestones. He could sit unattended, but he had to be surrounded by a sea of pillows in case he toppled over.
Van was Julie Clegg and Colin Bernard's second baby, so they knew something wasn't right. By the time Van was eight months old, their pediatrician referred him to the IWK neurology department where at 10 months Van was diagnosed with spinal muscular atrophy (SMA), Type 2.
In the time between Van's pediatrician appointment and their consultation at the IWK, Julie and Colin turned to the internet for answers. One night Julie found a checklist for SMA. Van's symptoms ticked almost all of the boxes. Julie left the list up on the computer screen and asked Colin to look at it to see what he thought.
"Van met the criteria, but we kept thinking it can't be because SMA is genetic and we don't have it in our family as far as we know," Julie says, adding "ironically, both sides of our family have genealogists, as a hobby, and going back for generations it wasn't ever documented. It would have been called 'floppy baby syndrome' but there's no mention of anything like that."
As many as one in 40 people are genetic carriers for SMA, but to pass it on both parents have to have the recessive gene. Even then there's only a one in four chance of having a child with the disease, resulting in about one in every 6,000 babies being born with some form of SMA, Colin explains.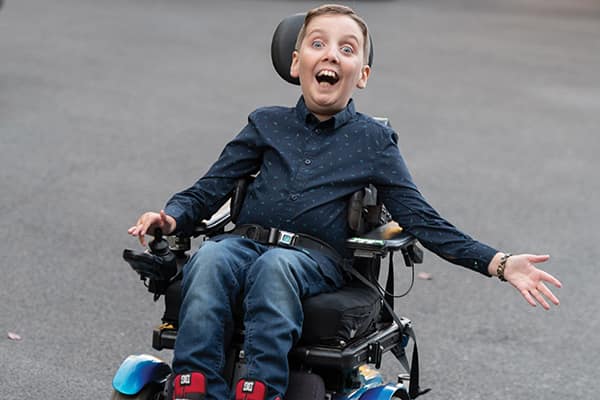 Life-changing diagnosis
"It affects every single muscle in my body so I'm not as strong as other kids," Van says, now 11 years old and in grade six French immersion.
Since he can't walk, Van began using a power wheelchair at 18 months. He was one of the youngest patients at the IWK to use a power chair, Van reports proudly as his fingers move deftly over the controls of his current chair.
Van's SMA means he's a "frequent flyer" at the IWK. "We know that we can get to the IWK in 14 minutes from here," Julie says, admitting that might mean running a few red lights if there are no oncoming cars. "Anything, even a simple cold for him can go wrong really fast, and when he crashes it's important to get medical help immediately."
SMA affects Van's intercostal muscles, the muscles that help form and move the chest wall, enabling deep inhalation and coughing. That means he can't clear his lungs when he gets a cold, which leads to frequent bouts of pneumonia. In Van's second year, his parents estimate that he was hospitalized with double lung pneumonia eight or more times. "I was fortunate that my employer was very understanding," Colin says.
Julie, who had also been working full time before Van was born, took a break to attend to Van's needs and has since scaled back to a part-time position.
Getting an insuffulator/exsufflator, a cough assist machine, has helped enormously to decrease the bouts of pneumonia. It's like a vacuum cleaner for his lungs, Van explains. "I use it three times a day. I suck in and it sucks in with me and gives me a little more power so then when I cough it collects the mucus and sputum and helps me spit that out."
When Van was little he would only use the cough assist machine at the hospital, after being admitted for pneumonia. Van's parents advocated to his doctors that he should be using the machine on a daily basis.
"Armed with medical journals and SMA protocols, we took this research to our doctor, who eventually wrote a script for us to have a cough machine at home," Julie says in a recent speech she and Van gave to first-year medical students at Dalhousie University. "This ancient-looking device was in fact so revolutionary that funding for the $8,000 machine was not covered under any insurance plan, or provincially, despite the fact that its use had potential to reduce pneumonia admissions to the IWK for Van significantly—which it most certainly has."
Innovative surgery
Van's weakened muscles also caused scoliosis, a curvature of the spine that progressed quickly as Van grew, causing his body to bend so far to the left his organs were being crushed and his breathing was compromised, even with his cough assist machine.
The day before his ninth birthday, Van had an innovative type of back surgery that uses magnetic controlled growth rods, called MAGEC growing rods, instead of the traditional "veptor" rods. With the traditional method, Van would have needed several surgeries to lengthen the rods as he grew—putting him at a much greater risk of complications with his breathing during each operation and possible infection post-surgery.
Every month or two, Van's rods are lengthened by two millimetres with a large magnet, a procedure that takes less than five minutes.
Two years later, Van has grown more than 2.5 centimetres and is scheduled for another surgery in late November 2018 to put in new rods—longer ones "to take him into his teenage years where we will have to look at a complete spinal fusion," Julie says.
Staying strong
To strengthen his muscles, Van does regular physiotherapy exercises, such as leg stretches, at school and at home. He also uses something he calls "the stander" every day at school so that his bones can get stronger. "Because of my SMA my bones are more thin and they can break easier … and the stander makes them get more thick," Van explains.
Van experiences pain on a regular basis but hasn't let it hold him back. He plays percussion in his school band and loves to zip around the house with his puppy Jango, a French bulldog, running excitedly behind him. On this night his sister Carys, 14, gets in on the action as well, resulting in squeals of laughter and—eventually—a doggie "accident" on the floor.
Van is a huge sports fan, devoted to hockey and baseball. He's thinking of being a sports agent as a career. When he's not cheering for the Ottawa Senators, his favourite team, he loves to play street hockey with his friends. In winter, Van plays sledge hockey through the Easter Seals/HRM program; in the summer he plays Nova Scotia Challenger baseball and he loves swimming.
New hope
When Van was diagnosed with SMA 10 years ago, his parents were told there was no cure, no treatment. "Basically we were told to take him home and love him," Julie says. Since that time a new medication, Spinraza, has had impressive results in slowing down the disease progression. In Canada, Spinraza was approved in June 2017 for children with Type 1 SMA, the most severe form of the disease.
"It is a drug that has shown results to halt the progression of the disease and, in some cases, even improve muscle function," Julie says.
The problem? The drug has a list price of about $750,000 for the first year of treatment, and about $325,000 annually after that. So far, only a few children in the region are receiving Spinraza through private health insurance, Julie says.
"It's one of the most expensive drugs on the market, that's the bad news … but now there's hope where 10 years ago there wasn't any hope. It's an urgent matter that we get access to this drug as fast as possible."