After a midlife pause, Peter Llewellyn takes on three hats in his home town of Georgetown, PEI.
Visitors to Georgetown, PEI, may be excused if they think Peter Llewellyn has a double. Or two. They could easily meet the gregarious, moustached Llewellyn clad in kitchen whites, prepping for Sunday brunch at Clam Diggers Beach House & Restaurant, Georgetown's newly opened seafood spot.
The chef? No. "Galley slave," he says, laughing. And part owner.
Or he could be crafting a sea glass pendant or carving a sandstone heron at Shoreline Design Studio. He's studio owner and resident artist.
Or, in yet another role, he may be championing a cause as town mayor, working to make Georgetown-tucked along the province's eastern shore-a premier destination in Atlantic Canada.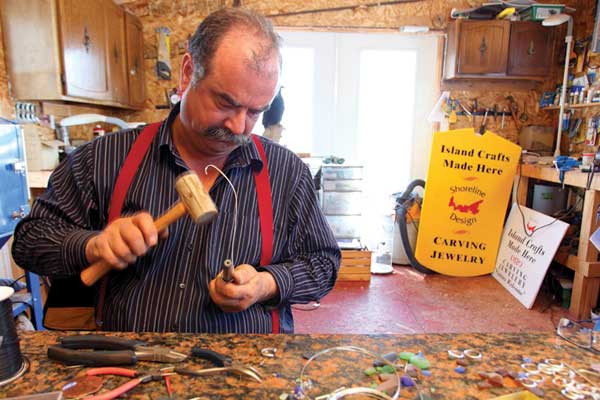 "If you've ever seen Green Acres, I'm Mr. Haney," Llewellyn, 52, says. "He's the guy who's everywhere in the small community."
Restaurant owner. Artist. Mayor. Not a bad second act. Just a few years ago, the Georgetown native sat on a shoreline pondering his future. He had spent decades in the seafood industry-he started out as a fisherman, moved into quality control and then had a series of management positions with Clearwater, National Sea and Fishery Products.
He went back to PEI from Harbour Breton, NL, five years ago after an opportunity arose back home in the seafood business. On January 8, 2004, exactly 30 years to the day that he left Georgetown in a snowstorm, as a 17-year-old bound for the navy, the moving van returned him and his wife, Gayle, to the same house he grew up in. His mom and dad had passed on, leaving the family home to the couple.
But two years after returning home, Llewellyn realized he was burning out, and needed a career change. He handed in his resignation, with no idea what he would do next.
"I pulled off on the beach. I sat there and looked out, and I thought there must be more to life… so I became an artist," he says, again laughing with trademark gusto.
"Even today I'm shocked," he adds. "People would ask what I do in my spare time, and someone would answer, 'Oh, he works.' I have no musical skills, I don't draw, I don't even dance well. So all of a sudden, I'm making jewellery. I'm flabbergasted every time I make something."
The chance discovery of his unknown-and heretofore untried-creative side came when his mother-in-law, visiting from Halifax, began collecting sea glass on the beach below his home. He helped, but then he didn't want to give it up! He was inspired by a friend who had wrapped wire around a piece of sea glass, making a pendant, and his daughter encouraged him to follow suit.
He started wrapping glass with cheap craft wire and-as he likes to say-as a Type A personality, he continued wrapping and wrapping. He moved up to silver plate then to silver, and has since evolved to using a soldering torch to make jewellery.
Someone told him he should see Perry Gotell, a childhood friend who was carving designs in Island sandstone. Gotell wasn't interested in doing it much anymore and showed Llewellyn the tools. "When I found I could carve, I was shocked," he says.
Last December he finished a commission of five Blue Herons for Holland College, presented in January to five college benefactors. Llewellyn also carves soapstone. He took a 12-hour course to learn the tools; the Dean of Arts at the University of Toronto purchased the piece he completed for that course.
His art is almost all created from PEI products, materials gathered from Island shores or in his workshop. He loves adapting different things to create his artistry, e.g. his dad's old rusty marlin spike was his first ring maker. Each piece has its own story, such as the jewellery he named "Sarah's Friends." One of his regular customers from the US asked him to design six pieces for her dearest friends. She supplied some information about each friend and Llewellyn created six unique pieces. "Almost all my work is one-of-a-kind or very limited run," he says.
The Island's shorelines continue to provide much of his inspiration-it's where he goes to think. "I live on the shore, my studio is on the shore, I listen to the water and try to be grateful for the wonderful lifestyle."
So how does one explain his foray into municipal politics?
Llewellyn says all the years he lived away, he always had a vision of what Georgetown could be. He'd talk about his ideas with others, and they would invariably ask that age-old question: "Why don't you do something about it?" He decided he would. Just over two years ago he ran for office.
"It's like that old Victor Kiam commercial-you remember the guy who buys the razor company, and says, 'I liked it so much, I bought the company?' Well, I liked it so much, I invested in the community.
"We have so many things on the go in Georgetown," he says. He's certainly been a proactive mayor of this town of 650. New to the area are a bandshell, extensive boardwalks, and look-offs-one is set in a beautiful saltmarsh, one overlooks an island and the third overlooks the harbour.
He is happy to report the town has had a net gain of 20 residents to the community in the past six months-boosting the population by three per cent. The town has also commissioned a strategic sustainability study to be eligible for infrastructure funding from the federal government.
Georgetown is now one of PEI's better-known towns, Llewellyn says, thanks to an extensive marketing and promotion campaign. "One of the challenges we faced was the community had a poor perception. We've worked hard to change this.
"We have a seafood plant, a shipyard that makes tugs, the largest collection of heritage homes on PEI outside of Charlottetown, an historic theatre (Mary Pickford, Harry Houdini and Donald Sutherland have all played the Kings Playhouse) and some of the finest restaurants anywhere.
"So what are we?" he asks, before answering his own question with obvious pride. "An Island destination, and one of the nicest hidden gems."
To be sure, the office of mayor has not always been a smooth ride. "Actually, I'm a pain in the ass," he says, noting his tendency to doggedly pursue solutions to problems.
Still, he loves every minute of it. "I truly enjoy making things happen, and dealing with issues on the table. It's easy to get disheartened, but I have every intention of seeing my vision through." Indeed: In spades of red Island soil.
Caption for any photos: Tinker, tailor. soldier, spy... when Peter Llewellyn isn't wearing his mayor's hat he's working in his restaurant making jewellery or carving stone. "Even today I'm shocked," he says.